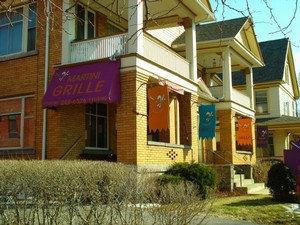 Martini Grille (3/2008) - Photo by Tricia Seymour
Former Location
176 S. Goodman Street, Rochester NY, 14607
Status
CLOSED -Date Unknown
Martini Grille was a bar and restaurant, that offered both on-site and off-site catering.


In addition to a drink menu featuring over 40 martinis, the Martini Grille also had full lunch and dinner menus. Both menus featured a variety of grilled entrees, along with salads and specialty pastas.


The Martini Grille was located in a converted house in the Park Avenue Area, on Goodman Street just south of Park Avenue. Diners were seated in one of the small rooms of the old house, which led to either a cozy or a crowded atmosphere when busy, depending on how you feel about dining in close proximity to others.
Comments:
Note: You must be logged in to add comments
---
2006-09-19 15:15:51 I went here in Nov 2004 and I found a food a touch wierd and uninteresting, and the flavored martini's were harsh and not because they were too strong, but because they lacked proper mixers to make them taste good. I don't plan on returning. —TravisOwens
---
2006-10-02 12:21:22 It's just, plain awful - I would expect so much more from a C.E.C. owner —GordonAnderson
---
2006-11-13 22:24:46 I will never return. The last time I went, my mother-in-law ordered a salmon dish and complained the salmon tasted and smelled too fishy to the point that it was inedible. All the waitress could do is say how other people ordered the same dish and did not complain. The staff did not attempt to offer another dish and would not take the entree off the check. —ScottHendler
---
2007-07-20 12:10:48 I am surprised they lasted this long. I lived around the corner on Park when they opened and we were so excited to try it out. The restaurant itself is too small and the kitchen door swinging open can be noticed and felt by more than a few tables. But, I wasn't happy with the food either time I ate there. Also, a friend and I went with the Entertainment coupon one night and were told that we could only order out of 3 meals! What? That is not how the coupon works! I do know friends who enjoy going there for after work martinis though. —ElaineRobinson
---
2007-09-07 19:01:34 I went here for my birthday this year with my parents and while we were initially shocked at the limited menu, we were quite surprised. Everything was amazing. I think we all had pasta dishes, but seriously, it was so fresh and satisfying. After we left, we all noted how we thought we were going to be in for it with the menu. They've refined the menu to what they know how to do well — and that's a good thing. —MarcVera
---
2007-11-26 15:52:21 They have yummy martinis and I like sitting at their little bar, but I didn't like the limited menu (I'm picky!) or the food I ordered. —SaraChristine
---
2008-03-27 20:22:58 well.....if you like being ignored while sitting at a bar as the bartender has nothing to do in an empty room than this is the place for you. Question? How many times can you water down a bottle of liquor before you throw it away? Answer: Martini Grill has not figured it out. Hello Vodka where are you??? —JamesPatrick
---
2008-03-30 23:42:45 Sounds like JamesPatrick needs to lay off the vodka if the drinks at the Martini Grille aren't strong enough for him!! I have never had anything but the best dirty martinis in the city accompanied by some of the friendliest bartenders...maybe you're just not that interesting!! My friends I and love happy hour there, its so cozy!! —IdaKnow
---
2008-07-25 16:56:23 I ate at the Martini Grill 5 years ago and it was awful. But its still open, so I tried it again last week. It was still nothing great. The food is just eh. The interior is very eclectic and the staff always seems very harried, even 5 years later. But obviously someone likes it there, its been open forever. I will give it one more try before I write it off, perhaps in another 5 years. —MrRochester
---
2008-08-31 19:19:46 MrRochester - I suspect the place survives because of it's location. You have a lot of young Rochester transplants living in the Park Ave. neighborhood who have no idea that they can do better at other restaurants in the city. Bacco is an example - if you want good Italian, Park Ave. ain't the place to get it. —RochGirl
---
2009-02-05 21:32:36 According to an article in the City Newspaper on February 4 the restaurant has closed. —ScottHendler