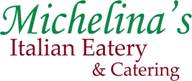 Hours (as of 2014)
Call for catering appt
Phone
585 424 3040
Email
<shakeel DOT n AT hotmail DOT com>
Michelina's Italian Eatery provides catering, preparing food in the old Sicilian way, using recipes that go back five generations.
Prior to 2014 Michelina's operated a sit-down restaurant on West Henrietta Road.
Comments:
Note: You must be logged in to add comments
---
2006-10-20 13:59:39 Hearty, tasty portions of classic Italian favorites. One meal generally leaves more than enough to take home, at least for me. Good food, good service. —RachelBlumenthal
---
2007-05-24 09:59:02 A fine little casual italian restaurant only a short drive from chain-restaurant hell. We started with greens & beans, which had a lovely sweet garlic flavor - excellent. Salad was served in a big communal bowl, alongside a basket of bread. My companion had a huge slice of lasagna, which she thoroughly enjoyed (and she can be quite picky about her lasagna). I ordered the homemade gnocchi, which was a little plain. The sauce was tasty enough, but the gnocchi itself was just ok - not bad, but I've had better. In light of our other dishes being so good, I'm inclined to think the gnocchi was a fluke. Our host and waitress were both very friendly and attentive, and the prices were very reasonable. —EastSideStephen
---
2007-07-09 16:59:25 I thought that the food was ok. Not the best Italian food I've ever had, but it was ok. The server was very attentive, although we did feel rushed even though the place was half empty on a Saturday night. Also were seated by the kitchen so it was hard to feel like there was any privacy to have a conversation with people walking past us all the time. The salad was delicious, but the meals I would say were average. Worth stopping by, though. —SuzanneKirsche
---
2007-09-12 14:43:02 By far, the absolute WORST service in all of Rochester. We walked in at 7:15 and the server/host was busy talking to her friend at the bar. She looked at us, gave a "sigh" and walked us to a table. She also threw down the menus and walked away without even saying "enjoy your meal" or anything!! We ordered an app that had no taste. Our entrees tasted like they had been microwaved. We didn't bring anything home. —MarcVera
---
2007-09-13 14:57:21 I have never had a good meal here, but I have never had a bad meal here. Its just average Italian food. The place is very old looking inside and needs a remodel. Prices are inexpensive. —MrRochester
---
2008-03-19 17:01:12 My girlfriend and I went last night and we were very impressed. The food was tasty and expertly prepared. Everything was reasonably priced — especially the surprisingly low cost of a bottle of wine. —JasonOlshefsky
---
2008-03-22 09:03:54 My partner and I went last week. WOW! Just about everything there was homemade. very rare for this city. Its a little small and could use a little work on the exterior. You just cant beat homemade food! With all the chain restaurants serving there poison around the corner with their 2 hour wait! we only waited 30 min. Well worth it. Amazing authentic food. Lots of family working there which is very Imporatant to. YUM YUM YUM! Homemade Sauce, Meatballs, Lasagna, Conolis! I could go on!! —JohnLance
---
2008-03-23 10:38:45 The great wiki/Michelina's scandal and the mishandling of the situation piqued us to try this place last night. Our account:
The place was very busy. We didn't have reservations and the host/owner (?) was very cool and seemed happy to have us there. Our waitress was busy and it showed - not a big deal to us - she was nice and was there if we needed anything. I could see where someone critical would be offended, but it's not a big deal to my wife and I. Bread and family style salad - nice.
We had gnocchi and shrimp fra diavolo. I actually ordered the four fish (quartetto) version or however it is listed on the menu and the shrimp came anyway. This type of thing doesn't really bother me, unless it happens ALL the time. It mattered even less because the dish was excellent. Nicely done capellini, excellent homemade sauce and perfectly sized, fresh shrimp. The gnocchi were solid - homemade at least - a lot of Italian places serve them frozen and out of the bag. The sauce made them even better. I guess I really liked the sauce at this place. Nice size portions, not fat guy huge or rip-off small. The building/decor: We didn't see what others do. It was a clean Italian joint (villa style) with a lot of tables and booths. Not off putting at all. Maybe people think it needs a remodel if you like everything to look like Soho or Mamasan's on Monroe. It is a little tight but if they can continue to get people there - more power to them.
So sure, maybe some could have gotten upset with our server but more often than not you can get past that stuff by being nice to them. Unless you don't feel that is incumbent on you at a middle market place - then you can continue to get angry at places and vow never to go back. Restaurant people are restaurant people for a number of reasons. Expect it, unless you are paying top dollar at most of the nicer places.
We look forward to going back.—BigPun

---
A comment from MissGia has been redacted per the March 2008 wiki meeting. Concerns about this MUST be directed to the Google Group and particularly to RobertPolyn.
---
2008-03-30 15:22:04 According to the owners, three days after MissGia's original comment was made, the Health Department came out to the restaurant and found no problems. —DaveMahon
---
2008-05-03 21:32:11 My wife and I went there for the first time on a saturday night. It was full but the wait was only 10-15 minutes. There was little space between our table and others and it is hard to block out conversations from the next table. The food was only okay. The pasta dishes were watery, but the salad was delicious. I'm not sure if I'll go back. —ZhaoYun
---
2009-11-19 15:37:44 The food is mediocre. They serve large portions, and so, I could only eat half my meal. It was good enough for me to want to take the other half home, but the server took my plate back to wrap it up, and promptly threw it away. She apologized, saying she wasn't thinking, and did offer me dessert. Still, not a great experience. —Fern
---
2010-03-21 09:47:01 Ate there last night. The food was excellent. We started with the crustini appetizer which was great. —JohnScagnelli
---
2010-08-09 23:05:03 Worst seafood marinara I have ever had. Overcooked seafood, sauce tasted burned and a few of the shrimp were dark and burned. The server told us the special marinara had lobster in in, but when it came out it had poor quality fake crab meat in it. When we asked about it, she first denied saying it had lobster in it. She then admitted that she did say lobster but this one had fake crab in it. She stated "no one puts real crab in a sauce". AFter sending for food back, we were told it would be 15-20 minutes before we could get a replacment meal, as they had to serve the larger party before they could get back to us. We asked for the check and were given a check for the full amount with the expalnation"you can get a free dessert". We sent the check bakc, agreed to pay for one dinner and left. The owner or chef did not talk to us and left the ammends to the flustered waitress, who didn't know the difference between crab, fake crab and lobster. We will never go back and would suggest to others to try The Brooke House, Agatina's or Grandpa Sam's for better italian food. —maryjom
---
2011-02-21 13:54:04 Attended a work function here last night and the food was below average. The service was ok, but there are much better places for Italian throughout the area. This was my 2nd visit (first was at least 5 years ago) and I don't plan on returning. —WestSideB
---
2011-10-20 18:23:58 Enjoyed dinner there last night and had not been there for almost a year. The same great food prevails and service. This is by far the best Rochester area Italian restaurant. Do not let the other negative reviews sway you, this is a great place to dine. —JohnDixon
---
2012-02-19 15:53:01 We had Michelinas cater our daughter's birthday dinner yesterday 2/18/12, we had clams casino (absolutely delicious) salad, chicken parm, penne with sauce with rolls and Cannoli's for desset along with our BD cake. Our guests and my famoly were very pleased with the food. Clams casino ..great! chicken parm so tender,their sauce on both the penne and chicken parm just delicious. The staff were accomodating and pleasant. My husband and I so happy with the food and our Daughter loved it, that meant every thing. Thank you, Michelinas, we'll be back —beverlydecarlo