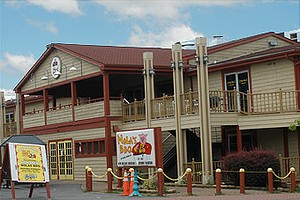 Nola's BBQ on Lake Ave, 6-2008
Former Location
4775 Lake Ave, Rochester NY, 14612
Status (as of November 2015)
Closed
Nola's BBQ was a BBQ restaurant in Charlotte near Ontario Beach Park. They often featured live live bands playing. In 2013 Nola's renovated their interior with over thirty 60" LED TV's, two projectors, and TV's in all the booths of the upper dining area. This gave the restaurant a "sports bar" feel.
On December 11, 2015, Nola's was replaced with by The Rock Shrimp Company.
Comments:
Note: You must be logged in to add comments
---
2006-11-24 15:14:57 I was not impressed —MrPhil
---
2007-05-21 22:38:16 I've been there twice. First time, service was horrible and food was mediocre. Second time, went there hoping it was better. I was mistaken. We sat there for almost 20 minutes before a waiter said hello. Oh,..and the food was alright. Nothing to write home about. Hopefully it's improved. —BobMongiovi
---
2007-05-22 05:54:43 we've been a few times and have been underwhelmed both times... —JcPop
---
2008-06-02 00:54:13 Slow, cold food. —MariahBetz
---
2008-06-02 08:05:12 We've been twice, once last year & once this year. Honestly, both experiences so bad, I can't even write a review about it.... The only thing I see that they have going for them is the location & bands that play outside. The food has never been up to par for me. —TriciaSeymour
---
2008-06-02 09:20:10 It's a nice place to go have a drink in the summer. —SaraChristine
---
2008-07-21 19:22:25 If you see this place, turn around and walk away. Terrible food, terrible service, terrible band. A bunch of faker-bikers. You can bet this will be featured in Nightmare Kitchens with Chef Ramsey. —Don'tEatHere
---
2008-09-29 15:39:34 A total disappointment. Sure was talked up big on local radio (one of those disguised ads, methinks). But we love BBQ, so tried it. Wished we hadn't. Avoid. —JhirkFace
---
2008-12-09 06:02:10 Went Down To nolas last wed and had dinner with the wife food was excellent seemed made to order had the jambayla and wife had the gumbo we even tried battered craw tails for a appetizers our server mike recommended them we even stayed for karaoke place is huge and actually really nice inside 2 thumbs up —Users/JohnMiller
---
2009-05-19 13:06:08 My family and I have been going to Nola's since it opened. I was never a fan of their food, but loved going there to see bands, and have coctails. I have since moved to Miami Beach, and was in last week for Business. To my delight, Uncle Plum was playing on. I went with a business associate of mine. One of the bar tenders does not like my business associate, (for personal reasons), and had us all physically thrown out. We were not causing any trouble. We were not a physical threat. We were there for only 3 minutes. I was absolutely appalled at this experience. My business associate did not even know that this person (trouble maker) worked there. The owner/manager John had been notified that this happened. I think it is rediculous that this happened, and I will NEVER spend another dime there.
We went to the Pelican's Nest and had a wonderful time. So my advice: Find out names of all employees that work there, because if they do not like you, for ANY reason, they can have you thrown out just like a dog. None of the Golisano's will ever be there again.
Tammy Golisano —Tammygolisano

---
2009-07-21 12:12:12 I was just here last week and had a phenominal dinner, complete with appetizers and drinks! My server Sam was the nicest one I have encountered anywhere this summer. Really nice outdoor bar and stage too. I give Nola's two thumbs up and will be making this one of my regular stops, for food and drinks! —sundaymom
---
2009-09-07 02:19:48 worker's are treated like slaves. —thursday7489
---
2011-10-02 18:54:54 I suppose we should've known. It was a weekend evening and most of the doors were locked. We thought maybe the place had been closed. But somebody let us in. Two (count 'em) other dinners in this huge space were eating their meal. Several employees struggled to turn some lights on for us. That was entertaining. The food? The service? Well, other reviewers have already got that covered. Also the photocopied menu we were given looked nothing like the menu on the web site. —SSpring
---
2014-08-07 15:39:00 Drinks are pricey, the water tastes like Listerine, the food was mediocre, and the staff non-existent.
Our group of four ate there last night after tunes in the park at Ontario Beach. We sat outside in the outdoor bar area. The outside facilities looked great. I'm sure if I wasn't planning on eating anything and did not care for the drink prices, that I would have been fine.
There was almost no one there (I can see why now), plenty of unhelpful wait staff; all useless. The burgers (asked for medium-rare) came out burnt. The fried-shrimp po-boy came out with cold (unfried) frozen shrimp swimming in mayo with bits of tomato in a tortilla wrap. Was awful.
Another of our group ordered chili. After bringing it out the waitress asked if he wanted cheese/chips with the chili. 15 minutes later (and after half the chili was gone), the chips come out and there are dust bunnies and hair all over the bottom of the chips. Wait staff was unapologetic and simply noted "the chips were free, so we can't refund anything" (never mind I never asked for any kind of refund, we just wanted the bill so we could leave).
Prior to getting the food (or after), we were never asked if we needed anything or needed drink refreshments, etc. This place is a disparity of a restaurant. I cannot understand how this place is still in business. —JohnHambers