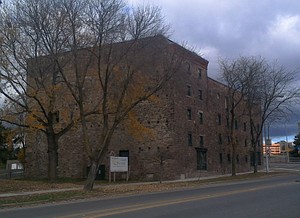 The Old Stone Warehouse is the oldest commercial building in the City of Rochester. It was built by Myron Holley (for whom the Village of Holley was named) and John Gilbert at the proposed juncture of the Erie Canal and a feeder channel used to carry boats from the Genesee River. The location dictated its unusual trapezoid shape. The building originally measured 40 by 100 feet.
In 1838 the warehouse was converted to a foundry. In 1864 it was enlarged to 74 by 150 feet. Over the years, the building also served as a warehouse for tile and pottery and a malt-house and brewery. It was abandoned in 1968 then purchased by developers in 1986 and converted to office space.
Bivona Child Advocacy Center moved here in Summer 2015.
The Old Stone Warehouse was listed on the National Register of Historic Places in 1973.
Located in the South Wedge.
Comments:
Note: You must be logged in to add comments