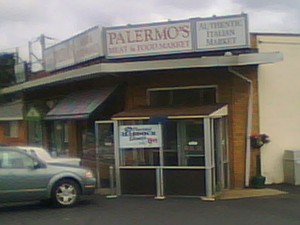 Palermo's on Culver Road in Irondequoit.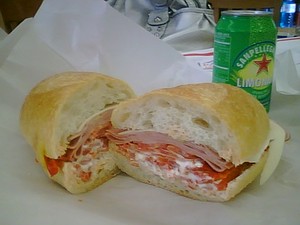 A mortadella sandwich (medium) with a can of limonata.
Former Location
2332 Culver Rd, Irondequoit, NY 14609
Status
CLOSED (as of November 2012)
Palermo's Meat and Food Market was a meat market. The original was in Irondequoit, just north of the Rochester city limits.
On their 10th year anniversary, the owners decided to close Palermo's. (November 2012)
HISTORY:
Palermo's specialized in Italian imports, such as pasta, cheeses, and oils. There is also a fresh produce counter as well.
The deli counter was extensive. There was a sandwich station, where you could get a small sandwich in an Italian roll, or a medium or large sub. There were hot and cold sandwich fillings, as well as 6 different kinds of panini.
The menu boasted 17 homemade side dishes, from soups to salads and sides. Antipasto trays were made to order. Italian dinners on the menu ranged from lasagna, to homemade meatballs and chicken parmesan, to arancini (deep-fried risotto balls stuffed with Sicilian meat sauce, mozzarella, and a sliver of hard-boiled egg). Prime rib sandwiches were available on Thursdays; Friday there was a fish fry.
A dessert counter featured cannolis, cream puffs, cakes, and other Italian desserts.
Photos
| | | |
| --- | --- | --- |
| | Palermo's deli counter. | A bevy of desserts, including several different kinds of cannolis. |
See also: Palermo's disambiguation.
Comments:
Note: You must be logged in to add comments
---
2006-07-27 12:11:51 By far my favorite food store in Rochester. Fantastic meats and a great selection of Italian imports. —ZedOmega
---
2007-01-25 12:57:32 Absolutely wondeful butcher. Best place in town to find rare cuts like Tri Tip. —DaveChandler
---
2007-08-07 00:29:00 good place, the cervelatta sausage is awesome.
the staff is really nice. I mentioned I saw an article in insider or city about them. the guy behind the coutner pointed me to the sausage they had in the article, then told me how to cook it. very friendly people —JohnJoseph

---
2008-08-03 19:29:23 The sandwiches are great - you can't find the variety of sandwich spreads (roasted red pepper, gorgonzola cream, artichoke, wine and cheese) at just any shop. The sausage and meats are fresh, and the butcher is pleasant and helpful. I can only find Pittsford Farms' chocolate milk here - delicious. Dessert - 'holy cannoli.' —ZachSmalt
---
2008-10-09 00:26:34 I found out about Palermo's through rocwiki, and every experience I've had with the butcher there has been extremely positive. I walked in around 9am the day before Valentine's Day, told him I needed two steaks for a special occasion, and he brought back two fresh 8 oz. top sirloin. To date, these steaks remain the best my wife and I have ever had. Places like this are why I am happy to live in Rochester. —Users/bharri7
---
2012-04-21 14:01:50 These guys are fantastic. They provided all the food for our (relatively casual, daytime) wedding reception, and they were a joy to deal with from start to finish: giving us samples, making suggestions, making a few substitutions, and then delivering all the food themselves with helpful advice about heating or keeping certain dishes warm or cold. Our guests raved about the food, including our Italian-American extended family, who can be quite picky. We're definitely working with them for future parties. —BAC
---
2015-04-01 21:42:42 Now it is Annie's Stop. Convenient food and drink. Absolutely nice people. Lowest prices I have found anywhere. —MarkFoery
---
2020-11-22 15:47:46 Palermo's is apparently reopening inside the Sibley Building at the end of the year. —sub619