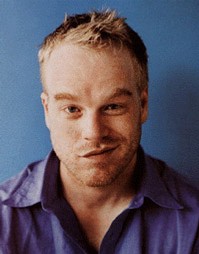 The actor Philip Seymour Hoffman
Cartoon (by Flickr user Blumpi
license info)
| | | |
| --- | --- | --- |
| Birth name | | Aliases |
| Philip Seymour Hoffman | | None |
| Birth date | | Birth place |
| July 23, 1967 | | Fairport, New York, U.S. |
| Date of death | | Place of death |
| February 2, 2014 | | New York City, New York, U.S. |
Philip Seymour Hoffman was a critically acclaimed character actor. After only a handful of minor screen appearances, his breakthrough feature film performance was in
Scent of a Woman in 1992. As of summer 2005 he has two Tony Award nominations for his work on the stage.
Hoffman won the Academy Award for Best Actor for Capote and was nominated for the Best Supporting Actor Oscar for Charlie Wilson's War.
Hoffman is the son of Marilyn L. O'Connor1, a former Monroe County Family Court Judge; he was in the Rochester area to help her (unsuccessful) reelection campaign.
Awards
List of awards and nominations received by Philip Seymour Hoffman
Local Awards
Voted "Best Local Celebrity" in City Newspaper's "Best of Rochester" awards in 2010.2
Comments:
Note: You must be logged in to add comments
---
2005-11-21 15:21:39 cool , I thought he was born in toronto... great in Big Lebowski and amazing in Owning Mahowny —RossHattori
---
2005-11-22 02:37:42 He'll always be Scotty from Boogie Nights to me —JohnGormly
---
2006-03-06 10:25:52 Does he publically and, most importantly, proudly say he's from Rochester/Fairport? —RichardSarkis
---
2006-09-07 23:22:43 Whoa, he's that guy that insists on playing Judas and Jesus in Along Came Polly?! Color me surprised. —CatherineConnolly
---
2008-04-11 19:17:41 It took me a while to even realize it was him in Charlie Wilson's war. I'm used to him being in comedic roles —RocWikiUser
---
2008-05-30 13:43:52 He refers to his origins as a "small town in Western New York" —JoyceBritton
---
2012-07-23 08:12:15 Have you seen Charlie Wilson's War? He's pretty damn funny as the CIA agent who bugs Charlie's whiskey bottle —PDub