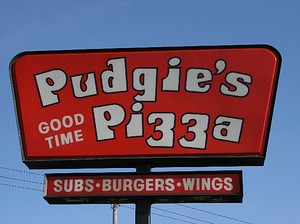 Pudgie's Goodman St. sign. Picture by JoeG.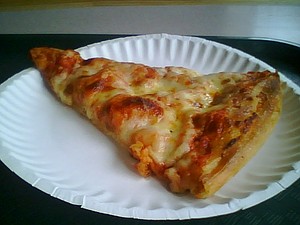 A slice of Pudgie's pizza.
Pudgie's Pizza is a regional chain that serves steak, subs, and pizza. They have two local locations: one in Canandaigua and another in the City of Rochester, on the border between Group 14621 and Northland-Lyceum.
Comments:
Note: You must be logged in to add comments
---
2008-07-20 18:24:18 This is the Salvatore's of the Southern Tier. At one point, there were about 30 in New York and the Northern Tier of Pennsylvania. I was shocked to find one of the few remaining Pudgie's a mere 2 miles from where I live.
It's a very saucy pizza with a soft, spongy crust. Perfect to dunk in a cup of blue cheese. Not very filling - I used to routinely eat 10 to 12 squares of it as a teen.
I love Pudgie's, but nostalgia plays a huge role. For me, a trip to Steuben County isn't complete without a sheet from Pudgie's and a dozen wings. It's on par with Salvatore's - meaning pizza lovers in Rochester may find it bland. —ZachSmalt

---
2008-07-21 12:12:46 I loved Pudgie's in Rochester while growing up, but I hadn't seen one around for ages — until I saw an empty Pudgie's box in my brother's trash can. Now I'm aching for a slice. —JayUnnikrishnan
---
2008-10-01 06:50:15 I believe that no one loves pizza more than I do and I would have to say Pudgie's has one of the top 3 best pizzas in at least Rochester, New York. —Kissandra
---
2008-12-11 12:40:09 Pudgie's is my favorite local pizza chain. The crust is, at once, crispy, spongy, and buttery yet not doughy or greasy. The sauce is unique in its complexity. Finally, they don't overwhelm you with the cheese. Taken together, the hot slice forms music in your mouth. I highly suggest the Canandaigua location over the Goodman (or Titus) location. These Rochester places don't do Pudgie's proper justice. If you want the real (REAL) deal, go to Horseheads. It's where the original Pudgie's can be found. On a side note, shame on the Penn Yan Pudgie's for closing up shop. A scary Chinese buffet now inhabits what was once home of the best Pudgie's restaurant EVAR. —BatGuano
---
2013-10-21 16:15:17 Maybe it's nostalgia, but I swear when I was younger Pudgie's had the absolute best pizza in Rochester. During my most recent visit I was EXTREMELY disappointed. The pizza was GARBAGE. —sub619