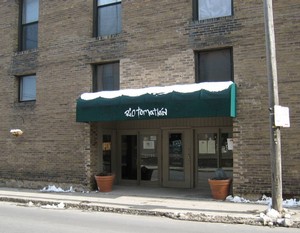 Exterior view, 2010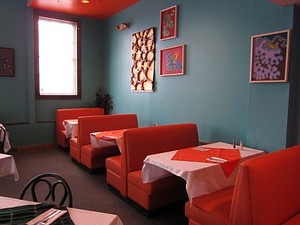 Colorful interior in the back dining room, 4-2012
Rio Tomatlan is the former El Rincon Mexicano Dos. It changed hands in mid-2007 but still uses the same menu. They pride themselves on authentic Mexican food. Kind of tricky to find, as they are a block off the main street of Canandaigua (turn right if you are head south, towards the lake).
It opened in 1991. They closed the original location on Beeman Street after a fire in 2014, but have re-opened in a new, larger location on Bemis Street.
Comments:
Note: You must be logged in to add comments
---
2008-07-09 22:20:35 For those of you who have been to Mexico and loved it, you can't miss this place! The staff is friendly, the environment simple and traditional, and the food absolutely outstanding. The mole is to die for, best I've had outside of Oaxaca, and I would be their best customer if it were closer to Rochester. Rio Tomatlan Dos in Rochester, Rafael? —kristenfloresfratto
---
2008-07-28 15:42:18 Number listed is disconnected and website doesn't work. Does anyone know if it's open and if so what the hours are? —JasonHaremza
---
2008-11-25 09:46:25 I lived n Canandaigua for a while and frequented this place when it was El Rincon Mexicano Dos, great food, fun place. I have returned to it now being Rio Tomatlan and it is still excellent. They do close a bit early, even on weekends, so go early. —mmsmith
---
2009-06-21 21:39:39 Tried this place out the other night. The good: Queso Fundido tacos + the chicken taco from the Tacos Surtidos. The bad: The server told me that Horchata was a "seasonal" drink and that's why they didn't have it. I'm mexican...you get horchata year round down there. I asked for Sidral, and he had no idea what it was, even though it was on the menu as "Sidral." The rice was overcooked and I found the rice + beans overly salty. I'd go back for the queso fundido tacos though. —MarcVera
---
2009-07-12 23:35:44 Went there for an early Saturday dinner. Service was polite, attentive, and helpful. Margaritas are fantastic, if a little pricey. Food is fresh, authentic, and a good value. Don't expect huge plates of mediocre food here. The portion sizes are appropriate, and if you just order one dish, you probably won't have leftovers to take home. I ordered a pork tamale and the side of rice and beans, and I enjoyed it all. The rice and beans were nothing to gush over, but they were solid quality and tasty. I will definitely be returning even though I live in Henrietta. —ErinPence
---
2009-11-19 15:42:04 This is the best mexican food in the area. Actual, real, mexican food! I loved everything I tried. Not huge portions (as we Americans are used to), but sharing an appetizer or two before the main course is the perfect amount of food. I'll definitely go again. —Fern
---
2009-12-30 16:11:58 I would readily drive for 40-45 min from here to eat in this place.. Its the best Mexican I have ever had. This is the one place where I finish up all my food so well that they don't have to clean my plate. All of the dishes that I have tasted so far, like the Tacos de Tilapia, Enchiladas, Mole Poblano, etc. and dessert, esp. the flan are great. The food has just the right amount of cheese, spices and flavor, unlike other Mexican restaurants. Try it out people! —RocResident

---
2010-04-02 20:25:03 I heard good things about this place and I seriously wanted to like it. So serious, the two of us ordered 2 appetizers and 3 entrees with the thought of sampling everything and having yummy leftovers to bring home. Bad move. It was like Mexican Radio, but much worse. And why is everything covered in lettuce and cabbage? If we had a dog, we might have brought the leftovers home. Sadly, we don't. —ChristineH
---
2010-06-15 17:17:16 We went there a few Saturdays ago. Our waiter was absent for most of the evening, except the one time when another waiter stumbled out of the kitchen and crashed into a wall in the dining room. Then we finally saw our waiter emerge from the kitchen laughing and pointing before disappearing again. The food was okay, but nothing to write home about. Seemed a distinct lack of seasoning in many dishes. A Danny DeVito look-alike would periodically saunter into the dining room and serenade customers - was he a hammy karaoke customer? or did they actually hire him? - we were under constant stress that he would come to our table and assault us with his Neil Diamond medley. Who runs this place? —StellaRegulus
---
2010-07-17 19:16:29 frequent this place as if it's the kitchen of my house, and i live 45 minutes away. chile reino - enough said. —Leisel
---
2011-03-05 22:17:54 My husband and I were very impressed. I am not a great fan of Mexican cooking, or at least what is passed off as Mexican cooking in the area, so was very happy to have found a place like Rio Tomatlan. Unlike other local Mexican restaurants, the food had some style; a good, fresh flavor; and wasn't of the "how much stuff can we stick in a tortilla and cover with cheddar cheese?" philosophy. We would certainly go again. —LePetitChien
---
2011-04-24 10:57:17 To the visitor who said that they get horchata year round in mexico - this isnt mexico, it's ice-cold upstate new york. they probably dont want to bother making an iced specialty in colder weather. Makes sense to me.
That said, I love love love this place, and bring lots of people to try it. I nearly clean the plate every time I go. I love the fresh flavor of everything, the sauces they use are fantastic. This is the best mexican you can get in this area for sure. I dream about their pork sopes and pollo chipolte. —TheEnigmaFacade

---
2011-06-07 18:31:32 While it is much better than 90% of the mexican food found in WNY, I can't help but feel like some of the flavors could be bolder. Don't get me wrong, there was nothing wrong with what we ate both times we went, but it felt like a toned down version of authentic mexican food. Nothing is particularly spicy, my Pozole was nice, but didn't have the intensity of flavor it should have had. —jberna
---
2011-07-01 09:58:12 If it wasn't such a drive, would frequent more often since it is by far my favorite Mexican in the area. Have had a several of the pork dishes and find them all great. I also really like the salsa served with the chips.What I like most about the cooking is that the flavors are allowed to stand on their own without being buried by sauces and cheese. —almorinelli
---
2012-01-21 19:22:52 Beautiful meal! We had the mushroom quesadilla, the sopes, and a couple of tacos (barbacoa and carnitas). The quesadilla was way more delicious and fun than what most people are used to — lightly battered in a cornmeal-type crust (maybe?) with spicy red and green salsas spooned underneath it, it looked practically like a work of art. The tacos were perfect, small bites — we especially loved the barbacoa, which was gloriously seasoned. The sopes were filling and flavorful. Good margarita, though it tasted a little bit like a mix. I'd love to try more of their tequilas. Really gorgeous food. —AliMcGhee
---
2014-05-30 21:29:54 Temporarily closed due to fire. —thomaspawlik
---
2015-09-28 01:10:15 FYI this place is reopened now, in a different and much larger location, near Casa di Pasta.
Excellent food, but since moving to the new location I've noticed that several of the servers don't seem to understand what's on the menu and/or how to enter it into the system. Had an issue the first time I went, in June, with being charged for an item similar to but not the same as the one I ordered; fortunately the server rectified it after I pointed it out. Went back tonight, had a different server, and though she was friendly and polite, she was absolutely clueless about the food & drinks. I asked her what beers were on draft, and she only named about two-thirds of them (I saw them listed on a chalkboard later when I went to the bathroom) and did not know what styles they were (although she was kind enough to let me taste one before ordering). I asked her what was on tonight's "Seasonal Salad" (it changes), and she told me squash and zucchini over arugula & field greens... Salad came out and it was indeed field greens, but they were topped with pickled onions and cheese— not a squash or a zucchini in sight. My spouse ordered the Enchiladas Verde but was instead served (and charged for) the Enchiladas Mole ($1 difference, not a big deal, but still). All the food was tasty, so we didn't send it back— however, we would have liked to have known what we were ordering when we ordered it (and wish we hadn't missed out on what looked like a fantastic beer, which of course was one of the ones that the server had neglected to tell us about). And I'd imagine it's especially important for people with food allergies or intolerances to be able to know what they're ordering... So yeah, basically, Rio Tomatlan really needs to get their act together with either training their servers, or else printing out a daily menu of the specials / rotating items (including a draft beer list). If they could do this, they'd be a 5-star place, IMHO. —Enfys15