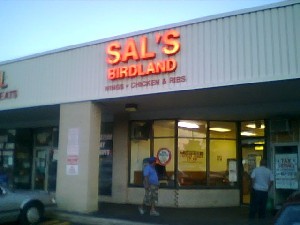 Rochester location.
10 wings in sassy sauce. You can get sassy sauce on the side.
Locations
Phone
1260 Scottsville Road, Chili, NY 14624
585 328 1620
309 East Ridge Road, Rochester, NY 14621 in Ridge Seneca Plaza
585 544 4171
Hours (as of November 2006)
Monday - Thursday: 11:00AM to 10:00PM
Friday & Saturday: 11:00AM to 11:00PM
Sunday: 1:00PM to 9:00PM
Wheelchair Accessible
Yes
Website
http://www.SalsBirdland.com
Sal's Birdland is a restaurant with two locations in Chili and Rochester's Group 14621 neighborhood. Serves chicken, ribs, and wings. Sal's also makes their own sauces, which can be purchased at Wegmans, PriceRite, and Tops
Sal's has been around since 1974.
Comments:
Note: You must be logged in to add comments
---
2008-01-11 14:53:40 no joke i've driven past this place for years and always thought it was a pet store... —StephChows
---
2008-01-11 19:32:40 It's about as close to a pet store as a restaurant can get ! But anyone who lives around here really needs to try Sal's Birdland. Their sauce is unique, yellow mustard and vinegar based I believe. Kinda similar in menu and presentation to Country Sweet but not quite. One of our favorite chicken places back when I was in school. —DottieHoffmann
---
2008-07-20 15:35:59 Love 'em. These wings are very large, due in part to the breading. It's highly seasoned, and delicious. The sassy sauce is aptly named. It's more sour and hot than sweet. The key is getting the wings sauced, and dunking them in the blue cheese, which is much more sour and mayo-like than creamy. It sounds like it shouldn't work, but don't hesitate. Everything comes together, and it's very delicious. I get very intense cravings for this combination.
I was introduced to these at Syracuse U., where they were served in the dining hall and on the menu of Campus Delivery. Imagine the shock that kids from Boston, NYC, DC, and for that matter, Buffalo got when having 20 of these delivered to their dorm room. —ZachSmalt

---
2008-10-01 17:31:41 Food poisioning... Nothing further-Be AWARE! —BurbsGal

---
2009-02-04 12:02:33 BurbsGal probably owns a competing restaurant...why the slander? —Mikeyg
---
2009-02-09 17:33:36 Great wings - the best I have ever had and I have had wings from all over the US. I live in California now and wish there was a Sals locally. Their restaurants are clean and efficient. It's a good place to just enjoy gobbling up these delicious wings without worrying about what other people think :-) —DanKen
---
2009-06-07 21:09:20 I just went there today for a little lunch, and I was absolutely floored by how expensive this place is! No joke, I asked the guy at the counter if the prices were correct. The "1 pack" which includes 10 wings, a side of rough cut seasoned fries and a 16 ounce drink costs, get this 17 bucks and change with tax!!!!!!!!!!!!
I rarely get out to that area and I'm a huge fan of chicken wings, so after the shock wore off, I bit the bullet and ordered it. The wings were average size, and the tips were still on the wings, which is a huge annoyance to me, as they have pretty much nothing edible on them and just get in the way. The sauce is similar to Country Sweet, but not nearly as good, in my opinion. It's far more mild in flavor, I think it could do with a bit more potency as far as the tanginess of vinegar.
If the prices were more reasonable, and by reasonable I mean half the price, I might hit it up from time to time for some variation. But the prices are just prohibitively expensive. I thought Country Sweet was pushing the envelope as far as price, but it takes some real chutzpah to sell a 10 piece of wings with one side and a drink for almost $18. Country Sweet is half the price and far far superior.
For this reason alone, I will never eat at Sal's Birdland again. —AlexD1234

---
2011-02-21 14:01:37 A little on the expensive side, but what isn't these days. The food is always delicious. I wish the wings did not have the tips on them, but they're still good. For this reason, I usually opt for the chicken fingers instead. Potato wedges are delicious. Get the sauce on your food, not on the side. —WestSideB
---
2014-03-31 06:59:15 Is this really Henrietta? I thought Scottsville Road was in Chili. —EileenF
---
2014-03-31 08:38:54 Definately Chili. —jgerek