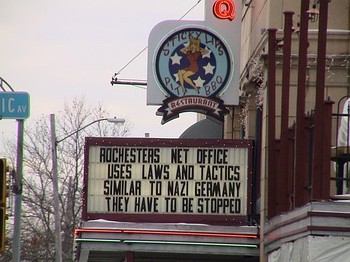 As of December 10, 2005, the Culver Road Sticky Lips had the signage above
Location
Phone
830 Jefferson Road, Henrietta, NY, 14623
585 292 5544
Hours (as of October 2018 per website)
Monday - Wednesday: 11:00AM to 10PM
Thursday: 11:00AM to 11PM
Friday - Saturday: 11:00AM to Midnight
Sunday: Noon - 9:00PM
Sunday 'Southern Style Brunch': 10:30AM - 1:00PM
Wheelchair Accessible
Yes
Website
http://www.StickyLipsBBQ.com
Sticky Lips BBQ Juke Joint is a barbecue restaurant and live music venue located on Jefferson Road in Henrietta. At 11,000 square feet it is one of the largest BBQ facilities in New York State. Opened on October 6, 2011 as a second location for Sticky Lips Pit BBQ; on February 22, 2015, a new Sunday "Gospel Brunch" was added, featuring full Southern-style brunch buffet, sometimes accompanied by Gospel Music.
The original Sticky Lips Pit BBQ was a 1940's-themed barbeque restaurant on the corner of Atlantic and Culver, in the EMMA neighborhood. The location opened in 2004 and closed in October 2018 due to declining business.
Comments:
Note: You must be logged in to add comments
---
See Archive Page for comments prior to 2010.
---
2010-02-01 19:10:40 I absolutely love Sticky Lips BBQ!! and I know that Sticky Lips is one of the best Places in the country! I've lived in Texas and Memphis! Sticky lips is Top rate! The ribs are juicy! thick! & smoked to perfection! brisket is better than most in Texas and pulled pork is smoked and juicy! side plates are Destiny.. bbq beans& cheesey gritts exetra! considering it gets a little busy and loud.... thats the roots of bbq! the waitresses are friendly and even will sit and talk with you! I know this is a local owned bbq.. The decor is all authentic 40's and 50's themed! Dont come here if you are the uptight/snoody type because sticky lipshas a nice relaxed laid back atmosphere! The sticky icky plate is mouth watering!!! This is the best bbq on this side of the mississippi by a long shot! don't miss it —Eatlovefood
---
2010-02-15 17:03:23 They are opening up a second location. The old Roadhouse Grill on Jefferson Road in Henrietta —ScottHendler
---
2010-03-03 18:01:21 Very good pulled pork, pretty good beef brisket, good sides, a nice vegetarian selection. The sauces are pretty good. Miles above Dinosaur and my favorite barbecue restaurant in Rochester. I like the 40s-themed atmosphere. I'm looking forward to trying the Henrietta location when it opens. —nickelcokes
---
2010-03-12 09:23:04 first things first , i hate the negativity put on a place that was my first exposure to ribs and pulled pork, i've been to dinosaur , i've been to beale street, i like all three. do you think that a person that does a review for a newspaper , goes on a saturday night ? i doubt it, i've been to dinosuar in the afternoon , service was great, been to beale street at night and in the afternoon , service was better during the afternoon,i've been to sticky lips in the morning , afternoon and evening , even on weekend , my particular expierences we all positive. But the point i'd like to make , is if you want an honest taste of any place you can't expect 5 star service when a place is jam packed and you had to wait an hour to get in, it's called reality. when places are really busy , you're not gonna get the absolute best they have to offer.thats all —barnabasschickling
---
2010-03-12 15:41:30 Wow, some of the comments here surprise me. I live nearby, have eaten here or gotten takeout maybe 20 times, and have never been disappointed. I can't remember the last time I've been to Dinosaur - I love the place, but why deal with the crowds and parking when IMHO Sticky Lips is better anyway? —MattDana
---
2010-06-02 12:04:57 I am very sorry to read some had bad experiences at this place. Perhaps they were recently opened and working out the glitches and learning curve? I have enjoyed all my meals here, and I was impressed when the young man who was bussing a table nearby overheard my step daughter exclaim that she thought there might be cinnamon in the hot sauce on their version of a garbage plate (she's allergic). He offered to go check the ingredients, and confirmed this to be true. He and our waitress brought my step daughter a whole new garbage plate with no hot sauce, and left the original one there for the rest of us to sample. Great service! I love too many menu items to list! Keep up the good work, Sticky Lips! —LisaRuns
---
2010-06-24 21:28:06 I was curious to try Sticky Lips after being a Dinosaur fan for years. Dinosaurs still reign. The sandwich was delicious, but cumbersome to eat; the corn side was tasty but the mac n' cheese was nothing special at all. The atmosphere was good— I enjoyed eating on the rooftop deck— but the service was slow. The most frustrating thing: two other tables seated after us got their food before us, with no "your food will be up soon!" from the server... a decent experience, but no comparison to the Dinosaur, if you are willing to take the sometimes long wait at the Dino. —OxfordWriter
---
2010-07-15 11:33:54 I have been to Sticky Lips 15 maybe 20 times and have never been disappointed. Last night was no exception. The fried pickles appetizer is out of this world and definitely worth checking out, even if it does sound a bit strange. For entrees I ordered the Chicken and Brisket platter with fries and cajun corn and my wife had the Pittsburgh Sandwich. Both meals were phenomenal. The brisket was cooked perfect and was huge, cornbread was warm, and her sandwich was enormous. We've always enjoyed Sticky Lips, and when faced with the fact of waiting for a table and trying to find parking at Dinosaur, Sticky Lips wins our business every time. —vaneson
---
2010-07-31 21:40:39 I came for the Atomic Bomb Challenge, so I can't really speak for the bbq on its own. Basically it consists of a 1 lb burger, pound of pulled pork, pound of fries, quarter pound of cheese, a few strips of bacon, and almost a full salad's worth of lettuce, tomato, and onion. In the 30 minutes, I only ate about half of it. Wow was it good. I can't really say that I rushed through it either, since I had no expectations of finishing it and wanted to enjoy it. We weren't there on a busy night, so had no problems being seated right away. Our waiter was very nice guy and checked up on us frequently (and to provide me encouragement for my feat). —Ackj
---
2010-08-03 16:19:38 Anyone know when their new location in Henrietta is set to open? —BobMongiovi
---
2010-08-28 22:06:04 Really freaking good food. As a visitor from Boston because my child is at UR, we've eaten at both Dinosaur and Sticky Lips. I think the former has better ribs and the latter has better chicken, but it's really close on both counts. We have not had service issues. The only problem is the upstairs room can be ear-splittingly loud. Portion sizes tend to really large. Oh, I really like the beef ribs.
We grew up eating BBQ in the midwest, but Boston is not a BBQ stronghold at all so Sticky Lips is a treat for us. —jomiku

---
2010-09-18 17:49:50 For a few days last week their sign urged passers-by to call City Hall to protest "Mayor Duffy's" boot-the-parking-scofflaws policy.
In addition to the political theater their food is quite good. I really like their mustard-based Carolina Clipper sauce, and my vegetarian son swears by their tofu étouffée. —MarkJackson

---
2010-11-08 10:28:12 I went here for my birthday since I had a craving for meat. Once again the service is lacking, I ordered the Pittsburgh sandwich and I asked my waitress to have them cut it in half. Well she said that she can tell them to do it but she could guarantee they would. Cause, you know it's so hard to cut a sandwich. I guess only the staff at a Subway can do it.
They also forgot my cornbread. —DamianKumor

---
2011-06-07 19:06:45 very average —jberna
---
2011-10-09 08:47:38 A++ New Sticky Lips in Henrietta is amazing. I'll be spending a lot of time there. The food at Sticky's is simply wonderful and now you get the full package. Fun restaurant, live music, large bar with LOTS of beer on tap, patio out front and nice people. Oh and the FOOD! —NewtonNola
---
2011-10-11 23:35:42 Wife & I went to the henrietta location on Columbus Day (Oct 10th) at 1pm. A little unorganized in the seating. Our server, Kyle, was terrific and the food was phenomenal. The sweet potato fries are GREAT! —PeteB
---
2011-10-20 11:37:37 Went to the new location in Henrietta last night. The food is just as good as the original location (yes, I was a little concerned about that, haha!) Service was really friendly. The draft beer list is crazy good and really extensive! I might prefer this location just for this reason. Only complaint is that they use a mic when there is a wait list and it was REALLY loud. Thankfully one of the staff noticed and had the hostess lower the volume. —dmarie
---
2011-10-29 15:01:47 Stay away from the Henrietta location!!
Up until last night I was a huge fan of Sticky Lips. I was so excited to go to the new Henrietta location last night. When the waitress realized we were seated without our whole party she became a huge bitch to us - even going so far as saying that she didn't really care about how she treated us because we had to pay a mandatory tip for our large party. Mind you: we had waited 45 minutes to be seated, we were never told our party needed to be there, we ordered appetizers during the 10 minutes it took for the rest of the party to arrive, other tables were open the whole time, and other tables were being seated without their full parties. Since the waitress had a major attitude we asked the manager to give us a new waitress. He didn't apologize for the waitress and instead defended her by saying "she's not usually like that." After pushing, we did get a new waitress but she had talked to the previous one so she wasn't her friendliest either.
The forks at the table were almost all dirty with barbecue sauce on them (only one member pointed this out, the rest of us just cleaned them with napkins). When we got our dishes, several members of our party noted that the serving sizes were less than at Culver Rd. I discovered that instead of a pulled pork philly I was given a chicken breast (I assume their version of a chicken philly?). As I ate my sides waiting for the waitress to return I discovered a large piece of foil like from a bottle cap in my beans! Since we had so many other issues, I didn't say anything to the waitress and just kept eating. When the waitress came I pointed out the error in my dish and she took away my whole plate. Leaving me with nothing to eat as the rest of my party ate and finished their meals before my correct order came out. Needless to say, I had to box pretty much my whole meal.
I think this tops my list as one of my worst dining experiences ever. I will not be returning to the Henrietta location again and am seriously rethinking plans I had to have Sticky Lips cater a large event I am planning. It's such a shame that Sticky Lips couldn't get big and stay good. —RachelRobbins

---
2011-10-29 18:18:29 I was in the same party as Rachel, and what she said pretty much covers everything I could say in the negative. On a positive, their beer selection is impressive with 4 different Rohrbach and probably like 30 other beers listed. They seem to trend toward bad service, but good food. —DamianKumor
---
2011-11-01 16:37:22 Had lunch in Henrietta recently. LOVE Culver. Henrietta - not ready for prime time. Somehow the place was not full - I'd tried to eat there before and it had always been too packed. Still, the service was LOUSY. We were there for over an hour (warned server when we sat down that we had to be out in less than an hour). Server kept saying our food would be "right out" - one time she actually said "they're right behind me with your food" and it was another 15 minutes before we got it. Complained to the manager, expected he'd take something off the bill or at least apologize, and all he said was "we're looking at putting another line in our kitchen to handle the lunch rush." Great - what does that do for those right now whose food is taking too long. On the positive side, the food was great. Maybe even better than the Culver kitchen. But the snarling and slow service is going to ultimately be the reason this place closes, unless they improve it. —bionicsimmons
---
2011-11-18 22:23:22 Went to the Henrietta location tonight. The place is huge and has the largest bar I have ever seen. Great beer selection. Had to wait 40 minutes to get seated because it was packed with people. We were told 30-40 minute wait and they met the time frame. Food was as good as Culver. Service was good and attentive. The waitress gave us time to review the large menu. Once we ordered our food was on the table in 10 minutes. Only issue, there was no silverware provided. That took another few minutes to arrive. Would like to go sometime and listen to music. Might be a good idea for winter evenings. —ScottHendler
---
2012-02-10 19:44:09 Went to the Henrietta location on a Friday evening at about 5:30. Having never been to the Culver road location, I did not know what to expect in the way of quality. Reviewing the menu online, the wife and I decided to give it a try. The place was very clean, good looking, and not crowded. As opposed to the other reviews, the service was pleasant and prompt but the quality was suspect. We had some appetizers included the pig wings my favorite item of the night) and a sampler platter of fried catfish strips (soggy), fried pickles (soggy), chicken drumsticks (nothing special), and sweet potato fries (pretty good). I had a combo platter of pulled pork which tasted like it was reheated under a broiler with charred bbq sauce crusted on top, brisket which was chewy and not "fall-apart in your mouth" like I've always had it, and lastly a 1/4 chicken (leg and thigh). The chicken was good at first bite but real dry and not worth eating when you get down to the bone. Sides of mac and cheese and chili tasted like they came off a buffet line. On the plus, the beer menu was great. Over all, I really wanted to like this place but I don't think I can bring myself to go back with so many other good places to eat. —mragosti
---
2012-02-11 01:39:35 Classic. —Olivia
---
2012-03-10 08:30:07 Best barbecue in Rochester, no question about it. Culver Road is still the pinnacle of awesome-ness, but the one in Henrietta is getting better. —AGoldman
---
2012-04-05 21:03:04 Definitely best BBQ in Rochester. Try the deep fried pickles they're amazing. Unfortunately the corn bread is horrible and the side of mac and cheese is whack. Everything else is incredible. Best nachos and pulled pork in town. —catwhisperer
---
2012-04-15 20:37:47 BBQ tofu and fried green tomatoes - FTW! —xanthm
---
2013-07-12 17:50:01 I can only speak for the Henrietta location, the food is great but the policies in place are obnoxious (including hostess' with quite the attitude). FYI the policies in place do not allow for reservations on Fri / Sat / Sunday or call ahead seating. Those I understand, but the one that really is BS is they "are not allowed to provide wait times over the phone". Yes, because I would much rather drive all the way to your location to then find out I have to wait quite a long time (and be pissed off) rather than knowing ahead of time. This is not more likely to have me stay at the location regardless of if the long wait time is provided to me in person or on the phone. Feels like it's being run by teenagers some of the time with the decisions and the attitudes. —Student
---
2014-05-04 11:58:21 Still the best BBQ meat in the Rochester area, particularly the dry rub ribs and the brisket. The Culver location has a great funky atmosphere. Only wish they had draft beer available. —jgerek
---
2014-06-05 15:10:14 Even as a current vegetarian and former meat eater, I can still appreciate this place. I completely understand that it's odd for a vegetarian to enjoy this spot, but that's because they cater to a diverse amount of taste buds and needs. My only issue is that the restaurant is far over-packed. You have people climbing over one another and last time i was there I asked for certain modifications to my sides and none of which came out the way I ordered them. I'm glad the place now has two locations and do believe their food is superior to Dino BBQ, which has been an ongoing argument for quite some time. —SRB
---
2015-06-23 14:25:33 Went to the Henrietta location for the first time today for lunch. It was 12:30pm when I arrived and there were few customers.
I ordered the Blackened Cajun Chicken Sandwich with Collard Greens and Mac & Cheese. The piece of chicken was very small, very dry and only lightly dusted with spices. The Mac & Cheese was of the Kraft shell variety with little flavor. The Greens were excellent. I would not go to the Henrietta location again.
I used to go to the Culver location regularly (see my 2006 review on the archive page) but it's been a couple years as I haven't had a BBQ craving in a while. I'm now hesitant to try that location. —ZedOmega

---
2016-10-18 16:58:46 It looks like there is a new strip mall being worked on at the Culver Road location. They may be expanding Sticky Lips into more of a concert hall. Maybe they'll finally put a bar in that location. —DE
---
2016-12-02 15:27:08 The Culver location is pretty decent. The Henrietta location is god awful. They are both inferior to Dinosaur. —Cretinx
---
2018-09-26 17:03:32 Culver Road location closing October 2018 —scotthendler
---
2020-02-09 22:26:59 Original location plans to reopen as fast-casual "Sticky Soul and BBQ" on February 20, per News 8. —markjackson