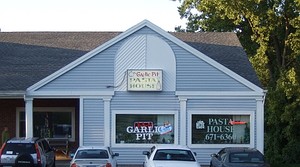 Photo Sep 18, 2008 BradMandell - Click to View
Location
696 Ridge Road, Webster, NY 14580
Hours (as of March 2010)
Tuesday - Saturday: 4:00PM to 9:00PM
Closed Sundays and Mondays
Phone
585 671 6360
Accessible
Yes
Alcohol
Wines
Website
http://www.GarlicPit.com
The Garlic Pit is a small, casual, family Italian restaurant on Ridge Road in Webster. Their menu includes the usual fare you will find in most Italian restaurants like Olive Garden.
They are located in a small strip mall on the north side of Ridge Road, just east of the curve where it becomes Empire Boulevard.
Comments:
Note: You must be logged in to add comments
---
2008-05-21 13:07:40 Scary dump of a restaurant with awful Italian food. Feels like it should be way out in Wayne County. They should tear down the building. —MrRochester
---
2008-09-18 20:45:25 Hate to disagree, but we went there with friends tonight and had a wonderful meal. The other couple had Chicken Parmigiana and were very happy. My wife was quite pleased with the Broccoli and Sun Dried tomatoes with Garlic over Penne and I was very happy with the Bacon & Egg Carbonara. They brought a nice big bowl of salad to the table with a very good house Italian dressing, the service was pleasant and prompt, and the prices were very reasonable. We will definitely go back again. —BradMandell
---
2009-01-14 16:53:45 Disagreeing is part of life, more people should voice their opinions. —MrRochester
---
2009-03-07 17:05:49 We love the Pit! We've been going to the Garlic Pit since we moved to the area (7yrs). I'd put their chicken parm against any other restaurant in town. My wife and I started going before we had kids, and started bringin the kids as soon as they were born... it's a great casual place... sure the decor isn't great, but the food and music more than make up for it. For the price, it's the best food in the area. Though, I can't speak to their whole menu... as the chicken parm and gnocchi are so good, that I can't help but order one of the two every time we go. All our neighbors love the place as well. Now that I'm thinking about it... I'm going to take my daughters tonight! (no joke->the kids already have their coats on) —JeffB

---
2009-06-29 18:47:24 I, like MrRochester, tend to be a harsh critic of any establishment especially restaurants; however, I have to disagree with Mr. Rochester on this one. Yes i will agree that the restaurant does look like a dump, no decor what-so-ever! If you are going to Garlic Pit for an ambiance, go somewhere else; however, if you are going here for good Italian food, i would definitely recommend it. The portions are plenty and the price is very inexpensive. I purchased Chicken Parm and it was awesome, i usually finish my meal at the restaurant but this one was too much food, so i had to get a box for it. My gf got a gnocchi and she loved it as well. As stated before, go here for a good meal not for the ambiance, you will get your money's worth. —DennisPtak
---
2009-12-04 22:05:02 Nice staff, but my stuffed shells with red sauce tasted like they could of come out of a bag from Wegmans. The salad was really fresh, I think, but it needs chilled plates to make the lettuce crisp. Price wasn't bad, it's the kind of place to bring kids.
My neighbor loves this place and says to get the Eggplant parm, so I'm guessing their parm is way better than their pastas. —DamianKumor

---
2009-12-09 19:24:22 Just got a Chicken Parm sandwich, will definitly be back. Very good sandwich and sauce, prices are very good and people seemed very nice. I also like the very modest interior. Good authentic italian restaurant. —MarkRizz
---
2011-03-11 21:10:02 Horrid experience. Walked in expecting a warm atmosphere only to find the place looks like it belongs in the sticks somewhere. Horrible bright lighting and tables that look like they came from a yard sale. Got seated and told they ran out of menus, waited ten minutes for water, another 15 to get our order taken and probably 35 - 40 min for our food to come. interesting however as we realized people that sat after us had already got their food. The food itself was bland. I notice most people gloating about the portions but I don't go out to dinner to get the next days lunch. The food was nothing special and was eerily reminiscent of diner food. Also couldn't help but notice groups that the waitresses were familiar with were getting service above everybody else. This is not how you run a restaurant, to cater to only people you know!! we are never going back. I wish I had my Friday night back...nearly wasted two hours in this dump. —Beatmusic
---
2011-03-20 13:04:19 Went a while ago to The Garlic Pit. Pit is quite accurate. No bar, harsh lighting, no decor, poor service. Food was quite bland. Won't be returning. —NewtonNola