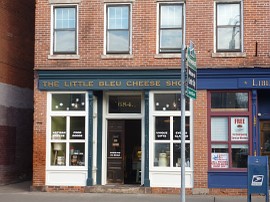 Exterior, Jan. 2013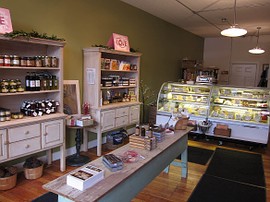 Interior, Jan. 2013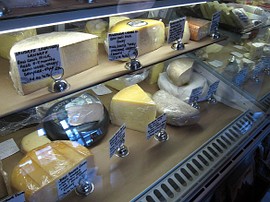 Cheese selection, Jan. 2013
Former Location
684 South Ave, Rochester, NY 14620
The Little Bleu Cheese Shop specialized in farmstead and artisan cheeses. They were located in the South Wedge.

The Little Bleu Cheese Shop opened its doors December 1, 2012. In 2013 they were voted Best New Retail Store in City Newspaper's annual Best of Rochester contest.1

From their website: The Little Bleu Cheese Shop offers the ideal farmstead and artisan cheese experience through education about and interaction with small batch cheese producers whenever possible. Good. Pure. Cheese.
The retail store closed in December 2015 but the business lives on as Little Bleu Catering & Events.
Comments:
Note: You must be logged in to add comments
---
2013-10-29 16:52:50 I was walking around the Wedge the other day, when I suddenly became a bit peckish, and decided to stop in for some cheesy comestibles. First thing I noticed was that there was NOT a bazouki player in the corner.....
OK, Monty Python allusions aside, this is a nice cheese shop, concentrating on nearly-local soft cheeses and sausages. The cheeses I tried were quite good, and I even took a couple home with me. The place was clean, and the service good, even if the selection was a bit limited.
So, why the 3-star rating? Value, that's why. The cheapest cheese they sell here is $20/lb, and it goes up to $36/lb!!!! The post prices in 1/4 lb prices, probably the ONLY place I've ever seen to do so. They also had some nice sausages, a package of 2 for....$14!!!! Holy cannolis, this stuff is EXPENSIVE!
The sad reality is that you can find a much better assortment of cheeses (some local-ish, some imported) for much, much less money at the bigger Wegman's stores. I doubt they will last in this location. You can't charge Pittsford prices in the South Wedge.
---
2015-04-01 21:45:12 What a welcome addition to the Wedge! I am from Wisconsin and know some cheese - LBCS rivals any cheesehead on their best day. Great selection, knowledgeable staff, quality from start to finish. I am SO hopeful that people skip Wegmans once in a while and look to LBCS to supply their needs.