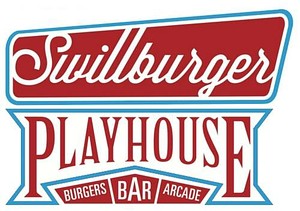 The Playhouse and Swillburger are a bar, pinball and video arcade, and burger joint in Swillburg. They are co-located in a building that has been a church, a machine shop, the Rochester Community Playhouse, and most recently
True Gospel COGIC Church.
The space can also be reserved for private events.
Opening date was December 22, 2015. The owners are Jeff Ching, who also owns The Owl House, and Brian Van Etten. In 2017, Ching and Van Etten opened a version of the restaurant in Pultneyville called Swilly's.
Links
Comments:
Note: You must be logged in to add comments
---
2016-02-08 06:01:34 Ate here Friday night. Had a cheeseburger, kale salad, and rocket tater tots, all of which FAR EXCEEDED my expectations for taste quality. I was really surprised. The tater tots had red onions and a chipotle sauce that were dynamite, and the hamburger was nicely grilled in a delicious bun, and the kale salad was crisp, fresh, and tasty. Highly recommend. But warning: VERY LOUD PLACE. Will probably go back anyway. —KatieSchmitz
---