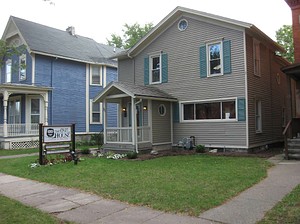 The Owl House, 9-2010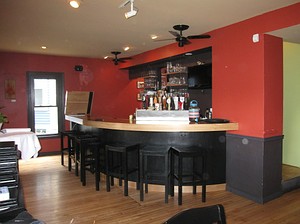 Owl House bar, 9-2010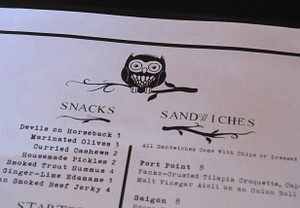 Menu and Logo, 9-2010
The Owl House is a casual restaurant in Wadsworth Square (right off Monroe Avenue). Their menu includes a large selection of vegetarian, vegan, and gluten-free dishes. In addition, The Owl House offers pick up, drop off, and full service catering options.
The Owl House was founded by Jeff Ching and Andrea Parros and opened August 6, 2010. The location was previously The Atomic Eggplant. In 2012 Parros left the Owl House to open The Red Fern. Ching also owns The Playhouse / Swillburger. In 2017, he opened a location in Pultneyville.
Awards
Voted "Best Vegetarian/Vegan Eats" by City Newspaper's 'Best of Rochester' Awards in 2015.1
Comments:
Note: You must be logged in to add comments
---
2010-08-05 16:35:23 Can't wait to try this place!!! —KaeLynRich
---
2010-08-09 11:37:09 Went on Sunday and it is fantastic! Its great to have a place with excellent vegan offerings (almost anything can be made vegan including the deserts) as well as food to keep any carnist happy. Great beer selection and reasonable prices as well. My new favorite place to eat in Rochester. —GeorgeBluth
---
2010-08-12 14:22:33 Just had lunch here today, and loved it. Had the tacos with tilapia (excellent salsa verde!) and the grilled cheese (super yummy would have loved more veggies on the plate). Finally, a place where I can eat with my meat-eating friends and my vegan daughter at the same time! We are coming back for dinner on the patio soon. Just a lovely experience. —StellaRegulus
---
2010-08-13 01:10:02 SOO DISAPPOINTED! Working in a service industry I am unable to maintain regular dining hours, so when I heard of a place open till 11 I was really excited. However after getting there at 10:15 to be seated with two other guests, we didn't get to eat or be seated at all. The MOD was rude and acted like he was doing us a favor by offering us to sit at the bar and order through the bartender, normally not a problem, but in a place as small as it is, it was next to impossible for three people to do so.
Simply put, if you are open till 11, you are seating till 11. Tread lightly because you are very small and catering to a small and fickle population. —kristenamann

---
2010-08-13 08:54:11 I was really looking forward tot trying the Owl House but was so disappointed! When our server finally came to the table she offered no specials despite what their website says. About 10 minutes later she brought my son's sprite to the table and walked away. When we finally did order, the beef jerky came, which wasn't really jerky at all, but none of the other food. The gentleman who brought our water came over and cleared the plate after a long time and asked if we wanted a dessert menu. We told him we never received our food. He apologized and went and brought our food right away...a grilled cheese and pork tacos. The tacos were good but the grilled cheese totally inappropriate for a child...weird cheese and bad bread. When the food came we had to take the silverware from the table next to us as we still didn't have any...no apologies from the server or communication as to why our food was taking so long...we left and went to Pirhana and had a fabulous meal! I have been a server for 13 years and this was probably one of the worst restaurant experiences ever! Sorry Owl House, I was really routing for you! —ktcalalilly
---
2010-08-15 14:03:51 My friend and I had a really delicious meal at the Owl House. We started out with a yummy bourbon cocktail I can't remember the name of, as well as some beef jerky, hummus, and AMAZING lime-ginger edamame. At first I was a little surprised that the "main courses" are all sandwiches, but I tried The Cherub, which features steak, mushrooms, and gorgonzola on baguette and it was freakin' tasty. Like, next-time-I-go-back-I'll-get-the-same-thing-because-it's-that-good kind of tasty. Our waiter, José, was super friendly and attentive. It was a nice evening and we were lucky enough to get a table outside despite the place being packed. My friend had the gluten-free tacos which were also delicious. A very sophisticated yet casual place to eat, we loved it! —ACastle
---
2010-08-17 12:18:10 Awesome food! We got the cigarillos, vegan mozz sticks, olek's buffalo stance, and saigon, and everything was great! All vegan for us. The sandwiches were very tasty, but we could have used more tofu on the saigon. The smoked tofu that was on there was really good. The buffalo stance was perfect. I think for me, the appetizers were the standout.
We will be going back! —BrianHahn

---
2010-08-17 16:18:52 Went last weekend and it was packed! Parking is always a bit of a pain in this area, but it was worth it. The food we ordered were the Saigon sandwich, vegan caesar salad, vegan mozzarella sticks, and the specialty fries and most of it was delicious. The one thing that was a bit weird was the rubbery consistency of the vegan mozz sticks, and you only get 4 small sticks for $7. Another thing that was cool was the fact that a new place like this actually had their liquor license, which was a nice change around here. —TippingPoint

---
2010-10-03 18:32:19 When I heard there was a new place in town I was super excited! I LOVED the Daiya cheese sticks and rosemary fries, but the main courses were just awful (slimy purple tacos and poor quality steak on the meat dish Hubby ordered). Excellent desserts though! It's wonderful that there's a place with vegan dessert options. Will give it another try. Full review with pictures here on my blog:
http://afreshnewstomach.blogspot.com/2010/10/theres-new-place-in-town.html —EveeDream
---
2010-10-23 13:22:54 This place was amazing! My boyfriend and I went last night (a Friday) without reservations. Just a quick note- at least on Fridays, it would appear that reservations are required if you want to eat at a table and in a timely manner. We ended up sitting at the bar. The bartender was nice, the service was great, and so was the food. We got the Vegan Mozzarella Sticks, Olek's Buffalo Stance (Vegan), the Vegetable-Hummus Sandwich, and the Polkadot Cheezcake. Evey thing was simply amazing! (Especially the Cheezcake and the Buffalo Stance). Highly recommended! —Kyara
---
2010-10-24 16:50:01 My wife and I went last night for the first time and had a fantastic experience. For the price, it's a new favorite. The menu is comprised of some fun appetizers, excellent salads, and sandwiches, with one or two dinner specials that I presume change regularly. We had a similar experience as a previous reviewer, the wait was nearly an hour for a table at 7:30 without reservations, so we ate at the bar. The bartender, Luke, projects an air of calmness, with a good-natured approach to customer service. He was busy all night but never appeared rushed, flustered, or annoyed. The beer list alone makes the visit worth it, and they had De Ranke XX bitter on tap last night, a beer that I love, but didn't even know was kegged. Another nice detail is the fact that most of the beers that are regularly served in pints can be ordered in short 8oz glasses for $3, which allows you to have more than 2 if you're in the mood to taste a few.
Dinner was outstanding. We started with the house-made pickles, which included cauliflower and cucumbers. We split the Panzanella salad, which sounded perfect - what's not to like about bacon, fresh mozzerella, and arugula? - it was. My wife ordered the Matty's Moustache with Brie, apple and pear - I was afraid there would be too much apple, and it would overpower the mildness of the brie. I was wrong, the sandwich was perfect. I ordered the Viva Verde tacos, and they were just as delicious, but the best part of my meal was the corn and black bean salad. I'd order a whole plate of that stuff, which was made with fresh sweet corn and al dente black beans and was wonderfully herbed.
After we were into our meals, the host made sure the check up on us, as a table had opened up in case we wanted to move. We were fine where we were, but it was indicative of all of the service we received last night that he made the effort to make sure we were well taken care of. Everyone at the restaurant appeared to work as a team, and when a server, who was working tables, dropped off some glasses at the bar, he made sure to bus our appetizer plates, immediately. I know this stuff all seems small, but the reason I point it out is because everyone working at the restaurant appeared to be emotionally invested in its success, and that, above everything else is what usually makes a place stand above others when it comes to customer service.
We got out of there for $67, with a tab that included 4 beers, an appetizer and salad, two entrees, a dessert (forgot to mention that, we got the pumpkin pie, it was great), and a generous tip for the excellent service we received. —ErikReinert

---
2010-10-26 04:55:42 The moroccan beef jerky at the very creative and cheap Owl House, is perhaps the best thing I have ever eaten in my life! Highly Highly recommended. —danmalik
---
2010-10-27 14:06:09 Had dinner here last night (10/26/10) with the wife and two little kiddos. Very tasty, and they have a gluten free menu which is great as I have a kiddo who can't eat it. However, I'd love to go back sans kids to be a little more relaxed! Definitely worth the trip! —DavidGottfried
---
2011-02-01 13:09:19 Wow! Just ate lunch here for the first time and it was amazing. I had the Saigon sandwich and it was one of the best sandwiches I have ever had. Even for non-tofu lovers it is delicious. Service was great and the setting is great - I would highly recommend! —goldengirl217
---
2011-02-13 23:47:43 Amazing food but the service is terribly slow during lunch. It took nearly 1h 45m from the time we were seated to when we got the cheque. I will be back but only for dinner. The jerky was just out of this world. Keep up the great food! —OneLove
---
2011-03-16 13:24:14 In the past I've had the tofu/carrot sandwich, lentil burger, and salad. Everything has always been really tasty, great flavor. This is a great place to bring both vegans and meat lovers. They seem to have something for everyone, and they actually have a vegan menu (ask the server/host) so all you vegans out there are catered to :) —AlisonBoncha
---
2011-07-24 22:11:06 Went for dinner with friends on Saturday night. Made a reservation at my friend's suggestion which was a good one seeing as there appeared to be a wait. Had several appetizers including the nachos, the panzanella salad, and fries. I chose the pork tacos for dinner. Overall I was really pleased with everything. The nachos were by far the best appetizer and really had layers of different flavors. I will definitely be ordering those again! They had an excellent beer selection and had different sizes including a smaller size (less than a pint) all the way up to pitchers. The only disappointment of the evening was the dessert. I ordered the bread pudding and while it was good, it wasn't the knock your socks off good like the rest of the meal was. Service was prompt and friendly. Overall I was really pleased with my meal here and will definitely be back soon! Keep up the good work! —dmarie
---
2011-08-03 21:22:13 I was not pleased at all with our meal. Service was very slow. When the food arrived, the nachos were stale and cold, the sandwiches were lackluster. The only redemption was that the manager didn't charge us for appetizers because they were so late...problems in the kitchen per management. —MitchellEhrenberg
---
2011-08-30 09:52:32 One of my favorite places. Reasonably priced with creative menu options. Outdoor seating is terrific! Have to agree that the slow lunch service makes it difficult to make it into my lunch hour rotation, but will just stick to dinner. —JBeez
---
2011-09-07 18:27:06 It's an interesting space, with a lively choice of stuff hanging on the walls, and the service people are pleasant as can be, and the food is tasty, but MAN, don't go there for lunch if you're on the clock. We can't get out of there in under two hours, it takes so long to get served. —LuizAddams
---
2012-06-03 21:30:14 Definitely slipping. Loved it a couple of years ago and the food has changed. Today the service at dinner was unbearably slow and there was a fruit fly infestation. Our party and those at neighboring tables were constantly swatting and clapping at pesky flies while we waited for our food. The grilled cheese and veggie sandwiches were very thin on filling— mostly bread. The cigarillos, a previous favorite of our family, were rolled much more loosely and did not pack the same flavor. Soup was decent (pear and carrot) as was the seitan sandwich. Overall, a real let-down as I have felt the previous couple of visits. Ran into a friend driving along Marshall Street as we were headed into the restaurant and, interestingly, she just e-mailed me to say she doesn't enjoy this place like she used to. I don't know what changed but it definitely has lost its edge.
---
2012-07-04 13:04:41 TERRIBLE EXPERIENCE! Went with a friend who has Celiac and is allergic to gluten since they advertise and cater to diets such as gluten-free. After asking specifically about her meal just to be safe the waiter said it was gluten-free. She was violently ill that night soon after. Upon calling the next day to ask about her meal to figure out why she was so sick, she was then told part of it was not gluten-free and the waiter made a mistake. Utterly ridiculous, will never return, no excuse for this mistake when this is your "specialty"! —coyo5050
---
2013-01-17 15:49:32 I think I'll have to agree with jansu that this place seems to be slipping a bit. The Corn Salad that I thought was amazing 2 years ago, was inedible during my last visit in December - the corn was not fresh (it was December what did I expect) and the black beans were not al dente, they were practically raw. I had the tacos again, which I still greatly enjoyed. My wife was not blown away by her sandwich, and I was disappointed that belgian beers that were once served in the proper glassware are now served in mason jars - that's a kitchy restaurant money-saving trick I am not a fan of. —ErikReinert
---
2013-08-29 22:21:14 This place used to be one of my favorites. Then they changed the menu and went "gluten free" (???) and it's gone downhill from there. —Cretinx
---
2014-07-25 19:47:57 Inconsistent. Went for lunch today and two of us ordered nachos - one came with beans and one without (not by choice!)...what? We didn't spot the specials on the way in and our server failed to even mention them to us - we only realized they existed after the tables around us received things that weren't on the menu. I do like the flavors and the food is generally good - but there has been a decline for sure. My chips were dripping in oil but my sandwich was fantastic. On server on at lunch is not enough - she was swamped and couldn't provide the service she could have otherwise. Lunch became a two hour outing because we couldn't get her back to our table. 5/10. —shawnalusk
---
2014-12-02 12:48:15 went here last weekend with a friend for brunch. the food was good. the coffee was hot and then it was cold. i asked for milk to drink and they did not have it, since i do not drink coffee. so i just drink my water. i will go here again but not sure to try out the lunch/dinner meals. —bonnev659
---
2015-08-04 14:13:41 My wife and I had brunch here during the Rochester Cocktail Revival as it was one of the places having a related event and hosting a vodka company. The breakfast was outstanding and we would gladly come here again. —travisowens