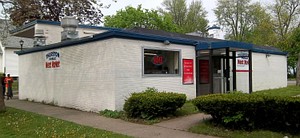 Location
504 Thurston Road, Rochester, NY 14619
Hours (as of October 2015)
Monday - Saturday: 9:00AM to 7:00PM
Sunday: 10:00AM to 4:00PM
Phone
585 270 8933
Wheelchair Accessible
Yes
Alcohol
No
Email
<billmeat2611 AT hotmail DOT com>
Website
Facebook
Reviews
Location19.org
The Thurston Public Meat Market is a small grocery and deli in Thurston Village. In addition to meats and cheese, they sell general grocery items (including a large selection of Goya products), fresh produce, and pre-prepared hot and cold foods, including subs and Spanish dishes.
The store does not sell beer or tobacco but does have lottery tickets.
Opened May 3, 2012. Owner Bill Hilan used to have a meat market on Jay Street. Butcher Doug previously worked at a Skip's.
Photo by John Boutet.
Comments:
Note: You must be logged in to add comments