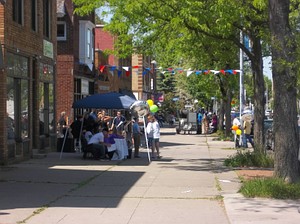 Street scene during the 2012 Ease Down on Thurston & Arnett neighborhood festival. (Photo by John Boutet).
Thurston Village is the name given to the Thurston Road commercial district in the 19th Ward. Residents and business owners wished to establish a distinct identity. Unlike Park or University Avenues, Thurston Village caters primarily to the people who live there rather than being a destination. Establishments here tend to be corner stores, barbershops, beauty salons, neighborhood bars, and small restaurants. The surrounding neighborhood is very diverse and boasts a broad range of incomes.
The Ease on Down Thurston Road festival was first held in 2011 and featured food, music, prizes, and sidewalk sales.
Thurston Village began a locally-funded revitalization project in 2013. This included improvements to the streetscape, pedestrian infrastructure, lighting, signs, and gateway features. Numerous businesses also received grants to spruce up their storefronts
Hunt's True Value Hardware was a neighborhood institution for over a century.
Establishments
Places with RocWiki pages or external websites only. See the Thurston Road page for a fuller list.
See Also
La Avenida - A similar urban village, this one dominated by Latinos.
Links
Comments:
Note: You must be logged in to add comments
---
2022-01-22 07:31:18 Hmm the caption on the photo says 2012 but the text says the first Ease Down festival was in 2015 🤔 —GeorgeTye
---
2022-01-22 12:18:57 Festival started in 2011, based on https://location19.org/group/thurstonbrooksmerchantsassociation/forum/topics/2nd-annual-ease-on-down-thurston-road-was-a-huge-success —markjackson