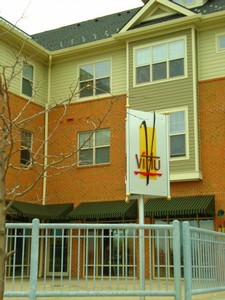 Virtu Patio (4/2008) - Photo by Tricia Seymour
This restaurant is closed as of 10/7/11. See here for more info: http://www.democratandchronicle.com/article/20111007/BUSINESS/111007006/Virtu-restaurant-closed

Virtu was an upscale waterfront restaurant and bar that opened in Corn Hill Landing in February 2007. According to the owners, "virtu" means "a collection of fine art."

The kitchen served steak, seafood, and pasta dishes and has a full bar. Virtu was built on multiple levels but was fully wheelchair accessible.

Virtu was owned by David Alkaher, who also owned the now-closed Sienna Grill and Bar.

Reception

A City Newspaper review by Noelle d'Estries (2.6.07) calls Virtu a "ray of light" in the midst of the winter blues and declares that Alkaher "strikes gold again". The reviewer went for drinks and an appetizer (pan-seared Ahi tuna, "excellent, and beautifully presented.") She also notes that wines by the glass range from $7-$18, and the bartender, Sherwin, is friendly. d'Estries mentions that sometimes upscale suggests stuffy, but Virtu is not stuffy—it is "classy." The user reviews in City praised the martinis (and another bartender, Renee, "who really knows how to treat customers" and the "inventive dishes complemented by simple ingredients."

A Rochester Insider review by Robin L. Flanigan (2.13.07) focuses on listing food and drink selections. There are eight martinis on the menu as well as countless others that bartender Renee will mix up depending on what flavors a customer likes, domestic and import bottles of beer, sandwiches and creative burgers, other entrees (some from the owner's family recipes), three dessert wines, and homemade desserts. Flanigan also mentions that the men's room has a flat-screen TV installed above the urinals, usually tuned to sports or R News, and the ladies' room is due to have one installed soon. The restroom doors are opaque when the room is occupied and dark when it is vacant.
Comments:
Note: You must be logged in to add comments
---
See Archive Page for comments prior to 2009.
---
2009-04-17 20:31:02 I just had the most disappointing experience at Virtu. The location, décor, etc. all suggest the possibility of a great meal, but no such luck. First of all, the menu is rife with spelling errors and typos, we should have recognized this as a red flag, but the view was so great (sat on the back deck) we gave it a shot anyway. My stomach is still aching. We started with an appetizer… but the antipasto was a joke…. a small plate with a sloppy pile featuring the following: Swiss, Monterrey jack, and a tasteless mystery cheese, a few canned roasted peppers, green olives straight from the jar, an extremely fatty & tasteless salami-kinda thing (NOT the capicola promised in the menu) , and RYE bread (WTF???!!!), all centered around an enormous pot of Dijon mustard. The only Italian element was a small heap of limp prosciutto. This is NOT antipasto, and definitely not worth $15.
The only enjoyable part of our Virtu experience was the bottled beer. Thank god we didn't stay for an entire dinner. This place is an overpriced SHAM of a restaurant. What a waste of prime location and expensive interior design!! Hopefully a legitimate operation with a real chef will take over soon.

---
2009-05-20 14:33:54 i've eaten here a couple of times, all without much complaint. i mostly love the decor and location which is right on the water. there are better places to eat for the clientele this is marketed towards, but it's not bad at all. on one occasion they held free wine tasting which was a nice way to be introduced to a few wines a really enjoyed. —Leisel
---
2009-05-20 18:07:52 Even after reading the mixed reviews on this page, I dined here on 5/15 and sure enough I was disappointed. The service left a lot to be desired. I understand that Friday nights are probably more busy than other nights of the week but there is no excuse for the neglect and lack of service which we received. We had to repeatedly flag someone down because the waiter would forget something we requested, when we did see the waiter, he was short and not friendly in the least bit, and worst of all, we found ourselves waiting for about 20-30 min for our food, when everyone ordered salads! I hope this was an isolated experience but I don't think I'll be giving this place another shot. —GizPotter
---
2009-07-04 16:04:22 After the conversation on the phone with the manager, my wife and I have decided not to attend. By far the rudest, most unpleasant woman we have ever spoken with. She criticized the fact that we were changing our reservation to a later time, and hung up before we were done with our conversation —RussSmith
---
2009-09-26 08:27:47 I have dined at Virtu many times in the past and typically had a very pleasant evening. Great food, fantastic decor, and great service. About two months ago I returned again and was sadly disappointed that several of the dishes they had 'run out of', so after a quick change of entree we ordered and the waiter came back saying they had just run out of what I ordered as well. The food ended up being good, and service attentive. Last night I returned with several friends. We were waiting over 15 minutes just to get water and another 10 before our drink order was taken. Once again, almost half of their menu had 'run out' for the evening. We were assured that they were 'very embarrassed' about running out of the menu items, but it seems that over the last couple months they still haven't learned how to keep enough supply on hand throughout a night. Service was slower than ever, and honestly one of the worst experiences in Rochester cuisine that I have had in recent time...I will not be returning. —AV8R
---
2009-12-07 14:17:39 I heard thru the grapevine that the chef from Sienna is now working at Virtu, so my guess is that the food is probably better now. Haven't checked myself yet tho. —TippingPoint
---
2010-01-31 13:23:34 Have not been there since after it first opened. Then, great location but the food not so much. Went with friends yesterday. Was happy to see that the Sienna chef has been there for about three months. Food was solid which is key. Service need works. Service was good only after we asked who our waiter was- sitting there for 10-15 minutes after being shown to our table. Waiters going back and forth and no one seemed to wonder why we were just sitting there. Front of the house should be better connected to the back of the house. —LikesFood
---
2010-07-30 21:27:19 After hearing that the cook from Sienna was now here we returned after a long absence. We had a great table ,service was excellent, and the food was very good. Having said that, I must admit that I was still a little hungry when we left. For $100, I should not be tempted to stop at Tony D's for a pie to go on my way out. —almorinelli
---
2010-10-19 15:32:37 DISAPPOINTING!!!!!!!!!! Went with a group of 10 for a birthday celebration. Was very excited to try it out and the scenery/location is gorgeous. However, it took 2 hrs to get our food, after munching on a small piece of bread that was hardly served. More than half of our dinner part was less then thrilled with their food. Friends said gnocchi was too sweet & not good, not to mention the small portion. Salmon was okay and the steak salad..... steak was CHARED on the outside, as if you licked the grill. not to mention a bug that crawled out of it!!! After telling the server, they offered a drink/dessert instead but charged us! The owner/chef did not come out to apologize. After quietly commenting on the chared steak & bug, the waitress seemed to disappear. VERY disappointed!! Overpriced, mediocre food. We all raved about how hungry we still were after leaving and spending an arm and a leg for nothing. At least the wine & beer was good —kmona
---
2011-02-09 18:52:49 Freedom of speech is truly a wonderful thing to have. Freedom to bash for the sake of being mean, jealous, and hateful is a whole other topic. I encourage people to write about their dining experiences, and, if by chance, you're visit is not as wonderful as you had hoped for; see a manager, host, owner before leaving the establishment. Wiki is far too lax in allowing people to write what ever they want, slandering good peoples names and restaurants. I sometimes wonder if 50% of the "diners" have ever actually stepped foot inside any of the restaurants that they slander so easily. Shame on the liars out there. —Jeanine

---
2011-02-09 20:17:53 I wasn't going to post about a previous experience at Virtu but I was inspired after reading Jeanine's comments. We went with another couple and everything was OK. My steak was cooked alright but it was cold when I received it, my wife's braised short ribs were too fatty. Honestly I wasn't overly impressed especially for what we paid. On a separate occasion they were out of a number of dishes in the middle of the week and my wife's Cous Cous that came with her crab cakes was too salty. I am not a liar, I am just posting about my experience that is the point of Rocwiki. —MarkRizz
---
2011-04-05 13:43:05 So nice to see that Virtu now serves a fish fry on Fridays. Grouper adds a real nice touch to a traditional fish fry. —Jeanine
Admin Note: Jeanine is married to the owner of Virtu. See the response on the City Newspaper review by "Jeanine L. Alkaher" —DamianKumor

---
2011-04-18 18:42:15 Our last dinner at Virtu was the most enjoyable evening.The menu was wonderful and the service was great. The flavors of our dinner entree was the closest to Sienna's Rest. , which also was owed by David Alkahar, and one of my favorites. I would recommend Virtu to anyone who would like an exceptional dinner and beautiful view. The dinner we enjoyed had the most wonderful flavor combinations and the most beautiful presentation. You have to experience it to know what I am talking about. We had a great evening from the bartender, to our friendly server and the warm atmosphere, and excellent food and wine.Highly recommend Virtu! —RosalieChiavetta
---
2011-06-07 09:58:28 Ate here for the first time Sunday night, and was pleasantly surprised by how good the food was. Oftentimes restaurants listed as "fine dining" give you mediocre tasting food and small portions for a steep price. Virtu did none of this. Every bite was absolutely worth it. My boyfriend and I started off with the polenta fries, which actually looked more like french toast sticks to me. But they tasted unbelievable, and came with a delicious gorgonzola dipping sauce. I decided on the pasta bolognese - meat sauce was a mixture of veal, pancetta and pork and was just out of this world. So tasty. My boyfriend actually received an entirely different meal than he ordered - it was the first night of work for our poor waiter. So, instead of taking it away, they gave it to him for free and boxed up his actual meal for take-out. Amazing customer service. And both meals were delicious (I of course tried both). The mistake meal was a perfectly cooked ribeye with what my boyfriend described as the best sauce he's ever tasted. And the black pepper fettucini in the second meal was just as good the next day for leftovers. I am so happy we tried this place, and can't wait to go back again! —RachelHenderson
---
2011-07-03 12:33:22 Pretentious and overpriced. The servers were haughty and cold. Most of the food was mediocre, some inedible (e.g. seafood). The only nice thing is the view of the river and city: but they won't let you sit riverside without a reservation...even if none of those tables are reserved!!! Weird. —walternmoss
---
2011-07-05 14:36:03 I have always enjoyed my meals at Virtu and we always seem to get good service. Our most recent visit was true to form on both counts. That being said, a return visit is doubtful.Our last 2 meals have had a common theme. My wife was very happy with her Gnocchi dish and while my Osso Bucco tasted very good it is the main reason that we will probably not return. It was the size of a small tomato and had literally 2 forks full of meat. At $24 3/4 of the veal shank should not be bone. I don't think for $80.00 I should leave anyplace hungry and I am not going to spend between $8 and $10 on an appetizers and ask for more bread to solve this issue. I am not against spending top dollar on a good meal,just make it representative of the cost. It's a shame, I like everything about this place except the bang for the buck —almorinelli
---
2011-08-09 23:06:03 I've been here 3 times since we moved to Rochester. If you're looking for instant service and food to served as soon as you order, this is not the place for you. This is also not the place for you if you are on a budget and expect to only order an entree and be satisfied. If you are looking for a nice, relaxing drawn out evening eating delicious food and drinking delicious cocktails, come here. But you should expect to order more than one thing from the menu. It's really a consistently very good place to eat. Definitely try whatever seafood chowder/soup they have!— colacokacola
---
2011-09-15 03:05:09 As a former employee, this establishment has a past history of not paying its employees. The employees are also not receiving tips. If you do go to eat, which is a great place to eat, tip your server in cash. The credit card tips are put on paychecks, but come Friday, the money is not in the bank account, leading me to believe that the tips you thought were going to the server, were actually used for other things. I will remove this post when I and my former coworkers have been paid. As of current, we have at least three weeks of paychecks that when we go to the company's bank (which we go every day now), the bank knows our faces and gives us a sympathetic look, and cannot give us the money. I wish current employees luck, and hope the owner keeps their head above water —PrettyGirl
---
2011-10-05 07:58:53 Best bolognese sauce in the city, hands down. Now when I have a pasta/Italian food craving, I think of Virtu. I sincerely hope they NEVER take it off the menu. —MerCDotes