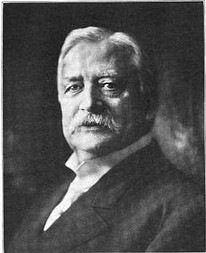 Walter. B Duffy, (From: A History of Rochester and Monroe County, New York, William Farley Peck, 1907)
Walter. B Duffy
Birth Date
Place of birth
August 8, 1840
Canada
Date of death
Place of death
January 14, 1911
Rochester, NY
Known for
Creating Duffy's Malt Whiskey
Occupation(s)
Duffy's Cider Mill, Owner1
National Theatre, Owner 2
Flour City Bank, President 3
National Bank of Rochester, Vice President 4
New York & Kentucky Co., President 5
American Fruit Product Company, President 6
German Insurance Company, Director 7
Rochester Trust and Safe Deposit Co., Director 8
Pfaudler Co., Director 9
Walter B. Duffy was a prominent business man in Rochester from the 1880's to the 1900's, most famous for "Duffy's Pure Malt Whiskey," which he marketed as a medicine for heart ailments,
consumption, and hemorrhages.
Personal Information
Early Life
Walter Duffy was born on August 8, 1840 in Canada to Edward and Jane F Duffy, Irish immigrants1011. In 1842, Edward Duffy founded a cider mill and distillery. Walter Duffy received a public school education from Rochester School No. 6, in his earliest childhood, followed by two year period at St. Hyacinth College in Montreal, CA, before returning to public school in Rochester. From ages fifteen to seventeen, he studied at St. Michael's College in Toronto, CA. At age seventeen, he returned to Rochester to work as a clerk in his father's store.12 In 1860, Walter Duffy lived in Rochester's 9th Ward with his parents, four younger sisters, and one younger brother.13
Marriage and Family
In 1868, at 28 years old, Walter B. Duffy married Miss Theresa H. O'Dea. Together they had ten children: six sons, and four daughters. Dr. Edward F. Duffy; Martin Claude, who died in infancy; Mary Theresa; Walter J.; Agnes A.; James P. B.; Harriet Jane Catherine, twin sister of James; G. Paul; and Constance Josephine. Theresa O'Dea Duffy died April 26, 1884.
In 1892, Duffy married Miss Loretta Putnam, a woman 25 years his junior, in London. At this point Duffy was a soaring financial success, and his new wife who was known for her taste for art and fine furnishings took great pleasure in decorating their Lake Avenue mansion, described as "palatial" with a lavish collection of antiques and paintings. In 1913, two years after Duffy's death, when some items went to auction, the auctioneer's catalog exclaimed "What wealth!"
Beliefs
Walter B. Duffy was Roman Catholic. According to local historian, William Farley Peck, he was extremely philanthropic. In 1908, Peck wrote, "[Duffy] has done as much as any man in recent years for the improvement of Rochester. He is eminently practical and his plans for the city and its welfare have resulted in tangible improvement. He has been characterized as a 'big brained, big hearted, courteous gentleman.'" Peck goes on to write, "Much of the time has been in recent years devoted to the betterment of conditions among the poorer classes and at all times he manifests a philanthropic spirit that gives ready response to a call for needed aid from individual, organizations or municipality. Rochester acknowledges her indebtedness to him along many lines."14
Death
On January 14, 1911, at the age of 70, Walter B. Duffy died in his home on Lake Avenue following a sixteen month illness. The body was brought to London, England for the funeral ceremony, after which it was brought back to Rochester and buried at his family's plot Holy Sepulchre Cemetery.
Career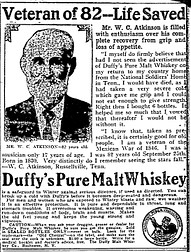 A typical Duffy's Malt Whiskey ad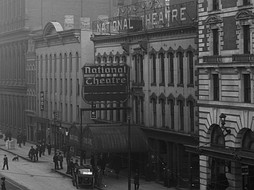 National Theater, (From:
RochesterSubway.com)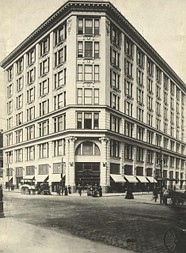 The Duffy-McInnery/Duffy-Powers Building, (From:
RochesterSubway.com)
Walter B. Duffy & Co., Rochester Distilling Co.
Together with Mr. A. S. Bigelow, Walter Duffy purchased his father's business at age 26, in 1868. Two years later, A. S. Bigelow disposed of his interest back to Edward Duffy, and the firm became known as Walter B. Duffy & Co. By 1877, the annual profits of the company had grown from $3,000 per year, to over a quarter of a million dollars per year. The company's markets had expanded not only across the United States, but also overseas to Europe. That year, they moved from their address at 6-12 White Street, in the Edgerton neighborhood, to 23 Exchange St. in the Plymouth-Exchange neighborhood15. At that time, the cider mill had the capacity of 3,000 bushels of apples per day. Their grinder was the largest in the world at this time, with a capacity of 110 bushels per six minutes, under the supervision of the same A. S. Bigelow who Duffy had founded the company with. In the year 1876, Walter B. Duffy & Co. produced about 15,000 barrels of cider. In addition to its own distillery and cider mill, the company was also a direct importer of foreign wines and liquors.16
The company used the brand names "Duffy Malt" and "Maryland Star," with "Duffy Pure Malt Whiskey" being its most famous and best advertised product, by far. Malted whiskey was the specialty of the Walter B. Duffy Co. which marketed it across the United States as a heart tonic, and remedy for pneumonia, consumption and hemorrhages.
From 1879-1881, the company was located at 27-29 Lake Ave, near the High Falls District.17 It is listed in an 1881 city directory as a Distiller & rectifier of alcohol, French spirits, malt, wheat, rye and bourbon whiskies.
In 1882, Walter B. Duffy & Co. became the Rochester Distilling Co., with Walter Duffy serving as president, and A. S. Bigelow serving as treasurer. The Rochester Distilling Co. remained at its address at 27-29 Lake Ave. until 1883, when it moved North to 67-79 Lake Ave. in 1884, and then North again 1901 to the corner of Lake Ave. and White St. 1819 The Rochester Distilling Co. used the brand names "Duffy Malt", "Elite", "Genesee", "Kentucky Raider", "Rochester", and "Tromley Rye." They also used the brand "Seneca Chief" which was registered by the Columbia Distilling Co. in Albany, NY, but was used by many New York distillers.
Duffy Malt Whiskey & The Temperance Movement
Duffy's distillery found itself increasingly in need of a "work around" to the
temperance movement at a time when prominent figures such as Susan B. Anthony were speaking passionately against the consumption of alcohol. Duffy's claim was that "malt" meant "medicinal." While many distillers marketed their alcohols as "for medicinal use only," but didn't specify what sort of medicine it was, Duffy decided to straddle both worlds of the temperance movement by selling his alcohol in pubs and bars, as well as marketing it, beginning in 1886, as a cure for specific ailments, such as consumption (tuberculosis), bronchitis, pneumonia, dyspepsia, weariness, any lung condition, malaria, and the "greatest known heart tonic." Duffy's Malt Whiskey was classified as a medicine, and sold in both bars and drugstores. The ads often featured "testimonials" by supposed users of Duffy's Malt Whiskey, who claimed that it cured them of tuberculosis, or other serious ailments. The advertisements usually included a warning not to purchase from "unscrupulous" dealers, who might try to pass of "dangerous imitations and substitutes" which were "positively harmful". Duffy backed up his fiction by concocting a story that "the formula was worked out fifty years ago by one of the world's greatest chemists." The company adopted a logo of a bearded scientist, holding up the concoction he had supposedly invented. To further validate his whiskey as a medicine, he gave away "Duffy" branded medicine spoons, rather than shot glasses.
In order to help pay for the expenses of the Spanish American War, Congress passed a special tax on patent medicines. On July 5, 1898, the Commissioner of Internal Revenue, N. B. Scott, wrote to the local collector of revenues in Rochester, ruling that "Duffy's Pure Malt Whiskey, is being advertised as a cure for consumption, dyspepsia, malaria, etc., liable to a stamp tax as a medicinal article." A background memo elaborated that although Duffy's contained nothing but distilled spirits, it was a patent medicine "by the manner in which it is presented to the public." The ruling decreed a tax of two cents per bottle. While the stamp tax did cost Duffy a considerable sum of $40,000 per year, in actually it saved him from hundreds of thousands of dollars in federal and state liquor taxes, and allowed him to advertise as "the only whiskey recognized by the Government as medicine."
In 1905 and 1906, investigative journalist
Samuel Hopkins Adams wrote a series of eleven articles called "The Great American Fraud" for Collier's Weekly, exposing many of the false claims made by patent medicines, and pointing out that in some cases the "medicines" damaged the health of the people taking them Though he admitted that Duffy was partially justified in his claim of Federal recognition of his whiskey as medicine, Adams took particular aim at Duffy's product because of its claims to "cure." He stated that Duffy's Pure Malt Whiskey was inferior, even as a whiskey. He also exposed the "testimonials" by alleged clergymen, entrepreneurs, and Temperence workers in Duffy's malt whiskey advertisements as works of pure fiction. Despite Adams' exposé, sales of Duffy's malt whiskey remained strong.20
In 1905, Patrick W. Cullinan, the New York Commisioner of Excise, went to court against Duffy, claiming that Duffy's Pure Malt Whiskey was nothing more than sweetened whiskey, and thus was subject to state liquor taxes. Duffy's team countered with eleven physicians, four of them members of the Rochester Health Dept., who swore to their belief that the whiskey contained drugs that made it real medicine. Cullinan won his case in the New York Supreme Court, and Duffy's malt whiskey became subject to New York State liquor tax. At this time, Duffy's was being sold across the country and even in Europe, so the NY liquor tax proved to be only a slight setback.
In 1907, the first head of the Food and Drug Administration,
Dr. Harvey W. Wylie is quoted speaking against Duffy: "I stated that Duffy's Malt Whiskey was one of the most gigantic frauds of the age and a flagrant violation of the law, and that there was no necessity that we delay at all in the matter." For two years, his pleas for prosecution against Duffy were ignored, leading Dr. Wylie to denounce the "determined efforts of my colleagues to protect Duffy's Pure Malt Whiskey from being molested either by seizure or bringing any criminal case against the maker."
After Walter B. Duffy's Death, Prohibition
When Walter B. Duffy died, the Rochester Distilling Co. finally began to buckle under the continued pressure of Dr. Wylie's efforts through the FDA. Dr. Wylie had warned the patent medicine industry that using the word "cure" would subject products to particular scrutiny. Beginning in 1915, Duffy's Pure Malt Liquor ceased to make medicinal claims other than its being a "tonic stimulant" and "household remedy." As Prohibiton set in, Duffy's dropped the label "whiskey" and marketed its product strictly as a "tonic." The comapny moved to Los Angeles, and changed its name to Duffy's Laboratory, Ltd. The depiction of the "old chemist" on its labels was dropped. The product was still whiskey, with a labeled alcohol content of "not over 40 percent." (Forty percent alcohol content is approximately 80 proof.) Eventually, even Duffy's couldn't survive government scrutiny, and it closed its doors in the midst of Prohibition in the year 1926. Duffy's remained permanently out of business, never to reemerge after prohibition.
National Theatre
Duffy built and owned the National Theatre, which was located downtown on Main Street (near its intersection with Plymouth Ave.) next to the Hotel Rochester.21
Duffy-McInnery Co./Duffy-Powers Co.
Duffy partnered with a Mr. McInnery to create the Duffy-McInnery Co., which owned Rochester's largest department store at the time, the Duffy McInnery Department Store, among other commercial and Financial interests. In 190622 or 190723, the Duffy-McKinnery built the Duffy-McInnery Building, located downtown at 50 West Main Street, on the corner of W. Main St. and Plymouth Ave., opening what was billed as "the largest exclusive retail dry goods store between New York and Chicago" within. The seventh floor of the Duffy-McInnery department store was an 800 seat dining room. Upon Walter B. Duffy's death in 1911 Duffy-McInnery Co. and the Duffy-McInnery Building became the Duffy-Powers Co. and Duffy-Powers building. The department store was also renamed Duffy Powers Department Store. The Duffy-Powers Co. subsequently went bankrupt in 1932, succumbing to the Great Depression.24
Investments & Banking
In his day, Duffy was a prominent member of Rochester's financial circles. He was president of the Flour City Bank before it was consolidated with the Commercial Bank and the German American Bank into the National Bank of Rochester, where he then served as Vice President. He was a director of the Rochester Trust and Safe Deposit Co. and of the German Insurance Co., and the Pfaudler Co. In 1900, he helped organize the New York and Kentucky Co., and served as its President from its founding. He was a principal financier of the National Hotel Company, which built the Hotel Rochester, the Hotel Lafayette in Buffalo, NY, and Schubert Theater in New York, NY.
Comments:
Note: You must be logged in to add comments