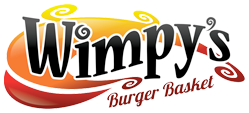 Location
2160 Buffalo Rd, Gates, NY 14624
Hours (as of May 2010 per Website)
Sunday/Monday - Thursday: 10:30AM to 2:00AM
Friday & Saturday: 11:00AM to 4:00AM
Breakfast is served from opening until 11:00AM
Phone/Fax
585 247 3160/585 247 4107
Hours (as of May 2010 per Website)
Monday - Thursday 10:30am - 10pm
Friday 10:30am - 11pm
Saturday 11am - 11pm
Sunday 11am - 10pm
Website
http://www.WimpysBB.com/
Reviews
RestaurantDB.net
Yahoo Local
UrbanSpoon.com
Wimpy's Burger Basket is a restaurant located on Buffalo Road in Gates next to The Garden Factory in the former Dunkin' Donuts building. They had another location Greece, NY, which closed in 2021.
Notably, they used to serve an ice cream garbage plate, which consisted of six scoops of ice cream, three toppings, three "treats", whipped cream, and cherries. Tragically, they stopped offering it in early Fall 2010.
Comments:
Note: You must be logged in to add comments
---
See Archive Page for comments prior to 2008.
---
2008-07-02 19:05:17 Funny since no one that even works at or owns Wimpy's drives a black lexus. get your shit straight ya idiot. —MJCF34
---
2008-07-25 10:52:25 Not a bad burger at all, fries were excellent. Very clean for a burger place. You can tell the place used to be Dunkin Donuts, but highly rec if you are a lover of Dons Original or Five Guys Burger and Fries. Food is very reminiscient of those other locales. —MrRochester
---
2008-10-12 12:43:32 Maybe it was just my experience, but I did not like this place at all. I went in and asked what was good. "All of it" was the reply. I asked what they specialized in and the hostess said "the burger is good." Well, it wasn't. My burger was undercooked and very pink. The fries were undercooked. The staff wasn't friendly and I just had a bad experience. I won't be returning to this place. —JJohnson
---
2008-11-22 13:16:46 Why on earth would anyone give a crap that this place used to be Dunkin Donuts? The FOOD is what's important! I got a garbage plate here the other day, and it was just awful. Dry, overcooked burgers. Too skimpy on the hot sauce. Rubbery, bland potatoes. The worst thing was the beans. They were stone cold and bland. —SavageHenry
---
2009-03-12 13:50:26 For a "hots" type place, I would rate Wimpy's as somewhat average. Terrible mac salad but good fries. Service could definitely be improved but on par for what you would expect from a bunch of high schoolers working there. Never had to wait long for the food to be prepared..but next time I get a burger & fries craving I would probably save the $$ and just go to mcdonalds instead. —JaimeTe
---
2010-01-12 15:55:19 My favorite place for a plate in Rochester. Especially a fan of their "Evil" sauce which is truly a spicy meat sauce. Staff is always friendly-restaurant is on the small side, but clean. —MattHenshaw
---
2010-10-29 00:09:46 Wimpys is my favorite place for plates. —therochestman
---
2011-02-21 14:03:13 My favorite place for plates as well, but have found that the food quality slips when they are busy. —WestSideB
---
2012-04-16 18:00:33 We went there 1st time 2007 years ago with a coupon. Gave it to cashier and "cook" said coupon was for $1.00 off second meny item. I said that the coupon says "buy one get one free". He said only good for a dollar. The young cashier said to him "YOU made up the coupon YOU have to honor your own coupon!" So he said okay but he was ticked off real mad. Decided to give them a second chance 5 years later. Went there in March 2012. Had a coupoin for 20% off total purchase. We ordered 2 fish fries. The "cook" said I could only use it on 1 fish fry. So I pulled out another coupon and made 2 separate orders of 1 fish fry -20% each(1 with fries and beans,1 with fries and slaw). We did 2 separate orders with 20% off each one. The "cook" was real upset. When we got out fish fries. He had put about 6 french fries in each and half the amount of beans(freezing cold) and just a tablespoon of cole slaw in the other. LAST TIME I EVER GO THERE. After 5 years they are still the cheap same people who make up coupons and don't want to fulfill them. Tried to give them a second chance but they are ridiculous. Maybe Quaker State and Jeremiah's moving in will take away their customers and they will have to close up because they renig on their coupons and then shortchange your food order because you are handicapped and using a coupon and they think you are stealing fron them when you use a coupon. —AfrodInk
---
2012-06-26 09:22:29 I been here a few times. The food is good. I have notice when it is busy the food isn't the same as when it is not as busy (as mention by WestSideB). I will go again if I am in the area, as I try to support the smaller guys. —bonnev659