Former Location
209 Monroe Ave, Rochester, NY 14607
Status
Closed (as of 2013)
Pandaman was RocWiki's Business of the Month for November 2011!
Stop by to find a unique gift for your quirkier friends. Or stop in to further your caffeine addiction while starting the coolest collection of toys that you've had since He-Man.

Pandaman was a vinyl figurine shop, gaming space, and art gallery in Wadsworth Square. They carried an assortment of KidRobot, Tokidoki and various art toys from top creators and companies.

Pandaman was also Rochester's only space dedicated to the Street Art Movement. They participated in First Friday and had an open canvas floor and chalkboard bathroom and counter for anyone to sketch on. They hosted special events such as DIY nights and other occasions with a live DJ, and have over 150 NES, Sega Genesis, and Nintendo 64 games to play freely.

Their full coffee bar featured locally roasted Finger Lakes brews. PB&J and grilled cheese sandwiches were also available to order.

Pandaman opened on October 7th 2011 at 439 Monroe Avenue. They moved to their second location in June 2012.

Awards

Pandaman was honored in November 2011 by City Newspaper in their Best of Rochester 2011: Critics' Choice.
Pandaman announced that they were closing in July 2013 with the following message on their Facebook page:
Hey guys, it's Beth, mama to Pandaman. I am here to lay rumors to rest and speak some truth. Pandaman has been a wonderful ride with pain and glory, outrageous fun and stress. It has brought some amazing folks to Rochester as well as bringing unexpected people of Rochester together. We have been the first and last venue for a lot of bands and honestly, it has been a joy serving the city I grew up in. That being said, I am sad to announce our closing at the end of August. Everything that is scheduled to the end of August is still happening. We will also have an awesome End of the Panda World Party. We are looking for bands, Pandaman themed artwork, and how Pandaman has effected you. Until we are closed we will only be open for events and appointments only so please contact us through Facebook, email or (585)420-VYNL. Thanks Rochester. Keep it classy. Love, Pandaman.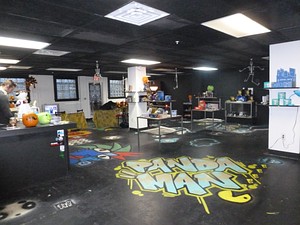 Interior of original location at 439 Monroe. (Oct. 2011)
Comments:
Note: You must be logged in to add comments