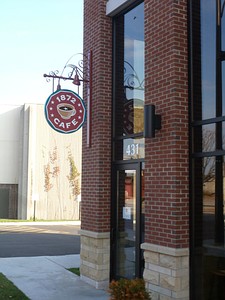 (Nov. 2012)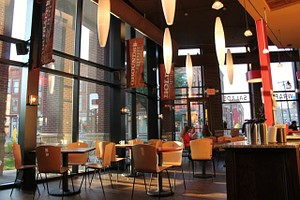 Interior photo from
The Rochesteriat. Used with permission.
Location
431 West Main Street, Rochester, NY 14608
Hours (as of March 2022 per website)
Monday - Wednesday: 7:00AM to 3:00PM
Thursday - Froday: 7:00AM to 5:00PM
Saturday - Sunday: 8:00AM to 2:00PM
Phone
585 323 1872
Wheelchair Accessible
Yes
Alcohol
No
Email
<1872cafe AT gmail DOT com>
Website
http://www.1872Cafe.com
Facebook
The 1872 Cafe is a cafe and coffeehouse in the Susan B. Anthony/COTS neighborhoods. It is part of the Voter's Block Community development, located on the site where Susan B. Anthony and fifteen other women attempted to vote illegally in 1872, hence the names. The cafe opened on August 18, 2012 in commemoration of the 92nd anniversary of the 19th Amendment. The interior features two murals depicting trailblazing women such as Anthony, Sojourner Truth, and Hillary Clinton, as well as newspaper clippings on the passage of the 19th Amendment.
The 1872 Cafe was originally sponsored by
Spiritus Christi Church as the anchor of Voter's Block and a gathering place for the community. It also helped raise funds for the church's Outreach Ministries to the Poor.1
The cafe closed on March 15, 2015 but reopened August 18, 2015 under the ownership of Sam Fantauzzo, who also owns Salvatore's Old Fashioned Pizzeria. The date was chosen as the same date the 19th Amendment was ratified in 1920. Fantauzzo sold the cafe to Paul Gersonia in 2019.

Links
Comments:
Note: You must be logged in to add comments