The Susan B. Anthony Neighborhood is centered on the Madison Square-West Main Street Historic District, a remnant of the "boom town" era that ran from the 1830s to the Great Depression. This area includes the Susan B. Anthony House, which is a museum to the life and accomplishment of a most amazing American. The Susan B. Anthony Square Park is also located here.
This neighborhood is also known for a very active and progressive community group, which has been key in getting preservation funds to help keep Rochester's history alive. Residents have preserved and restored many of the area's historic homes.
West Main Street forms an active commercial border between the Susan B. Anthony Neighborhood and Changing of the Scenes (formerly known as Mayor's Heights). A recent development was the construction of the Voter's Block Community project, which includes a new Susan B. Anthony memorial. The DePaul Carriage Factory Apartments were a major project completed in late 2014.
Amenities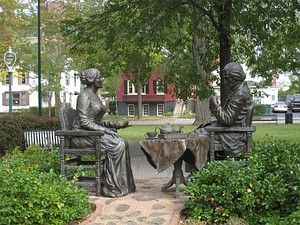 Statue of Susan B. and Frederick Douglass in Susan B. Anthony Square
See Also
Links
Comments:
Note: You must be logged in to add comments