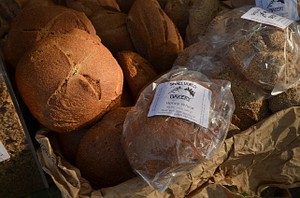 Small World bread at the South Wedge Market
Small World Food is a worker-owned cooperative bakery and fermentery. They operate through a membership program similar to the Community Supported Agriculture model. Their products may also be found at Abundance Cooperative Market, Lori's Natural Foods, Nathaniel Square Corner Store, and many area farmers' markets. They make their fresh breads, bagels, pastries, cookies, and cupcakes from whole grain organic flours and other organic or local ingredients. Small World launched an ice cream community-supported agricultural program in summer 2012.
In 2009 they launched Small World Fermentery, which makes naturally-fermented, raw, unpasteurized sauerkraut, kimchi, hot sauce, miso, pickles, ketchup, and more, using ingredients grown by local organic farmers.
Small World moved from South Plymouth to the Susan B. Anthony Neighborhood in June 2013 to make room for new products. This is also their retail location.
Comments:
Note: You must be logged in to add comments
---
2009-03-26 15:30:09 The following was posted in the Rochester Farm Connection's
Yahoo Group on March 26 > Dear most valued bread eaters,
>
> We are proud to announce the closure of our storefront on Gregory
> Street for an even better location to pick up the fresh breads you've
> come to enjoy. The closing of our retail space marks a new generation
> for Small World and for Rochester: the city's first Community
> Supported Bakery (CSB). Similar to a farmer's CSA share program, we
> now offer all of our breads, bagels, sweets, grains, and flours
> available for weekly pick up at locations all over the city and its
> suburbs. By signing up for a share you will be guaranteed to get
> fresh & delicious bread each and every week.
>
> We'll be sending out another email with more details in a day or two.
> We hope you'll enjoy having personal bakers as much as we look forward
> to baking direct for our members.
>
> In crumb and crust
> -The Small World Bakers —BradMandell

---
2010-07-22 14:29:33 Their granola is INCREDIBLE! —UncleScam
---
2010-12-02 21:46:17 My wife and I just bought their Carrot Habanero Hot Sauce - it's out of this world! We've also greatly enjoyed their granolas - Honey Bunny was a particular favourite. —UpstateBrews
---
2014-01-23 11:03:06 That they advertise unpasteurized sauerkraut seems stupid to me. I've made fresh sauerkraut myself several times and canned it as well. There's no difference in taste or texture, but if I was selling this stuff I would process it for safety reasons. —Damiankumor