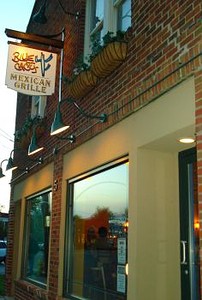 Blue Cactus (5/2008) - Photo by Tricia Seymour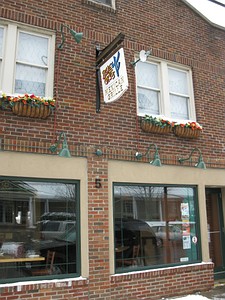 Feb 2010, BradMandell
Former Location
5 Liftbridge Ln E, Fairport NY 14450
Status
CLOSED (as of Nov 2014)
Comments:
Note: You must be logged in to add comments
---
See Archive Page for comments prior to 2008.
---
2008-02-22 21:28:12 I was very excited to try this restaurant, but I only had a so-so experience. The service was terrible. I think it was just our waitress, though - other employees looked cheerier. We were pretty clearly not her priority, and she made it apparent. She continually messed things up (we were very understanding, it happens), but then she got defensive about it. It was very depressing, considering we were spending a good bit of money and time to eat there. The chips were pretty clearly bagged (if you're going to call them anything besides 'tortilla chips' - "totopos" in this case, at least make sure they're a little bit special). The entrees, however, were very good. Really delicious enchiladas and salsa verde. We probably won't be back though, it was a long drive and a slightly depressing visit. —AliMcGhee
---
2008-05-06 12:29:17 Delicious!
Great food, great atmosphere, been back many times, never disappointed. —MrRochester

---
2008-05-14 19:13:21 I consider myself somewhat of a Margarita snob—actually a serious Margarita snob—and Blue Cactus has the best Margarita in the Rochester area hands down. They make it without oversweetened "margarita mix" so you can still taste what is in your drink and have a great list of premium tequilas. The food was also good, particularly the special queso fundido with chorizo. The do require reservations on the weekends so keep that in mind before you just show up. ++++ I HIGHLY recomend ++++ —AdamGrossman
---
2008-05-26 07:55:03 My wife and I went there May, 2008 after reading a decent review in the D&C. I felt that the food was good, but not great - and certainly not worth their prices. The food was small in portion compared to equal quality food in larger portions at San Jose Mexican Restaurant in Greece, and at least there you get free chips and salsa.
Service was OK, but not great. The waitress was fairly attentive, but any request took a very long time to accomplish, which is pretty sad since there were only 4 small groupls in the whole pace and three waitresses working.
Overall: Drinks: too expensive for the area, food too expensive for the type and what you get (like they are trying to be upscale, but without the quality or atmosphere). Definately will not return. —Ian

---
2008-06-04 09:48:37 I went here for dinner last night. Having read the mixed reviews, I figured I would be optimistic and hope for the best. Unfortunately, that is not what happened. It took our server several minutes to even acknowledge our presence, even though she walked past our table numerous times (and there were only three tables with patrons in our section). When she finally arrived, she took our drink orders but didn't ask if we wished to order appetizers. In addition to our drinks, we asked for water, and were brought one single glass (presumably for my table for three to all share?)
We started with the Flautas which were sadly the highlight of my meal, however its not difficult to wrap chicken in a tortilla and fry it. The totopos (tortilla chips) were cold and the xnipec was not particularly good. I ordered the Mole Pablano which was probably one of the worst dishes I have ever ordered in a restaurant. The brown goo that "bathed" the chicken did not taste as though it had any chili, chocolate, or even spices in it. The rice and beans that came with were cold, hard, and utterly flavorless.
The worst part of the evening was the employee who wandered around looking miserable in our section asking each table repeatedly if she could clear any dishes as we were mid meal (and often mid bite).
I did enjoy my frozen white sangria, but it was certainly not worth the $80 dollar bill. —BrightonDarling

---
2008-06-24 18:03:58 New to Fairport. Went here during Canal days. Liked the margaritas but man they were small. Returned last Sunday for a snack. The Cactus salad was fresh and tasty, the Gazpacho was as bland as any I've had and the Ceviche' was pretty good. Ultimately decided the margaritas are a little too heavy on the orange flavor with the consistency of nectar. And, they're really small.
Bottom line: not a bad place but it didn't live up to our hopes given the write ups and the very cool pastel interior. Service was good both times but the prices are not cheap and oh by the way the margaritas are tiny. —wdrazek

---
2008-07-06 16:42:07 I don't mind paying for a good meal, but I expect that I would be full afterward. The food here is very good (loved the flavored iced tea, too!) but just didn't feel like we got enough for the price. And no free chips and salsa - at those prices, you'd think they could throw those in! And the service was underwhelming - not unfriendly, just seemed a little "blah". —DGandDJ
---
2008-07-21 21:12:00 One of the better Mexican restaurants in the area (which is not saying much). Food was good but pricey for what you get and could have been spicier. I saw how small the Margaritas were so went for the pitcher of Sangria. Excellent but could use less ice and more drink in the pitcher. Decor and staff were very inviting and helpful. —ScottHendler
---
2008-12-06 14:15:47 Went here this past Friday night after 8p and there was no wait for a table. Our waiter was excellent, very friendly and prompt. The food came out very fast. I had the cheese enchiladas with salsa verde which was excellent. My husband had tacos and very much enjoyed them. My margarita was so-so, not the best in Rochester. The entrees are kind of expensive for what you get, but that didn't bother us too much because we had a gift certificate. Very good Mexican restuarant, comparable with Rio Tomatlan in Canandaigua. —mmsmith
---
2008-12-20 11:40:11 A horrendously bad Mexican restaurant, certainly vying for the title of worst in Rochester. Went with my husband and friends and was thoroughly disappointed. The food was mediocre: I had bland fajitas with bland vegetables, while my husband had bland enchiladas covered with bland cheese and soaked in bland sauce, and our other friend had bland tacos covered with bland cheese and soaked in bland sauce. Don't get me started about the over-priced fare: $8 for a small scoop of guacamole?!? —LePetitChien
---
2008-12-25 17:11:12 Two visits, two disappointing meals. Decent service. Decent bar. But it's obvious this isn't authentic Mexican food. Overpriced food that tastes like it came from a can - sure tastes like a meal from Sysco to me. Do yourself a favor and go to Maria's in The Old Church Mall in Webster on Main Street just west of Route 250. —KenBoyer
---
2009-03-16 12:50:31 I went here for the first time last night. I don't expect much from Mexican restaurants in the area, but I was still disappointed. Overall the flood is bland and overpriced. I had the tikin xic, which is grilled fish. It was tasty, but almost everything else was bad. Their rice and beans are totally flavorless, and my friend's enchilada sauce was basically just tomato puree. One bright spot was the side of platanos—perfectly cooked—but $6 is unreasonable for two friend bananas. The service was fine and the portions were large, but still, I would not return here. —OwenThompson
---
2009-04-30 19:41:56 Ate there last month and came away disappointed - which stinks as I had my hopes up. I got the Chile Rellenos and it was bland/way too underdone. The person I was with got an enchilada dish that was incredibly boring too. The chips seemed a little stale and the rice/beans were overcooked and mushy. While our waitress was very friendly, we didn't see much of her as the place was very busy and she had too many tables to attend to. The prices were too expensive for the quality of food we were served. The only plus was that our margaritas were very good - none of that sweet mix (but they were rather small). We won't be going back. —JJMO
---
2009-05-03 07:29:09 We ate here Friday evening. I kinda liked the decor, but the attached lower dining area was HOT. The margarita was quite good, but small as wdrazek said. I got the combo platter: the empanadas were pretty good, but the taquitos didn't have much flavor, and the quesadillas were nothing to write home about. The sauce provided was very tomatoey without any spices I could discern (maybe a little oregano and salt, that was about it). My companion had the chicken enchiladas, which were pleasant, but bland. The refried beans seemed as if they came from the can; maybe they'd just been sitting for a while. Overall, I agree that the food is not worth the prices charged, both for quality and quantity reasons. I prefer Salena's as the food there has a lot more flavor and zip, plus it's more reasonably priced. —KatieSchmitz
---
2009-05-07 22:00:40 We had a not-so great experience here tonight. Is there any alcohol in those tiny margaritas? Maybe some triple sec. Beware of the Fish tacos - three slabs of fish (straight from the canal?) on soggy tortillas. The "spicy" salsa was essentially a chopped red onion with bits of chile - with those bagged, salty, stale chips. Cold refried beans. Flavorless rice. And $20 for fajitas? I WISH I had come to this site first. What a rip-off. —katherinebock
---
2009-10-22 22:17:46 We were excited to try this place when we stumbled across it. Boy, what a disapointment. My wifes Chorizo quasadilas must have been soaked in grease before cooking. And the Mole' sauce on my $15 Enchiladas was the funkiest Mole' I've ever had, completely ruined the super dry chickens flavor. And with this overpriced meal? No free chips or salsa. Stick to Maria's or Salena's. —KStaats
---
2009-11-24 13:02:20 Great food, good service. I really enjoy the spicy salsa. A la parrillas are great if you're hungry. PESCADO A LA VERACRUZANA is also delicious! Hope to go back again soon. —Liren
---
2010-03-06 15:22:58 Terrible, Over priced. The menu is intriguing but the food doesnt deliver. —tabascograz
---
2010-03-09 17:36:32 The menu is extremely limited and the food overpriced. The server was very nice and the food arrived promptly. I enjoyed the salsa (not free) and the pitcher of margaritas. However, the food and the chips (also not free) were mediocre. —ChristineH
---
2010-11-29 12:52:25 My boyfriend and I ate here last weekend, and although it was good, it was nothing to write home about. We each order margaritas, and the waiter suggested that we get a pitcher as it equals out to about 2 each. A good idea, but not cheap! I do like the fact that they do not use a mix to make their margaritas, they tasted fresh. We split the carnitas appetizer - arrived quickly but was a bit bland. He ordered the chile rellanos and I had the chicken enchiladas. My enchiladas were excellent, but he said his entree was just so-so. Not bad, but he's had better. Also, when he wanted the half portion of his entree and one taco, the waiter apologized that you must order 3 tacos (?!) minimum. This should be changed... it would provide more variety for the customers. All in all, not a bad experience, we're unsure whether we'll be back. —LAHopkins
---
2010-12-27 01:46:44 Food was good, not great. Very overpriced. —DE
---
2011-03-28 08:47:36 Just like many others, we were very excited to try this restaurant! We went Monday, they were closed (google said they were open on Mondays), we went on Wednesday, and they were closed for "inclement" weather. Finally on Friday, after a week of craving this restaurant, we went for dinner... service was friendly, we were seated quickly, and the drinks were good. We ordered the beef empanadas-terrible. We ordered the ceviche-it was very... mild to bland in taste. We were somewhat disappointed, but figured dinner would be different. We ordered the Shrimp Fajitas, and Pork combo platter. Once the food came, I was so eager to dive right in; however, it was a MAJOR disappointment!! The rice was VERY bland, no flavor whatsoever. The Shrimp Fajitas, come on! How can you mess this up?! Bland as bland could be, the fajitas themselves were slightly burned, and left a very bitter taste in my mouth. I couldn't even finish the first one. The pork platter was just as awful. Everything except for the drinks were bland and very disappointing. We informed the waitress, who was very nice, and she in turn got the manager. They were nice and apologetic about it, but I will NEVER probably go back. I had two other friends who didn't "believe" me, and they went Saturday night. Needless to say, they will not be coming back anytime soon either! —R
---
2011-10-19 20:17:17 Really disappointing overall. The food was far from the claim of authentic and lacked the seasonings you would expect from a Mexican restaurant. You can judge a good Mexican place by their salsa and this was just chopped tomatoes and onions with chili powder-lllaaammme. Enchiladas with no enchilada sauce and just runny sour cream and a little salsa?! Also extremely overpriced for the small portions. The service was good and friendly, beer prices ok, but we didn't go there for beer prices. Don't waste your time and money, we're still hungry after spending about $50 for two people. It's palatable but you could find random stuff in your kitchen and make better Mexican food than this. Rabble rabble rabble!!! —clownmeat
---
2012-01-26 05:15:33 Disappointing. They were out of several items and what we did order, was blah. I think that charging for chips and salsa is like a restaurant charging for bread. Service was spotty especially for being only one of two tables in the place. Not worth the high prices there. —selfclaimedcritic
---
2012-02-10 19:16:07 I have been here in the past and while expensive, the food was fantastic. Tonight I threw away $70 in food. The enchilada sauce tasted like Italian tomato sauce. The chicken was all dark with had in un-chewable tendon and bone attached. The rice tasted like mold! I am nervous the few bites I had and much more my stubborn husband forced down will make us sick. This is a restaurant that should be closed down! —CarolineMclean
---
2012-08-11 09:55:10 Not recommended: overpriced with bland food. The Cadillac margaritas are decent, but they cost $8.25 each. The chips and salsa are not free. My group ordered three different kinds of salsa. The habanero salsa was very lame — it was a saucer of bland tomato sauce with some orange habanero sauce drizzled on top. There was very little flavor to it. The pineapple salsa was OK but nothing special. I can't remember the name of the third salsa (it was recommended by our waitress), but it tasted like chunky spaghetti sauce. My vegetable fajitas were surprisingly bland, and the refried beans weren't very good. My wife ordered enchiladas. They were better than my fajitas, but the red sauce on top didn't taste like something you would expect from a Mexican entrée. The waitress was reasonably friendly and attentive. My wife and I dropped $65 for a mediocre meal. Save your money — go to John's Tex Mex on South Avenue for the best Mexican food in town (and it's cheap, too!). —Rochester-Native