Some recent comments on this entry may be trolling by a newly-registered user or users. Until those users make
further contributions, consider the possibility that the comments are designed to inflame rather than inform.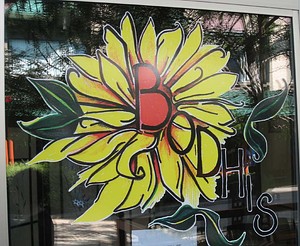 Bodhi's Logo on their Front Door, 8-2008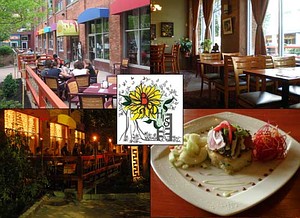 Interior images from their Website (c) 2006 Bodhi's Cafe
Former Location
274 North Goodman, Rochester NY 14607
in Village Gate Square
(Wheelchair Accessible)
Status
CLOSED as of April 2009
Free Wifi was advertised as being available here
Bodhi's Cafe & Lounge was a cafe located in the Neighborhood of the Arts at 274 North Goodman St (In the Village Gate). The menu consisted of specialty sandwiches, salads and soups as well as dinner appetizer and entree selections, an extensive beer and wine list, organic loose teas, fair trade coffees, and homemade desserts and pastries. The dinner menu consisted of fresh seafood, meat and vegetarian options. Bodhi's is also a full service catering provider. They offered everything from delivered lunches to private on/off site catering.
Bodhis featured "live" dinner music every Thursday-Saturday featuring local acoustic and jazz musicians.
Comments:
Note: You must be logged in to add comments
---
2006-11-06 12:41:41 Very impressed with this cafe...great management. Wish they would open at 10am instead of 11am saturdays though —PeteB
---
2007-01-14 14:41:44 Arranged to meet friends at Bodhi's after the theater on Saturday 1/13/07. It was 10 pm. Bodhi's was closed with no sign on the door to explain it. My son says that has happened to him the last two times he has gone there. —MaryZeiner
---
2007-01-19 12:30:24 According to Drew, one of the owners, they have no formal hours yet, and reserve a right to close early when empty for a stretch late evenings. Whomever posted them above failed to clarify. The current tentative hours depend upon demand, giving way later to formal hours set via daily patterns. Thus, to demand late evenings, go late evenings. Meanwhile, call in advance to be sure. —JohnLam
---
2007-01-20 12:48:26 Nifty. It sounds sort of like 'market forces to decide when we open' eh? —FarMcKon
---
2007-01-21 09:55:08 I was disappointed to find the coffee a bit stale (i.e. too long in the air pots) and the turkey-bean soup to be uninspiring when I went a few weeks ago. I'll give them another shot, but gourmet prices and adequate food don't match well in my book. —JasonOlshefsky
---
2007-02-11 21:06:16 Great selection of coffees and teas and great ambiance... but the rotating hours are a bit vexing. Why would they not be open on Sundays? —AlixHamilton
---
2007-02-19 10:56:42 I really enjoyed the decore and the cafe/coffeshop/bar fusion but Bodhis was earily empty the night we went (a Tuesday evening). All of the dinners ordered in our group were delisious, but a tad overpriced. Our waitress/barista was very eager to please but a bit green. All-in-all I would give Bodhis another shot and would love to see it full sometime. —EllenKelsey
---
2007-07-21 09:03:20 I biked to Village Gate last night and was going to lock my bike to the railing by Bodhi's. One of the servers came out and asked if I wouldn't because the owner doesn't like bikes near the tables. I asked where the bike rack is and they said there might be one behind the building. I ended up locking by the Bop Shop which didn't give me any trouble. I was disappointed to find that despite Bodhi's seemingly Earth-friendly image, they actually support the gas-guzzling car culture and consider it shameful to be a cyclist. —JasonOlshefsky
---

2007-09-08 12:42:36 Olshefsky, I'm not sure that not wanting you to park your bike where people are trying to sit and eat is supporting a gas guzzling car culture or considering it shameful to be a cyclist. Let's keep the preachy hysteria to a minimum. As a regular at Bodhi's and a resident of the neighborhood of the arts, I can assure you that the cafe is, as you said, earth friendly and offers fair trade coffee, organic cuisine, and uses fresh herbs and vegetables from the courtyard garden that you were probably trying to park your bike in. The Bop Shop doesn't have outdoor seating, possibly the reason you found it easier to park there. You didn't try to ride your bike into Salena's or California Rollin did you? Over the past several months the management has gotten the staff and service in order, the hours normalized, put together a superb menu, and produces a great experience for me and many others on a regular basis. —StarMcKenzie
---
2007-11-06 20:52:57 I enjoyed my first dinner here when we came to listen to the band "This Other Life." The fish dish could have had a tad more seasoning, but it was very delicate and nicely cooked, and we were pleased with the wine they had available. The broken toilet was not a bonus. My second visit, on a Sunday a month later, was more disappointing (and the toilet was still busted). Details about that visit are here:
http://www.poetry.restory.net/ruekblog/?p=25 —DavidRuekberg
---

2007-12-01 18:36:18 Perhaps the questionable poet above should pay more attention to the hours and the menu. The smoking buddha, my personal favorite, has neither cheddar cheese nor roasted red peppers and the restaurant isn't even open on sundays. If you're going to critique, which is quite alright and even necessary, at least know what you're talking about. I remain a faithful customer at Bodhi's and my experiences have only gotten better with time. After celebrating their first year in business, the staff and management are really pulling things together, from the live jazz during dinner, bands on weekends, and rotating wine selection, to my fellow customers and the exceptional dinner menu (I'm a huge fan of the smoked salmon!) I'd like to see this place get a little more respect on here. Stop blogging like idiots and actually come out and join us in the neighborhood of the arts some night. —StarMcKenzie
---

2007-12-19 14:23:10 Ate at Bodhi's last weekend. Teagan L. Ward was great dinner music. We really enjoyed our experience. I recommend this place to anyone looking for a nice quiet place for dinner or a glass of wine. Although some of the information on this page needs to be updated. The hours are different and it seemed to be more of a restaurant and lounge than a coffee shop. Their actual website, mentioned above, has much more detailed information and up to date photos if anyone is interested. —BenjaminSilverman
---

2008-01-03 16:44:49 I went in on a Thursday for lunch with a few friends and the place was practically empty at noon. I ordered my sandwhich without tomatoes but it came anyway with them. This was no big deal, could easily be fixed, but then I witnessed the owner/manager, Drew, screaming at our waitress from behind the counter. She apologized for the inconvenience and he stalked away. My friends and I will never come back to this restaurant and I will tell all to do the same. People should be treated better and he did this where everyone could see and hear the whole thing. —HannahAnderson
---

2008-01-22 09:03:22 WOW! A friend turned me on to Bodhis a few weeks ago and I am so grateful. This is not a coffee house but a unique, comfortable restaurant with exceptionally good food and drink. The atmosphere my first evening was something that I had been searching for in Rochester for a long time. Cozy but not crowded, (the place was full at dinner time but with plenty of room for everyone to feel comfortable), with outstanding "live" dinner music. A jazz trio fit right in with the space and created a fantastic vibe. I have been back twice since my first visit, once for lunch and once for dinner and was so happy to find that the level of quality remained high and that the manager and my waitress remembered my name. Bodhis is a diamond in the rough! —WilliamNelson
---
2008-02-11 09:38:18 The food was great, BUT the service was atrocious. The girl behind the counter was talking excessively to the cook about going out the previous night and getting wasted, completely ignoring me and two other customers. My server was new and knew nothing about the menu, specials, drinks, etc... My friends and I weren't impressed. Also, they don't serve liquor, and they were out of two beers my buddies and I ordered off their menu. All in all, it was a horrible experience. —SamGoldstein
---

2008-02-18 16:22:58 Overpriced mediocre food. Inconsistent hours. Poorly run/managed. I would love to see some reviews of their "full service catering" that they offer. I doubt they will remain open through the end of this year. —JoeBeef
---
2008-03-17 10:35:12 We visited Bodhi's on Thursday 3/6/08 at 8pm and we can't say anything but good things on them. Everything, from the atmosphere to the food was great. It was an admittedly quiet night, Bruce Springsteen was playing at a sold-out Blue Cross Arena so, maybe, most people were there... :-) So, we can't judge the service under pressure, but our server was very nice and attentive. I'd just wish they had a bigger wine list. Please, have a look at my full review. —AndreaCogliati

---
2008-03-22 12:12:18 Nice atmosphere with fairly-pricey but tasty desserts. We expected more of a cafe than a restaurant (it's closer to the latter), but it handled us OK. We'll be back to try it again. —PaulArdis
---
2008-04-26 19:22:00 A nice, comfortable place to sip beer, wine, or tea, especially over un-intrusive music (on most weekend evenings, I think). Unlike at the Little cafe or Starry Nights, for example, you don't feel guilty for ignoring the musician(s).
However, the food is really nothing to write home about. Not bad; just not especially good, and not worth the cost. —OwenThompson

---
2008-04-26 21:00:29 Also, the service was good for me and my companion, but the couple next to us had to wait at least 30 minutes for their entrees, due to some kind of mix-up. —OwenThompson
---
2009-03-06 15:48:24 Went there for a business meeting. Despite the fact that they promote WIFI, NO WIFI WAS AVAILABLE (according to the owner ?!).
Was also expecting it to be more cafe-like (like Starry Nites,) vs. more restaurant-like. My coffee was slammin' though. Had to take our business meeting elsewhere due to the lack of WIFI. I'd go here to try an evening dinner, but not to chat over a cup of joe or for wifi access - no one wants a server for something this low-key.

---
2009-04-17 18:13:52 I walked past Bodhi's on my way out of Lento on Tuesday night and it was empty- all torn up with no furniture, etc. Are they remodeling or closing? —ShawnaLusk
---
2009-05-04 08:50:43 Bodhi's is closed. There is nothing left but an empty space :( —KimBee