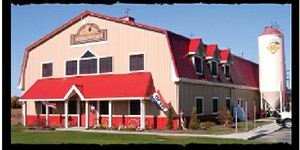 Former Location
300 Village Square Boulevard, Honeoye Falls, NY 14472
Status (as of August 31, 2019)
Closed
CB Craft Brewers, formerly Custom BrewCrafters, was a brewery in Honeoye Falls founded in 1995. They specialized in producing beers that are sold by many regional bars and restaurants as "house beers". (The Old Toad often had their beers on tap in both keg and cask form.) CB Craft Brewers sold several under their own name. There were four beers available year-round and several seasonal/premium offerings that are periodically available.

The brewery offered tastings of their brews (for a fee) throughout the week, as well as free tours of the brewery on weekends. Besides the tasting and tours, you could purchase their beers and Iron Fireman Root Beer in take home "growlers". CB Craft Brewers also operated the Pint & Goblet Tavern on-site where you can enjoy pints of their products along with a limited selection of food.

Each Fall CB had their Autumn Festival of Ales which brings together representatives from the many establishments that served their beers for a big party. You could taste the different beers, participate as a judge in their chili contest (proceeds go to Mercy Flight), eat food from various vendors and listen to music.
Brew Reviews
Christmas Ale
Surprisingly delicious. Discovered at Perinton Wegmans. Suitable choice of drink for enhancing: conversations with ex girlfriends, family gatherings, and time spent alone with the internet. Makes colors brighter and sadness more tolerable. Tastes like the holidays always should have. I could take any of you right now. Sadly this drink is only available during the Christmas season. Stock up. Goes perfectly with Oreo Cookies. Verdict: 8/10 - RobertPolyn
English Pale Ale
Double Dark Cream Porter
A rich, smooth and almost chocolate-flavored brew, this porter is a great addition to any appetizer, entree or dessert. An Ant Hill favorite, thanks to RobertPolyn it has been our favorite way to unwind after a long day of cooperating. Indeed, we've been reduced to buying separate growlers for our greedy selves. - RossHattori
See comments on the Talk page.
Comments:
Note: You must be logged in to add comments
---
2010-06-17 16:18:10 We were introduced to CB in February and now don't even look at other beers. Their Scotch Ale is a favorite of mine and we keep a growler of it in our fridge at all times. —PeteB