| | |
| --- | --- |
| | Rochester is a wonderful place for cross country skiing. The area's many parks provide miles of trails. |
Popular Trails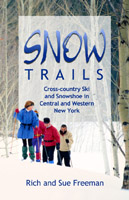 "Snow Trails - Cross-country Ski and Snowshow in Central and Western New York State" in a guidebook loaded with maps on where to have fun outdoors in Rochester in the winter. On FootprintPress.com (Image at right).


A popular beginner's ski place is Quaker Pond at Mendon Ponds. Take the third entrance to Mendon Ponds (Pond Rd). The parking lot is about a .5 miles into the park, on the right, up a small hill. The loop is 2.7 miles and marked by purple. Along the trail I've seen many deer, chickadees and cardinals. The flora is nice too, with cattails, evergreens and lots of tress.


The rest of Mendon Ponds is covered with trails of varying difficulty, including the terrifyingly-hilly East Esker. Grooming is provided by rxcsf.org. With good snow this is the gem of Monroe County parks.


Ellison Park does not have any groomed trails, but offers plenty of flat and gently rolling terrain to ski. Intrepid trailbreakers often leave good ski tracks, if the dog walkers and snowshoers don't get them first.


Powder Mills Park offers several (ungroomed) trails (about 10 miles worth), and a very small downhill ski area using a rope tow.


Playing fields around Cobb's Hill Park are good for skiing, although snow is often too deep.


Behind Cobb's Hill Park, Washington Grove Park offers a tangled network of trails with lots of twists, turns, and hills. The area is heavily used by dog walkers, who nicely pack the trails for fast skiing, so be courteous. Not recommended in icy conditions.


Genesee Valley Park offers acres of large fields to practice on. The Erie Canal towpath is sometimes ski-able.


Durand-Eastman and Webster park are also groomed by the RXCSF.ORG


When there is no snow in Rochester, there is very likely to be snow at Harriet Hollister Rec area (at the south end of Honeoye Lake). Grooming is provided by rxcsf.org. With about 2000 feet higher elevation the temperature runs about 5 degrees colder and the microclimate gets much more snow than the city.

Shops
Clubs
Comments:
Note: You must be logged in to add comments
---
2007-12-10 12:40:26 Anyone know where I can take beginners' classes for cross country skiing? Or is it better to just rent some skis and go figure it out on my own? I've never been skiing (neither downhill nor cross country), so I really don't know much about it, but I'd like to give it a try this winter :) —RachelBlumenthal
---
2008-03-01 14:07:22 three cheers for the RocWiki— we followed these instructions and had a most excellent ski expedition.
RachelBlumenthal: I think you probably don't need to waste money on lessons, but it is kind of physically hard and you've got to make your body figure it out. but i bet whoever you rent skis from can give you some tips to get started—after that i think it's basically trial and error. —ElizMazz