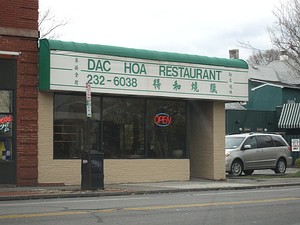 Dac Hoa on Monroe Ave 11-2009
Comments:
Note: You must be logged in to add comments
---
See Archive Page for comments prior to 2008.
---
2008-05-20 08:45:33 They are NOT closed - just had a wonderful meal there Saturday (May 17). Always a good meal. —MarkStrickland
---
2008-10-05 11:32:16 Good pho. —MLentini
---
2008-11-14 21:01:51 Had not been in a while but remember it being much better years ago. The tom kha soup was ok but too sweet, the phad thai tasted of nothing but grease, and the bun vit quay (vermicelli w/duck) was more than 50% bone pieces. I mentioned it to the waitress but she just said there was a lot of bone in duck. I guess you get what you pay for. —JMP
---
2008-12-20 12:17:21 By far the best BBQ'ed duck in Rochester (and, really, I've tried everywhere else). Authentic Cantonese-style: crisp Long Island duck with a tasty sauce. Service can be leisurely (i.e., slow), but the owner is very friendly and the quality of the other menu items is quite good.
If you go, go for the duck. —LePetitChien

---
2008-12-22 23:58:22 Best duck in rochester. great place for all your favorite dead bbqs animals. off the menu items like fried intestine are a wonderful dish.. though in hong kong they cost, $2 american, expect to pay at least $13 at dac hoa.. but thats because, its a special dish that is not often ordered in rochester.
also a great variety of all asian cuisine from vietnamese, to thai, to cantonese and mandarin...
its one of the only places in rochester where you can see an old asian lady hack up a duck to pieces in front of your eyes with a razor sharp cleaver... truly a delight —wahili69

---
2009-09-22 18:11:57 Like others have said, the roast duck here is great and really quite a surprising find since this is a specialty usually found in larger cities with Chinatowns. The roast pork, however, isn't quite as good and was a little dry and underseasoned compared to what I'm used to. —MikeWu
---
2009-11-08 22:47:15 really great pho...better than the Sea restaurant. i got beef brisket. i tried some of the duck and it was very tender and delicious. a++ —khorovitz
---
2010-09-06 11:37:00 Extremely kind, friendly service and amazing value for high-quality food. I was a bit surprised at all the bones in the duck bun (#17 on the Vietnamese menu, I think), but picking them out was worth it for the tender meat and fabulous overall flavor of the dish. And the language barrier was not a problem on my visit. I can't wait to go back and try some of the other dishes on the extensive menu. —AJH
---
2011-04-16 17:44:24 best mu-shu, hands down. my family and i have been going for years, always a pleasure. great service, kind and patient. reasonable prices. —janefitzgerald3
---
2011-11-21 16:45:01 This is a review that I originally posted on Yelp:
Although the service in this place is always slow (a sign that they are actually cooking the food to order, BTW), I've never been disappointed by the food here. This is probably the most authentic Vietnamese food in town, at least on the east side (that place on Otis street is probably better, though). On most weekends, the place is filled with Vietnamese people, so you know that they've got it right.
They specialize in Vietnamese basics such as Pho, Congee, and Viet BBQ, as well as special Viet cold drinks, such as the Vietnamese iced coffee. They also have a "chinese" menu for those anglo people who don't know better, but I've never ordered off THAT menu (perhaps a previous reviewer got their "bland and greasy" food from that, because Vietnamese food is never greasy). The Pho broth is really terrific (I always go for the beef and meatballs), but the Congee is also good, and if you want to spice it up a bit, order a little bit of the BBQ they have in the window display.
On the downside is the small parking lot, the lackluster decor, and the slow, indifferent service. The prices here are not terribly inexpensive, so I'd have to give only 4 stars. Still, if the service was better, I'd give 5 stars, because the food here is really that good! Just order the Vietnamese food, not the Chinese standards.

---
2011-12-03 19:13:03 Wow! My first time tonight and between the above average customer service and my on-point Panang Chicken I could not be more pleased. I am a huge Panang Chicken snob and this stuff was the real deal. The lady that helped me was so nice to me and I can't wait to go back. Be advised though-the online prices are on average $2 less then their actual menu. It's worth it! —laxin1
---
2013-04-09 17:56:41 The Siu Yuk was horrible. Then, we watch a chinese couple come in and order a bunch of it to go. Guess what? It was beaufully crisp and fresh looking. So, if you are white, expect to be served sub standard food. —jberna
---
2013-05-18 16:48:14 As long-time customers we believe that this is the best Vietnamese food in town, and was again a couple weeks ago when we were in. Go with the duck or barbeque pork from the front window, and even the chicken feet if you are brave. I would refute jberna's comment above as we are always treated like part of the family and get special treats and wonderful food. Yes the service is often slow and a bit quirky, but if you are patient and good-natured about it you will always enjoy the meal. —jgerek