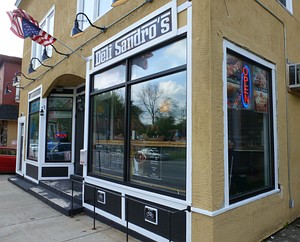 Deli Sandros was RocWiki's Business Spotlight of the Month for February 2014!
Deli Sandros was a deli in Plymouth-Exchange that offered subs, sandwiches, and salads to order, along with a selection of Finger Lakes coffee, ice cream, and a Garbage Plate Dogwich. They were one of only two delis in Rochester that offer cold cuts from Thurmann's. They were primarily a take-out place, although there was limited seating, along with free WiFi, USB surge protected outlets, and phone charging stations.

They also did catering.

During the academic year Deli Sandros did late-night delivery to the UR River Campus, Upper Mount Hope, Brooks Landing, the South Wedge and throughout Plymouth-Exchange and nearby areas. They purchased a limousine from a nearby funeral home for this purpose.

Deli Sandros was located almost right across the street from UR's Riverview dorms. They accepted Flex/UROS account payment from UR student ID cards.

They opened for business on September 7, 2012.

Owner was Anthony D'Alessandro. He is open to suggestions on the Location19.org discussion thread. The owner of both buildings is D'Alessandro House Buyers, run by Anthony's brother Joe.
Links
Comments:
Note: You must be logged in to add comments
---
2012-09-07 13:07:57 PLEX really needed something like this. Place is a food desert. —EileenF
---
2013-08-26 16:55:42 They forgot the lettuce on my sub, and the bread was like rubber. —ginsuguy585
---
2013-08-26 18:26:37 Ginsuguy585 - I apologize that we forgot the lettuce on your sub and the bread was like rubber. Shoot me an e-mail (ajdd85@gmail.com) and I would be more than happy to have you back for a meal on us to make it right. Hope to hear from you soon. Thanks for checking us out. —AnthonyDAlessandro
---
2014-02-14 12:43:02 Huge fan of their subs! I highly recommend the turkey ranch BLT. —nMiller
---
2020-06-12 07:50:40 Based on the inane mutterings and love of baseless conspiracy theories the owner regurgitates, there's absolutely no way I'm ever giving Deli Sandro another dime. —BennyFofo
---
2021-07-28 20:45:36 permanently closed. —margaux@hadfieldgroup.com