Dolce CupCakery is a bakery specializing in cupcakes, with more than 45 flavors. The store is located off Schoen Place in Northfield Common. Flavors change daily and all flavors are available for special orders, as are mini and jumbo cupcakes.
Their second location at 693 Park Avenue in Rochester debuted during the 2012 Park Avenue Summer Art Festival. They closed this spot in September 2014 to focus more on the wholesale business.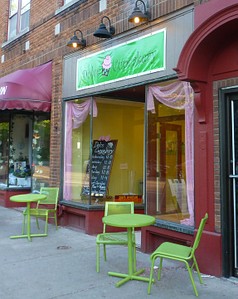 Defunct Park Avenue location
Comments:
Note: You must be logged in to add comments
---
2010-06-04 12:39:34 Cupcakes are yummy. Only request is that the frosting is more like the sweet/sugary 'wedding cake' frosting. —Greta
---
2010-06-10 13:36:17 I was not at all impressed by these cupcakes. The actual cake was mediocre at best, I've tasted better cake out of a box. And the frosting, though plentiful, was bland, and left an unpleasent residue in my mouth. Overpriced and underflavored. —carolturo
---
2010-06-24 19:14:52 Recently had the pleasure to have some Dolce cupcakes at a wedding and they were amazing! The cupcakes were perfect to my palate, not to sugary sweet and lots of goodness. Very impressed, never had anything like them. I have since ordered mini's for a graduation party and they were a huge hit. Thank you Dolce for bringing Pittsford and Rochester a cupcake shop that is'nt like everyone else. —Jim
---
2010-07-01 21:45:17 Love the cupcakes at Dolce Cupcakery - very reasonably priced (over $1 less per cupcake than the place downtown) and nice variety of flavors to please everyone. Staff is very friendly and accommodating - want more or less frosting on your cupcake? Just ask and they will frost them while you wait. One note - although they seem to be baking constantly all day, sometimes the more popular specialty flavors like German Chocolate can run out. Tip: Dolce now has a Facebook fan page and they are posting each day's flavors so you can plan your trips accordingly. I highly recommend the Pucker Up (lemon), the Chocolate Peanut Butter Bliss, the Momma Bear and the new Holy Cannoli when they are available (or by special order). —KatharineM
---
2010-07-08 10:53:26 The cupcakes at Dolce Cupcakery - very moist, reasonably price, large variety and staff is very accommodating to customized any requests- one thing that bothers critiques is reading postings about not moist & store bought are better, obviously this was a personal slam from friends of another store- Really how low... Be professional& correct when critiquing. —JMW
---
2010-07-23 18:02:56 Tried it today. Like some flavors better than others. Some cupcakes were moist, others weren't. Probably would give another try just to be fair. —Tori
---
2010-08-01 14:41:35 Call me crazy, but I'm for old fashioned, "home cooked" cupcake goodness. I agree with "carolturo" about the residue in my mouth. I expect a GOURMET cupcake to be made with BUTTER, as was intended. I can only assume that they use shortening or lard, which turns me off completely. The red velvet cake tasted like vanilla cake with food coloring. Anyone who has had a taste of a true SOUTHERN RECIPE red velvet cake will expect that pleasant tang from the buttermilk, and the faint hint of cocoa... Not found here. As for being the cheapest option, I guess you get what you pay for. I would not recommend these cupcakes. —MerCDotes
---
2010-09-03 17:24:45 I tried this place today. While the prices ($2.25 each) are lower than other competitors around town, the cupcakes are also a lot smaller. I tried the Red Velvet and the White Chocolate Raspberry (gluten free). They were both extremely disappointing. The cake was really dry in both cupcakes. The Red Velvet's frosting was rather sour. The cake didn't taste like anything really. The gluten free cupcake tasted unpleasantly "wheaty" but to be fair, I had no idea what gluten free meant and perhaps this cupcake is average for gluten free desserts. The staff was very friendly but I am afraid I will not be coming back because the cupcakes were not tasty in any sense. —OneLove
---
2010-10-14 11:55:23 I tried Dolce yesterday. I was very dissappointed. Everything was very bland. The chocolate "buttercream" hardly tasted like chocolate and the chocolate cupcake tasted better. The vanilla was greasy. Not impressed at all. —RobGibson
---
2010-10-24 17:12:25 I just tried Dolce CupCakery. I did like the not-oversweet frosting, but then I hit the cake. The White Chocolate Raspberry, which I was hoping to be amazing, had the consistency of a bisquick biscuit. I suppose this means that it was dense and dry, not fluffy and moist. I just now tried the Vanilla and experience the exact same cake problem.
I wanted to love this place. It was cute, the staff was very friendly, and they do birthday parties, even for adults... But I just can't recommend it. I don't know if this just is a style of cupcake I don't understand or it really just isn't a good cupcake.
My friend also tried three different cupcakes and was similarly disappointed.
Reading the reviews now, I see that I'm not the only one experiencing the dryness. It really is sad, because this place could be awesome. I might try it one more time in the future to see if I had an off day.
---
2010-12-07 21:08:05 Went in on a Saturday, hardly any flavors were available, the staff was RUDE, and the cupcakes were simply awful. I agree with others that mention the unpleasant residue - it was worse than Crisco residue. Don't waste your money. —RobinNicole
---
2010-12-13 16:34:17 Love the cupcakes and the frosting. I asked what was in the frosting and they never ever use any Crisco or shortening. The frosting is a buttercream made with real butter. I only like real buttercream frostings, that is why I like this place. The cream cheese frosting on the red velvet and carrot are FAB! I ordered cupcakes for my daughters bday and the owner did a amazing job with the fondant, she can do anything. The day I went to pick up my order, someone ordered cupcakes that looked like mini Tiffany's gift boxes with white fondant bows. So cool. —kfarr
---
2011-01-17 22:28:01 The cupcakes were a huge disappointment. The looked good, but really did not taste good. The cake part was more like a dense muffin and the frosting just tasted like crisco. My friends and I both had a mildly upset stomach after finishing them. —jzabehl
---
2011-06-14 13:44:38 Late reply I know, @JMW I am in no way affiliated with any bakery or store, that was my honest opinion and I don't appreciate being insulted by someone who knows nothing about me. And as you can tell by other reviews, others agree with my opinion —carolturo
---
2011-07-16 20:57:53 Yum. Staff was courteous but slow. Cupcakes were moist and they had a long line of people waiting. They must be doing something right. —ScottHendler
---
2011-09-28 19:43:08 This place has been getting so much press lately that I went there to buy some cupcakes for a recent family event. Boy was I embarrassed to be presenting these cupcakes to my family. They look great but taste horrible. Having tried Sugar Mountain Bakery recently, I have to say I wish I had gone back there instead of Dolce. Some people may like them, but they just weren't my taste and I will not be returning. —RachelRobbins
---
2011-11-20 11:34:37 Have had chocolate, peanut butter and chocolate, and red velvet. All were disappointing, each tasted as if it was a pretty version of a box-mix cupcake. Also, sometimes the cupcakes were a bit dry.
---
2012-02-18 22:12:05 While the product is good the service has finally turned me off. In the early days the owner was there in the store and out front often. I guess that as they have gotten busier they have hired more and more staff, uneducated teenagers and cranky older women for the most part. I kept going back because I love the cupcakes but today they screwed up yet another (the 3rd for me and also a few for friends) pre-order and I am done paying for bad customer service - no matter how good the product. It is sad when talented baking doesn't translate into good business sense. —alexaOh
---
2012-03-10 08:22:50 Went early on a morning one weekend awhile back - frosting for the most part is pretty tasty (though sometimes tasted like there was too much fat - shortening or butter hard to tell), but cake usually was dry, would go to other cupcake places before Dolce. Certainly better than Wegmans cupcakes though! —AGoldman
---
2012-07-11 13:22:09 I was in there this past weekend on Saturday and was very disappointed. Before I even got in the store I saw the owner outside on her cell phone. The front part of the store was so messy. There was an overflowing basket on the counter, a broken printer in the middle of the floor and boxes every where. It made me wonder what the kitchen looked like if the front of the store was so unorganized. There were also flys on the cupcakes in the front of the store as none of the cupcakes are covered on the counter. I did not even try the cupcakes as I was so disappointed in the front of the store. I do not think that I would go back again! —SamanthaStevens
---
2013-01-26 17:03:05 Tried them for the first time recently and was disappointed. The cupcakes certainly look pretty, but the taste is nothing special, mainly because the cake is overpowered by the mountain of bland frosting. The frosting just didn't taste like anything but vague sweetness. How about some vanilla in there, or something? Too bad, because the location is convenient, but if I'm going to eat a treat I want it to be worth the calories. —sazzat