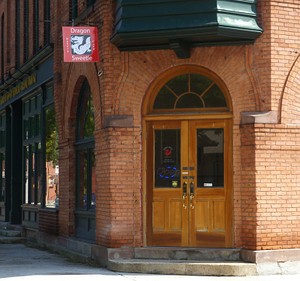 Former Location
389 Gregory Street, Rochester, NY 14620
Status
CLOSED as of July 2015
Dragon Sweetie was a bakery in the South Wedge/Highland Park. Owner Yuting "Tina" Yuan was from China and sought to blend Asian ingredients with traditional French baking. She made cakes, pastries, pizza, and spicy Asian sandwiches such as teriyaki chicken, roasted pork with cumin, and tofu. She did not use artificial ingredients or preservatives. Smoothies and house special milken silk tea were also available.

Opened in September 2014.
Closed in July 2015.
References
Comments:
Note: You must be logged in to add comments
---
2015-01-18 13:35:21 We went to Dragon Sweetie yesterday, and it was great. Everything was of exceptional quality. The baguette was one of the better ones we have had as were the croissants (an almond with house made marzipan and a lemon cheese). The two of us ate an entire baguette with our soup. The people who work there were welcoming and very friendly. We will be back especially after they perfect the smoked tofu. It was not available because so far it was not up to the maker's standards which if the other items are a gauge means it is going to be amazing. A very charming place, highly recommended. —rxscabin