Former Locations
202 Eastview Mall, Victor, NY 14564
4 Spencerport Rd Rochester, NY 14606
3081 W Ridge Rd Rochester, NY 14626
3935 Dewey Ave Rochester, NY 14616
Status
Closed as of April 7 2019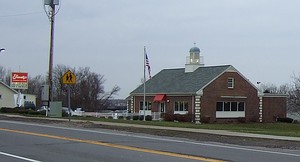 Webster - BradMandell
Friendly's was a national franchise family restaurant with several locations in the Rochester suburbs. They were perhaps best known for their marvelous ice cream.

Most (46) of the Friendly's restaurants in upstate and western New York were owned locally by the Kessler family operating as Kessler Restaurants, LLC]. The firm also operates 21 Burger King franchises in western NY. The Kessler's sold their Friendly's back to the corporation in 2013.
Comments:
Note: You must be logged in to add comments
See Archive Page for comments prior to 2008.
---
2008-04-11 15:01:31 The West Henrietta Road location is always sllloooowwwww! My husband and I met a few friends there late-ish one night for ice cream, by the time we got it, my sundae was a puddle-o-sundae. Yet another chain serving mediocre chain food, what more do you want, seriously? —StephanieTodd
---
2008-05-16 13:15:43 Awful, Id rather eat at TGI Friday's, if I have to eat at a diner like chain. —MrRochester
---
2008-07-06 14:09:47 The service is sometimes quite slow, though it seems to have improved recently. I'm always surprised at the bizare hours that this place is dead/busy. Sometimes at 8:00 there isn't a sole in the place. The next time, it's packed. Even at 10 or 11. You never know what to expect.
If you're looking for something different, I highly recommend the Honey BBQ Chicken Supermelt. Quite delicious and filling. Also, the new cookie-brownie ice cream is awesome! —LincolnComet

---
2008-09-29 16:42:51 If you really *have to* eat at Friendly's, the Pittsford one is pretty decent. Wait, did I just say something nice about Pittsford? Okay...ummm...it's because all the snobs are down the road at Black and Blue. There, now I feel better. —JhirkFace
---
2009-07-14 22:44:53 The Friendly's on West Henrietta has been a poor experience when we've gone. Service has been slow and children are allowed to run wild with no staff control. The one in Pittsford is much more pleasant. —PeteB
---
2009-07-15 00:13:22 Why would it be up to the staff to control the kids? Isn't that the parents job? —NightlifeCher
---
2009-07-15 00:17:56 When customers complain and the parents continue to do nothing, Management (who we do complain too) should kick out the family with the misbehaving children rather then having us decide to leave with our food uneaten or demnand refunds and having said staff not even bother to apologize for a poor experience. —PeteB
---
2009-07-15 06:42:27 Like most fast food chain restaurants, managers have little vested interest in the company. You might express your complaints to the franchisee -
Kessler Restaurants LLC at 585 424 5277. —BradMandell
---
2011-08-14 19:10:44 The one located in Greece on Dewey has terrible service, doesn't always honor their own coupons, and has rude staff. The good there is not cooked properly. —NancyKidoona
---
2012-06-29 14:33:49 I have gone to a few of the ones around here for the ice cream, it is pretty good. I grown up close to where this was the place to go to so I am a bit biased on the ice cream part. the food can be good, from the Gates location, both times the food was done correctly and the service was nice. —bonnev659
---
2012-12-27 15:34:46 The door bell ruined my dining experience. Ding Dong!! every 5 seconds whenever someone entered or exited. REALLY? —ClarissaBrown
---
2013-01-02 23:47:35 Fairport location looks closed for good... signs have been removed and there's a giant yellow "AUCTION" banner in the window.
Nice match with the 7-Eleven next door that closed last month... —MikePulcini

---
2019-04-08 21:44:35 Not sure about Eastview: '"With respect to Geneva and Victor, the company continues to be in discussions with its landlords," according to an email from the company.' - /D&C/ story —markjackson