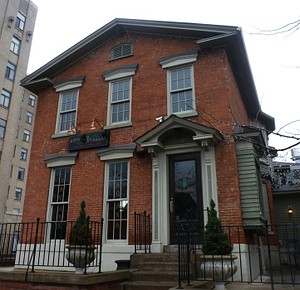 Former Location
289 Alexander Street, Rochester, NY 14607
Status (as of September 2013)
Closed
Havana Cabana was a Caribbean bar and restaurant in the Upper East End. They featured live music and a second floor dining room for private events. There is also a tropical aquarium and original art from Cuba. Over 150 varieties of rum are available, as well as many seafood dishes.

They opened October 29, 2013. Owner Trey Yager is a native of Florida. Closed August 30, 2017.
Awards
Voted "Best Caribbean Restaurant" by City Newspaper's 'Best of Rochester' Awards in 2015.1
Comments:
Note: You must be logged in to add comments
---
2014-01-01 15:33:33 Very nicely decorated. Excellent bar with many Martini's and Caribbean style drinks. Went with my wife and another couple. The Paella was excellent and can serve 2 people (they will split it if you ask). The Island Jerk Pork loin was good but I think there are better items on the menu that I will try the next time. The Plantain Chips with a Corn Salsa were an excellent starter (the only bad thing was they were all eaten in about 2 minutes). —scotthendler
---
2014-01-26 14:58:15 My second visit, this time with a party of six. Service was very pleasant and accommodating. One member of our party was vegetarian, and the waiter checked with the kitchen and came back with some creative "off menu" options for her. Everyone at the table enjoyed their cocktails, appetizers, and meals. Prices are not cheap but you get a good portion. They seem to be off to a good start, highly recommended, hope they continue to do well. —DottieHoffmann
---
2015-10-03 18:45:27 Not offensive - drinks were pretty decent. Nothing to write home about.
---
2016-10-10 15:12:00 I'm a fan. It's a nice change of pace and I quite like the food and drinks. I don't know why their portions are so big! You'd think they could cut costs and make the prices a little cheaper by doing so. The Cuban sandwich itself is literally two meals. —DE