Photo Sep 2008 - BradMandell

Very Big Store - BradMandell
Ready for Halloween - BradMandell
Hobby Lobbyis a national chain store supplying craft, hobby, framing, art supplies, and home decor; store is located in the Wegmans Plaza - Holt Road in Webster. The store (400th opened and first in NY) held its grand opening on September 8th, 2008 in the space left vacant when the Chase-Pitkin hardware stores were closed down by Wegmans. With 50,000sq. ft. of space, the store will offer a "wide range of crafts for enthusiasts of all kinds, from scrap bookers and amateur artists to model railroaders and puzzle fanatics. ... computerized matte cutting machine, which automatically creates customized mattes for photos and artwork. ... custom frames, and can even stretch canvas frames for the home artist. ... interior decorating items, furniturem and seasonal decorations. ... many craft classes will be offered by groups using the store's upstairs classrooms."1
A second location opened in Henrietta in the Minotti Crossings Plaza on September 11, 2020. A third location is planned in Victor.
A 40% off on one item coupon available via the website.
Notes and References
Comment from Topix.net "Imagine if a Michael's crafts store was combined with a Bed, Bath and Beyond and then given a shot of anabolic steroids."
Comments:
Note: You must be logged in to add comments
---
2008-09-23 19:16:28 Took our first tour of the store today - a VERY BIG and comprehensive layout - larger than Michael's or Christmas Tree Shop (two of my wife's favorites). Picked up some Christmas decorations at 40% off - good values. Glad to have this addition to our Webster community. —BradMandell
---
2014-06-30 16:43:16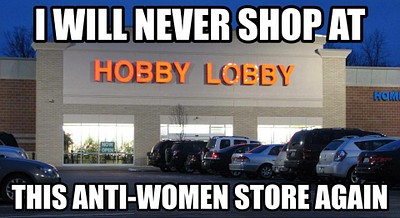 —EileenF
---
2014-07-01 11:14:34 I won't shop there too. —Damiankumor
---
2014-07-01 20:51:32 I will not shop there either. Not only are they anti-women but they are also anti-Semitic. I hope people will also decide not to work for them as well. —scotthendler
---
2014-07-02 10:04:42 I'll shop there. They're neither anti-women not anti-semitic. What they are is anti-abortion. Read the actual text of the case, not Huffington Post. —badfish
---
2014-07-02 11:46:26 Restricting female (but not male) employees' healthcare options based on your patriarchal religious beliefs = anti-woman. Also, the contraceptives they won't cover don't actually cause abortion. —EileenF
---
2014-07-02 12:52:56 It doesn't restrict employees from using that form of birth control, it says they don't want to pay for it. Employees are not restricted from getting it elsewhere or using other forms of birth control. The type of birth control they objected to allows the disposal of a fertilized or potentially fertilized egg, which in their opinion is akin to abortion. If you read the case you'd see that birth control pills are not even specially mentioned in the suit because they—like a vasectomy—prevent the fertilization of an egg, they don't dispose of a potentially fertilized egg. —badfish
1Webster Herald, Sep 10, 2008