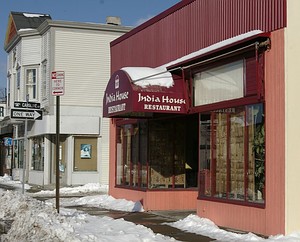 India House on S Clinton Ave, 01-09
Locations
Phone
998 South Clinton Avenue, Rochester, NY 14620
585 461 0880
7343 Route 96, Victor, NY 14564
585 742 2030
2122 Empire Boulevard, Webster NY 14580
585 481 2887
1340 Mt. Hope Avenue, Rochester NY 14620
585 360 2955
India House Express
Hours (as of July 2017 per website)
Lunch Buffet:
Monday - Sunday: 11:30AM to 2:30PM
Dinner:
Sunday - Thursday: 5:00PM to 9:30PM
Friday/Saturday: 5:00PM to -10PM
India House Express (Mt. Hope):
Sunday - Thursday: 11:30AM to 9:00PM
Friday - Saturday: 11:30AM to 10:00PM
Website
http://www.IndiaHouse.com
India House is an Indian restaurant with a cool grocery store across the street from their S. Clinton location. The store sells specialty groceries, incense, books, jewelry and more. They also have video rentals.
In late August 2012, they opened a third location, aptly titled India House Express, in Upper Mount Hope.
Awards
Comments:
Note: You must be logged in to add comments
---
2006-05-26 23:07:26 The lunch buffet is reasonably priced and the food is good and very filling. It doesn't really measure up to homemade Indian food I've had at friends' houses, but it's definitely one of the better Indian restaurants I've been to recently. —RachelBlumenthal
---
2006-07-22 09:52:11 Great restaurant - the vegetarian one is unique and delicious, and, if my cardinal rule of ethic restaurants still holds true here, there are indeed many Indian people dining and shopping here on a continuous basis with their families —RochesterGuy
---
2006-07-23 07:47:37 I believe the vegetarian one closed this month, permanently. —RachelBlumenthal
---
2006-08-08 09:27:18 The vegetarian one is gone, though they are allegedly incorporating some of the menu into the "meaty" India House. —AdamDurand
---
2006-08-08 13:26:18 We went there a few weeks ago and it was closed, I was hoping it was for a family event. —GeorgeHaberberger
---
2007-01-14 09:17:54 Best north Indian food in Rochester. The veg restaurant (which served south Indian veg cuisine) is permanently closed; has been replaced by an Afghani-style kebab house. (It's my understanding that they'll serve halal meats - ritually slaughtered according to Islamic tradition.) My favorite India house items are the chicken makhani (aka "butter chicken"), palak paneer, matar paneer, onion kulchas, and the kasturi kebabs, a peppery version of chicken tikka. India House is family-run. A reliable pleasure, and open 7 days. The lunch buffet is one of the best deals in Rochester, and a good opportunity to sample dishes you might not order ala carte. —LisaJadwin
---
2007-08-29 19:33:31 Michele, you are absolutely entitled to your opinion in regards to this cuisine, however I don't think that type of comment belongs on this page, nor is it in keeping with the intent of the WIKI in general. To further what's been said above, we're big fans of Indian food and have always been happy with India House, as was a friend visiting from India. —DottieHoffmann
---
2007-11-10 15:23:22 I live right across the street from this place and the food is delicious. The only problem is that it's so expensive that I go infrequently. I can't rationalize paying $40 for two entrees and bread when i can make Indian food myself to stave the craving. —CatMagro
---
2007-11-22 22:11:18 Horrible bread, the back of it was burnt. I almost had a heart attack when I read the bill. Way to pricey, I suggest Tali of India, or that Afghan Kabob house across the street(Ariana Kabob House), not only do they have better prices, they have better food. Also I'm not going to go as far as saying Indian food smells like dirty diapers but India House's food does have a weird smell.
In addition I bought Henna from India House's store, I even put lemon on it, but it didn't color my hands AND made my feet have a bad reaction. —XenaLynn

---
2008-02-04 23:00:52 The last time I ate at India House(December 2007), I was incredibly disappointed. I ordered the gobi aloo, a dish I had been pleased with before. This time, however, the food was lukewarm and tasted like it had been languishing in the India House freezer for quite a while - it was freezerburned badly enough to be inedible. Though I had previously had positive experiences with the vegetarian menu here, the food was bad enough on this occasion to make me wary of eating here again. —MeredithParmer
---
2008-02-05 11:15:37 When we walked into India House last night, we inhaled the intoxicating aroma of perfectly blended spices, the first indication that you are in for a treat. I had the Chicken Moghlai (creamy delight), my husband the Bombay lamb stew with lentils and our friend a shrimp dish. We also shared the Bhajia, crispy vegetable fritters with two sauces.
Yes, India House is a bit expensive but I nearly always get leftovers to take home (although my husband and friend cleaned their plates).
Lucky me — I will be having a yummy lunch today...
*Michele's comment doesn't contribute anything useful. —FranceScullyOsterman

---
2008-02-11 11:46:13 I'm picky, and not much into ethnic foods, but I ate here Friday night with three others. We had four entrees, and four sides, plus a cheesy bread dish. My boyfriend really enjoyed his chicken vindaloo (sp?) and I liked my chicken tandoori, which I ordered as mild as possible. I was happy that it was actually served mild, as I requested. It came on a steaming bed of onions, which everyone enjoyed adding to their meal. I'm not sure what the other two had, but they were also pleased with their dishes. Our service was kind of spotty, with people's entrees coming out at different times and a forgotten drink order, but the waiter was nice enough and it didn't ruin our meal. —SaraChristine
---
2008-03-29 13:47:09 India House is very good eats and it also smells very good to me every time I walk by, which is all the time it being that I live right up the street. The service I will have to agree though is spotty but the food makes up for it all. —EnishaCray
---
2008-03-30 16:38:32 Our server was a bit young and inexperienced, but very pleasant and our meal was good. The food was fresh, hot and flavorful. We were happy to have tried it and certaily would go again. —LorenzoServantes
---
2008-04-09 20:59:18 The buffet is reasonably priced and very good. Not as good as Thali of India, though. India House's grocery store is great, though. A huge range of low-priced spices not easily available elsewhere. Same for the variety of nan/pita bread. And if you spend enough, you get a coupon to the restaurant—good deal. —OwenThompson
---
2008-06-22 15:10:17 Dinner here last night was edible, but entirely forgettable. My lamb stew was bland and boring. My companion ordered a chicken curry that was better, but still lacking in the aromatic flavor we expect from good Indian food. She had eaten dinner here before and found it excellent, so either this was an off-night or they have gone downhill. Our server was competent, but uninterested. —EastSideStephen
---
2008-09-28 22:33:49 On my last visit (a Saturday in early September), I was very disappointed. The buffet food was lukewarm, we got our water refilled maybe once, and the buffet options were pretty bland—not a single spicy dish. I don't think I would go back here again. —OwenThompson
---
2008-10-23 11:11:34 The food here is decent, but I must say I think it is entirely over-priced. Every single dish on the menu is about $15 or more, and you really do not get a lot of food. —alx1812
---
2008-12-03 20:51:44 I ate at the Victor restaurant 4 years ago and had some delicious food. I went back yesterday for the lunch buffet and boy had things changed. First it took 4 minutes for us to be seated, even though the restaurant was empty because the hostess chose to talk to her friend at the bar rather than seat us. Then the food in the buffet was not good. The chicken was dry in every chicken entree, the rice was sticky and overcooked, and the dosas were bland. It was so bad that I did not finish my lunch and paid and left promptly. The hostess never asked what was wrong or filled our water after the initial time. With so much competition, I won't be back. —JJohnson
---
2009-05-05 17:41:07 Our little dinner clan invaded the Victor location Saturday 5/2. Wife and I really enjoyed it..we had the least spiciest chicken dish (whole chicken) with lemon and onions. VERY good. —PeteB
---
2009-07-20 14:32:16 Best Indian Restaurant in town. The South Clinton location has a traditional Indian charm and is perfect for a quick lunch or dinner. The Victor location is elegant and offers a wonderful atmosphere for dinner, as well as a nice lunch buffet with a great variety of vegatrian and non vegetarian dishes.. I found the prices to be reasonable considering the amount of food you recive per order.(One dinner entree is large enough to feed two) I will certainly be returning to the India House again! —AS
---
2009-08-13 00:36:09 The most expensive Indian restaurant in Rochester and I don't understand why. The food is good but doesn't match the prices. $9.95 for a lunch buffet is excessive for what you get. I go when I get the "Buy One Get One Free" coupon from the India House grocery store across the street (for spending at least $25). Otherwise Thali of India it is. —OneLove
---
2009-09-16 16:46:59 India House has been a favorite of mine for years. Even my boyfriend - who does not generally eat ethnic food - has greatly enjoyed our meals there. There is a wonderful variety of dishes and lots of options that don't fit the "hot & spicy" Indian food stereotype. If I'm going out to dinner I want to be sure I'm paying for good quality - and that's why I enjoy going to India House. —NYFoodie
---
2010-03-17 12:43:35 My wife and I have been here a couple of times for dinner and enjoyed it, but as others have said, I do believe it's overpriced. We had a not-so-great experience recently getting take-out. We ordered a number of different dishes and don't believe that takeout is a smart choice here. Each entre was packaged in a separate styrofoam cup (nothing wrong with that) and came with a large styrofoam box of rice, lentils/potatoes and thin tortilla-like bread. The rice and sides could have been consolidated into a community container(ala chinese restaurants). The order appeared huge when we picked it up (for 4 people) and didn't double check since it already seemed like more than we ordered. When we got it home, we discovered that the garlic Naan we ordered was not provided, and the rest of the dishes were on the small side. Everything tasted great, and the issue with the sides was our mistake (though I wish the restaurant had clarified on the phone what comes with each order), but the price was absurd, and we were pretty upset about the missing Naan. I'm going to try to find a new place where the prices and portions (and take out service) better suit each other. —ErikReinert
---
2010-04-20 15:04:11 I have only tried the Victor location, but have gone there several times. The food is very good - not super sweet like Thali of India. The menu is fairly extensive, including a few items not found at other area restaurants. The prices are comparable to other Indian restaurants. The only "problem" I have experienced at India House is that even when we ask for our food to be "extra spicy. 10 out of 10," it never really is. Alas, it is so hard to find spicy food in Rochester. —ChristineH
---
2011-01-21 15:31:55 Had dinner here the other night. Despite my last experience, dining in was awesome. —ErikReinert
---
2011-03-25 17:58:44 Swillburg location is mediocre, there are better options in the city for lunch. I should give them a chance for dinner. —jberna
---
2012-04-20 11:45:36 The food is SO good here! It's a little on the pricey side, but I keep coming back. The service was great and the food was yummy. Highly recommend. —cuttothechase
---
2012-06-28 22:36:51 Let me start by saying I have three favorite places for my lady and I to go out to eat in Monroe County and India House is one of them. She is Vegetarian and I am carnivore. Menu selection is excellent with lots of good choices. The Tandoori Platter is far too much food for any sane person to eat. The Mushroom and Paneer appetizer is wonderful. And the Vindaloo dishes are wonderful. Go and enjoy. There are more modern and fancier but this is the good food. —ctoakes
---
2012-08-14 14:39:47 Despite all of the other options for Indian in Rochester, this has always been my favorite. The eggplant bhartha is amazing and I love thier Chicken Makhani. The only thing I will say is their prices have really gotten up there, even higher than most of the competition. I still go for it though! —NYminute
---
2012-09-28 10:10:54 There are so many places to get decent Indian food. Their South Clinton location is not one of them. Nothing is fresh, the food is horribly bland, and the service depressing. Go elsewhere. —kthurman
---
2013-03-01 13:31:33 IH has been recently advertising a reopening after renovation, so we had to stop in last month. There may be a new coat of paint on the walls but it certainly looks and acts like the IH of old. The food is decent and service is OK, but there are better options for Indian cuisine in town. —jgerek
---
2013-09-17 12:44:17 On a visit in August, three of our party agreed the kheer at the buffet had gone sour. The staff replaced it promptly with a delicious fresh batch, so I wrote it off as a fluke. But on September 15, one member of our party ordered a vegetarian eggplant dish for dinner and found it to be spoiled. One bite upset jeir stomach so much as to require a visit to the rest room. The server was gracious in replacing it — at our request with a different dish. Nonetheless, I can no longer recommend the South Clinton location which was a long-time buffet favorite. —JasonOlshefsky
---
2017-06-22 16:38:21 They have yet another location in the former Phuket Thai building: 2122 Empire Blvd, Webster. —markjackson