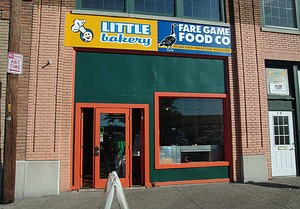 Little Bakery at the Public Market 10-2009
The Little Bakery was opened in 1999 by Gerry Vorrasi and Pastry Chef Aaron Smith. The Little Bakery often gives away its day-old breads to various friends, such as 2 Vine, which then places it in the foyer to give away.
Interesting Facts
Then Senator Hillary Clinton, when in town for a speech on the importance of small, locally-owned businesses, stopped by the bakery for some treats. The owner's mother offered to give the cookies to the senator for free, but Hillary, emphasizing support for the local business, paid for her own cookie. The Little Baker's mother insisted on giving a box of goodies to the Secret Service men.
Awards
Little Bakery was voted "Best Bakery" in City Newspaper's 'Best Of' Awards in
2002,
2006 and
2008.
Comments:
Note: You must be logged in to add comments
---
2007-02-10 12:40:36 Sometimes this bakery is disappointing. The food tastes stale. Good location, but maybe they're just trying to do many different things. —CindyKin
---
2007-02-11 00:59:19 They did our wedding cake and it was fabulous. Hands down the best buttercream frosting I've ever tasted! And I love their multigrain bread. —AudreyJames
---
2007-03-01 17:28:17 i bought a fantastic focaccia bread there; great stop on a Saturday b4 or after going to the public market. —SarahLeone
---
2007-04-06 11:47:32 Just curious—are the Little Theatre and the bakery associated? —RachelBlumenthal
---
2008-04-09 21:04:39 Excellent pastries. —OwenThompson
---
2008-04-10 22:44:31 I concur with SarahLeone on it being a great stop before or after the public market on Saturdays. Try the brownie. It is delicious. —OneLove
---
2009-09-16 14:04:13 We used Little for our August wedding. While the cake design was great and the cake itself delicious it was not exactly what we asked for. Also, we had ordered pastry plates with specific pastries we did not receive. While the pastries we did get good, they were not the things we specifically asked for, which was 1/2 the reason we chose Little. Given that we had a very specific order I am generally disappointed by our experience despite the beautiful and delicious product we received. —JenHL