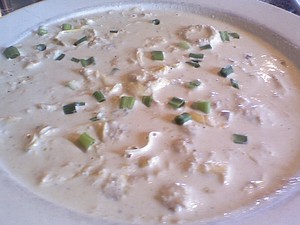 Jalepeno-Artichoke Soup at Mex
Bar Review:

Mex was originally a restaurant and bar, nestled among several nightlife hotspots on Alexander Street. Mex was a popular destination for many would-be drinkers on weekend evenings—hardly a bad thing. The overall ambience of Mex's bar was unique in Rochester: instead of a dimly lit, "what did I just step in?" atmosphere, guests found themselves greeted by bright colors, comfortable pillows, and hanging spherical lamps. The relatively small bar was manned by friendly servers1.

The limited selection of beers was offset by the standard spirit fare and a wide variety of signature margaritas (cliché, yes, but they pull it off). This was an excellent place to stop by before heading off to nearby Alexander Street Pub or The Old Toad for a quick drink. Prices were on the high side (especially for the specialty margaritas), but as with most things, you get what you pay for.
They will be closing on November 2, 2016 after many years as a staple of Monroe/Alexander.
Comments:
Note: You must be logged in to add comments
---
2005-11-25 23:03:55 I'd give Mex the nod as best Mexican in Rochester, but there certainly isn't a lot of competition for that title. The votive candles are a nice touch. —RottenChester
---
2005-11-26 14:10:12 The "El Destructo" (brewed by Custom Brewcrafters) with a slice of a lime is simply delicious. —TobinFricke
---
2006-04-30 19:18:09 Decent Mexican restaurant - great Tequila selection. —BrentIrvine
---
2006-08-25 15:52:51 I enjoy Mex. Plentiful portions. Meals have always been "fresh and crispy". Accommodating to large groups. Margaritas are OK, I've had better. I'm not one for the fancy "specialty" margaritas. I prefer the plain and simple variety (tequila on the rocks with a hint of lime). —AdamDewitz
---
2006-08-31 12:35:43 I recently met friends here for drinks, and it was quite a let down! From the reputation (and name) I expected good margaritas but what I served was akin to mix you can buy in a grocery store. The nachos were quite tasty, though. —EllenKelsey
---
2006-11-16 20:02:32 One of the best Mexican restaurants in Rochester, and one of my favorite restaurants. Food is excellent and the art adds a lot to the ambiance. The soda is really good too; I believe it's made on the spot. Certainly one of the more expensive places to get Mexican food in the area, but the portions are large. —StevenDibelius
---
2006-12-18 13:10:30 I don't know how many times I've tried Mex over the past 5-6 years, but I've never really had a very good experience there. Somehow they always seem to do at least one thing wrong. The last time I went, 2 weeks ago, the dining room was virtually empty yet the hostess tried to seat us way back in a corner where the lights were off. We immediately ignored her and walked back to the middle of the dining room and sat in a well located and lit table. (She gave us a dirty look and walked away- Nice!) On top of that the Tornados Camaron appetizer was so cold it was completely flavorless. The place does great business but I just don't see the point in giving it another chance. If I really want great Mexican food, I'm more than happy to make the ½ hour drive out to El Rincon in Sodus. —ZedOmega
---
2007-01-28 17:38:24 Minus the delicious torta, the food here pretty much sucks. It's certainly edible, but is very subpar Mexican and overpriced for the quality. The bar, however, is awesome when it's not jam-packed. It's a cool space and the bartenders are excellent. —MisterElkington
---
2007-02-17 19:12:34 Probably my least favorite bar in Rochester, but my friends always seem to want to go there. My beef is really that it's crowded, and no matter where you stand, you are in the way. This is mainly due to the fact that there are so many doorways and narrow corridors. The Cadilac margarita is phenomenal, but it is very expensive and it comes in a plastic margarita cup. At $10 a pop, you'd think they could swing for margarita glasses. —FattyFatFat
---
2007-04-16 11:26:11 Ate here back in Nov 2005 and the food is good, although I'm not a fan of fancy restaurant style Mexican. And after reading above comments, if I paid $10 for a fancy margarita and got a plastic cup, I would be insulted and send it back. —TravisOwens
---
2007-05-31 23:04:04 Mex serves delicious banana margaritas for a mere four dollars; however, I just had my first "dining" experience at Mex and I'm very disapppointed. I was charged SEVEN dollars for chips and guacamole. Outrageous! The chips cost $3 and the "side" (which was very small) of guacamole cost FOUR dollars. I was under the impression that the chips WITH guacamole would cost four dollars, rather than the SIDE ITSELF costing 4 dollars. (no, I'm not cheap- it's just the principle of the matter...who charges $4 for margaritas which are great, but then charges $4 for a SIDE of guacamole that was sub-par??!) —TrishHeckmann
---
2007-06-01 08:48:29 Have been once dine in several years ago and then again at bar time. My food was entirely forgettable and overpriced. I'm admittedly not a bar person at all, but found the bar a relatively nice place, that is until they turned the music up to 11 and the depraved woman who happened to be next to me a) hit on me, b) spilled her drink on my shoe, and then c) almost made it to the bathroom before blastoff. These are of course mainly complaints about humanity and not the establishment itself — of which I could say kindly that I've been to far worse places in the area. —RochesterGuy
---
2007-06-07 00:08:44 Ahhh, I would say this is another overpriced, over ranked "ethnic" restaurant located in a hot spot. Their food is okay. I would say the price is definitely steep for the quality of the food. I was there for a birthday dinner and we had to send back a couple of dishes. The shredded beef in the burritos was extremely, extremely dry [to the point where it was brittle...I am not kidding]. A couple of people remarked on how their food tasted "off". The good part is that when we sent it back, they took it off the cheque and offered a suitable replacement for free.
I got the Chicken Fajitas - it was an interesting sauce...I don't know if I would describe it as Mexican. It was good but the sauce was overwhelmingly sweet.
Overall..you could do better for your buck. —OneLove

---
2007-11-07 19:52:54 overpriced and cramped. and the food is most definetly overrated. —TorieCaddy
---
2007-12-11 17:29:45 The bar crowd consists of scantily-clad floozies and their male equivalents, with a healthy dash of underage undergrads. The space is awkwardly laid out (anywhere you stand you're in the way), it's too loud for conversation, and the margaritas aren't worth writing home about. —ChelseaAllinger
---
2008-01-09 14:19:06 Very odd tasting chicken fajitas :( Tasted more like sweet and sour chinese chicken - Yuck! When I told the waitress, she was not concerned whatsoever. Not taking my dollars back there... —RochesterMom
---
2008-01-09 15:01:55 Last 3 times I went here I spent an average of 25 minutes at the bar watching 5 bartenders ignore me to get one overpriced beer. Bring your dollars elsewhere. Shame on me for going back. —DarrenKemp
---
2008-03-06 11:41:42 Although a bit loud, I liked the place when I went on Saturday. The crowd was good, didn't see any of the cheeseballs people referenced above. The clientele seemed like normal, professional 20 and 30 somethings—with the occasional cheeseball you find anywhere. The bar wait was fine. We stayed in the bar area and didn't have any food. —BadFish
---
2008-07-19 09:31:07 Had another great meal at Mex last night. Great enchiladas and I do love their house salsa and guacamole. The porch was jammed with folks talking and socializing, a nice area to hang out after a meal. —KimBee
---
2008-07-20 23:19:27 I'm fairly certain that the wonderful El Destructro CB brew is gone now, a shame. I've also discovered recently that the cooks can't seem to get the Agucate Salad to match what's on their menu... ever, really. The salad rarely includes the roasted corn, which is in the description on the menu. The dressing is usually good, but the last time I went in they served me a strangely sweet side of guac instead of the cilantro-lime dressing. When I sent the dressing back the waiter returned with a slightly less thick dressing but it still wasn't the usual one and it tasted odd. I'm a little turned off to any restaurant that can't figure out how to serve what's on their own menu. On the plus side, this place is hopping on Friday nights and they offer super fun speed dating events every once in awhile. They also had music trivia on Tuesdays at one point, not sure if they still do but it was definitely lots of fun when I tried it. The music is usually great and the margaritas are also good, as are the jalepeno-artichoke soup, the nachos, and the free chips/salsa. The staff has been exceptionally nice and helpful most of the time I've eaten here. I think the main issue stems from the kitchen, not sure what's going on in there! They don't seem to be training the chefs to consistently prepare all of the menu items.—MariahBetz
---
2008-07-25 10:42:01 Mex is a great BAR, but should not be a restaurant. I have never enjoyed my meal there. The place is cool and ever since they filmed the "Smoking Laws" movie there it is always clean and was slightly remodeled.
Although you can tell the bartenders dont enjoy making them, whenever Im there with a girl, she requests a margarita, and always loves it. —MrRochester

---
2008-07-31 17:16:46 I have worked at a variety of restaurants in my day and as a former emplyeee of Mex I can easily say that this is one of the worst restaurants I've ever been in (or to). The food is awful. I was sick of everything on the menu after working there only about a week. The meat is prepared by a vegetarian who cant even taste it, hence neither can any of the customers. If you want good mexican food I suggest nearby Selena's and if you want a drink there are like 100 bars within a block or 2 of Mex. Please don't eat here unless you want to pay for high priced food that isnt half as good as any Taco Bell I've ever been to. They also have a rat problem, as the kitchen is filthy.
PS - I am not disgruntled with them as an ex employee. I just would like to save you all some time, and save the overworked and underpaid kitchen staff from working twice as hard as they should due to good reviews. —TheRocDude

---
2008-09-19 15:03:29 The food is so-so, not that great - my fajitas reminded me of Chinese food in their preparation and taste, there are definitely better Mexican (El Parian, John's Tex Mex) restaurants in town. In fact I wouldn't even call this Mexican. Its very expensive but the portions are gigantic. Their drinks are sub-par and overpriced. The ambiance of the restaurant is nice and the service is efficient. The bar, on the other hand, is mobbed with dudebros and douches (standard fare for this part of town). You have to shove to get your overpriced, weak drinks and you must literally kill someone if you want a table. Finally, beware the creepy cougars that lurk in the dark shadows of the bar. —MarcusKroll
---
2008-10-10 13:40:27 I updated the page to accommodate the change to just a bar, but I don't know if the restaurant hours are still valid. If someone gets a chance to stop by there, could they please update them? —TomMaszerowski
---
2009-01-09 18:30:01 My fiance and I used to frequent this place and we thoroughly enjoyed the food. However, we haven't been back in over a year due to a horrible experience we had there. We were seated in a well populated area of the restaurant and, honest to goodness, our existence was never noted for our entire 60 minute wait (before we up and left). The restaurant wasn't busy enough to warrant a prolonged wait and patrons that arrived after us (and were seated right next to us) were waited on and served. After about 40 more minutes of waiting I should have gotten up and told somebody but, at that point, we stayed to see what would happen. Nothing did. We sat and waited (with no drinks and only menus prominently displayed in hand) for nearly 30 minutes more and, despite their repeated presence to either side of us, not one waiter/waitress spoke a word to us. Not even a glance! On our way out, we told the guy at the door (who we believed to be the owner) about our experience and all he offered was an apology and a guarantee that next time we came, we would get a seat right away. That was an inadequate offer because we were seated rather quickly, it was just that no one asked us for our order. Given his reaction, we decided to never return and we never have... And each person we know who brings up Mex hears this story. —BatGuano
---
2009-05-20 14:22:06 don't love it don't hate it. always crowded, finding a place to sit is typically pretty difficult. i usually don't stay too long (unless it's warm out and the patio is in operation) b/c being inside gets a bit clostrophobic. —Leisel
---
2016-10-05 16:53:47 They will be closing for good on November 2nd. —badfish
---
2016-10-06 10:48:06 The place itself is pretty cool. Cool atmosphere and good location. For a margarita bar the margaritas were not good. With the food and drink standards in this city rising, it's not worth going to for the drinks. Never eaten there, never had much interest to. Hopefully a new restaurant or bar will take its place, the location is just too good. —DE
---
2017-08-16 11:19:16 Looks like something is moving in here. I walked past it last night and couldn't quite make out the four cursive letters in its sign. —DE
1Despite not having one of this author's favorite beers available, a bartender offered up an excellent but unfamiliar substitute, making an otherwise disappointing order into an interesting and delicious new experience.