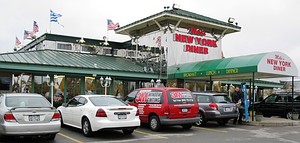 Front - Oct 23, 2009 - BradMandell
Former Location
3423 Winton Place, Rochester NY, 14623
Mike's New York Diner was a Greek-American diner, the extensive menu covered a lot more ground. Plenty of salad and sandwich/wrap selections, a full breakfast menu, and Greek, Italian, seafood, steak and BBQ entrees could easily fill you up.

The location (in the middle of the Winton Place parking lot) has seen a lot of turnover. Originally a Chili's, there have been two previous tries at a large-menu Greek influenced diner format. New this time was an outdoor patio dining section.

Some of the entrees and specials did take this establishment up to an upscale level of dining.

They closed in 2012 but reopened as of 5/12/2014. In June they changed their name to the Double J Restaurant.

Photos
Comments:
Note: You must be logged in to add comments
---
2009-06-30 11:59:45 Great addition! A true downstate style menu (complete with egg cremes, matzoh ball soup, and disco fries), giant dessert displays, unique bread basket with relish tray. Hopefully this one will stay 24 hours and help fill the void of late night eats in this town. —tankearae
---
2009-07-05 20:35:23 Wife and I went for Sunday night dinner. Wife had a Cheeseburger and I had a Chicken Ceasar Wrap w/ Baked Potato. They gave a free appetizer of Beets and Cabbage with Capers & Onions—they called it a "Rellish Tray". For Dessert wife had Taramisu and I had an Oreo Cake...WOW! DESSERTS ARE HUGE! All outstanding. We will definitely be back —PeteB
---
2009-07-05 20:53:26 I'm a diner fan, and I was very happy to see this place open. Stopped by the other night. My wife had the portobello panini – very attractive, very tasty – the high point of the meal. I had the turkey dinner – one of my diner favorites. Massive on the plate, but disappointing – the mashed potatoes were instant (waitress had told me they would not be); stuffing lacked flavor, and was very, very dense and heavy; gravy was dark brown (beef?), not terribly flavorful, and – as it cooled – it developed an unappetizing, congealed crust. The prices at this place were fairly high, as diners go – and would be okay if the quality were commensurately high – but in my opinion, Mike's did not deliver. Not sure when I'll go back – there are other, better and less expensive options. Too bad, though – still waiting for a good 'Jersey-style' diner in Rochester. —Statman
---
2009-07-20 09:14:22 Not sure how a greek diner has ended up classified as "Upscale" Nothing wrong with being a really good greek diner and labeled so. —GordonAnderson
---
2009-08-06 16:11:32 The potatoes are definetly real. I know this because I spent two hours last night peeling them. —goodnick
---
2009-08-21 16:54:42 9009-08-15 Went here for lunch and was absolutely fantastic. Been waiting for a "Long Island" diner to come to this area. Anyone who's been to a New York diner can count on this for being authentic. The prices are exactly what's expected for the portion size, quality and service. The potatoes were delicious and not instant, the brocolli was fresh and crispy with garlic butter, the salad consisted of good greens (not iceburg), cherry tomatoes, cucumbers, and other good stuff and the turkey was not the kind that you get at the deli counter. They even have the best Monte Cristo around and if you haven't had one, now is your chance. Definitely a must to check out. —dark
---
2009-09-14 10:38:26 Very disappointing – while you do get a lot of food, you also pay a lot more, compared to other (much better) diners. With a menu that size there is no way their entrees can be fresh. We chose breakfast. I was going to get the omelet, and while I expect to pay extra for egg whites, $1.50 for cheese?!!? I got the French toast and Canadian bacon which was adequate. The biggest disappointment was the waitress. No free relish tray (despite customers all around us receiving this), no refill on the coffee and only checked on us once and couldn't wait to give us the check. After getting a coffee, I realized there was no sweetener on the table – what is this 1976? And with no waitress, there was no way to get any. We mentioned all this to the staff at the register, and they barely apologized and said that we should have got the relish tray…and then made no attempt to offer any kind of further apology or recompense (you couldn't even knock the price of my unsweetened coffee off the bill?!?). This was our first and last visit. Just like the coffee, this experience left a very nasty taste in our mouths.
NYC Prices & Attitude—no thanks! If you want real diner food at good prices and quality service, try The Original Steve's or Billy's Homestead restaurant. —Dlacy

---
2009-09-29 12:15:40 Ny City prices- Egg wrap 7.00? Had hair in cole slaw and gunk in coffee- Very pricy for Rochester. my friend took her family of 6 to lunch and it cost her $125.00. Will never go back. Manager came over about the hair and said sometimes this happens! And they just opened. —BrettCase
---
2009-09-30 23:22:14 I just tried this place and have no reason to rush back. I started by ordering the kafteri appetizer. I expected what I've had elsewhere— a simple blend of feta, hot peppers, and olive oil with the consistency of a very thick dip. What I got was a mound of rather firm granular cheese and peppers and virtually no olive oil. The portion size was ridiculously huge. My partner ordered nachos as an appetizer and out came an obscenely huge mound of tortilla chips with what seemed like a Velveeta-like cheese drizzled on top. Unpleasant. I had ordered the Greek combination plate of spanakopita, pastichio, and moussaka. It came with a side salad that I didn't eat because some of the lettuce was brown. The bottom of the spanakopita was swimming in oil, and the layers of filo on top were too thick and I just peeled them off to get to the spinach mixture inside (which wasn't anything special). The mousasaka wasn't terrible, but had way too much meat sauce (which was greasy). The pastichio was also dense. In short, their Greek dishes were nothing like Mykonos at their height (when they were still in the Village Gate Square Mall).
I don't understand the people who are impressed by gigantic portions. Even if I liked the food better, the portion sizes would still be stupid-large.
Finally, while I could certainly do without the televisions that was showing Fox News (sorry, Glen Beck's latest conspiracy theories and Sean Hannity's brand of stupidity doesn't enhance digestion), I did like the music that was playing. I'm pretty sure it was XM's "First Wave" which is a mix of 80's New Wave-esque music. At least there aren't may places I've eaten where I hear Violent Femmes followed by Shriekback followed by Public Image Limited. —JohnPassaniti

---
2009-11-02 12:28:33 I can appreciate that many people don't find anything appealing about large portions. That said, I had dinner at Mike's last night and I just finished having the second half of my meal—a very tasty pastrami panini—for lunch. Therein (for me, anyway) is the beauty of huge portions. Not gorging at one setting, but getting two meals for the price of one. Anyway, about Mike's NY Diner. Very nice diner atmosphere. Large selection of home-made baked goods. The matzo ball soup is amazing. I enjoyed the dalmades very much. The menu is huge and varied, which can be a drawback for upscale restaurants but is a definite asset for a New York style diner. I've been to Mike's three times now, tried three different dishes (six, if you count the bites of my wife's meal I had each time) and have not had a bad experience yet. —KurtSample
---
2009-11-02 18:36:56 My wife and I enjoyed lunch there on the 23rd of October. My matzo ball soup was great and the tuna melt was served open-faced with real tuna topped with melted cheese. My wife loved her Swiss Burger and the fries were very good. A nice diner atmosphere - wish we had room to try the deserts - maybe next time. —BradMandell
---
2009-11-23 21:40:12 I was there on Saturday night around 7pm and it was packed! Like 35-45 minute wait. I got their version of the Monte Cristo which is made with french toast and not deep fried. It was pretty bland but the portion was generous. I think I should of just gotten some pancake syrup for it and ate it like french toast with meat. The deserts looked great but I was so full I couldn't even think of ordering one. —DamianKumor
---
2009-12-05 18:27:56 Have eaten here twice. Both my wife and I like the Relish tray and it was different each time (beat salad and potato salad, chick peas and pasta salad). The portions are generous and we always bring home enough for lunch the next day. Last night it was our waitresses birthday and any patron she waited on was given a free glass of wine. I ordered a corned beef reuben with slaw but was given a plate with fries. When I told her about the mix up she came back with slaw and apologized. As far as the matzo ball soup... the soup is excellent but the matzo balls are very bland. They need a lot of white pepper to come close to my wife or mothers recipe. —ScottHendler
---
2009-12-26 16:11:05 Mike's is NOT open 24 hours/7 days. I drove by Wednesday after midnight for a snack and they were fully closed. —PeteB
---
2010-03-01 13:00:04 My wife and I stopped in Sat night for a couple of sandwiches. Very bland, dry roll for my philly cheese steak and not much meat. Her Mexican wrap was bland as well. And the price? Right up there. Service was good however but forget the blueberry pie. More like blueberry glue. Oh well, had to try it. —rasalas
---
2010-03-28 17:42:05 Loved our experience! We went on a Saturday around 1:30 - no wait and attentive service. We ordered: a "can't decide" (french toast, pancakes, eggs, sausage, and bacon), Gyro wrap, Italian Panini, and Monte Cristo. Portions are HUGE (definitely worth the higher diner prices), and the food is really good. French toast isn't the BEST, but the pancakes were fluffy. Gryo wrap was DELICIOUS and had just the right amount of meat-to-veggie ratio. Our friends enjoyed their meals as well. We will be returning - and this time, will save room for the amazing-looking desserts! —Acarp
---
2011-01-02 22:48:01 I've been here twice now, and both times left disappointed. I'm a fan of diners for the same simple reasons most people are: comfy restaurants with cheap food and a good variety.
Mikes has the typical variety, but the food, and most importantly the price just don't add up. The restaurant itself is comfortable, and it never seems busy (a warning sign). I like the layout, the ambiance, comfortable seats, etc. The waitresses are very hit and miss as well. One day you'll get a youthful, naive waitress, and the next you'll get a grizzled veteran with a crusty, cigarette induced voice and a mustache, neither of which impressed me (unlike the charming "rugged ladies" at Jay's for example).
The food is just boring. It's all the bare minimum, everything from fried foods, to greek dishes, to the meatloaf, and the chicken. Nothing remarkable from bite to bite. The only thing worth mentioning about the place is the price. $18 for a plate of 4 frozen, fried shrimp on top of iceberg lettuce? Give me a break. $4 for two soft drinks at a freaking diner? Come on. The fries are the same french fries you'd get at a middle school lunch break. It's a sin for a diner to at least not have a good burger and fries. Even the milkshake I had was somehow unsatisfying.
I'm not normally one to balk on price points, as I can appreciate the work and talent that goes into making a good dish, but this place is border line robbery. I can't think of a single reason to come to Mike's New York Diner. —ChrisE

---
2011-10-21 09:50:18 great breakfast place at 6am. Lunch was just ok. Will back for breakfast. Eggs cooked perfectly and the potatoes with onions are excellent. Great service at 6am. Coffee is excellent. —margaretjackson
---
2011-11-29 19:11:31 I'm not going to add anything about the food-like most diners, it's variable. At least this place has a bar, though.
What's really annoying about this diner (and probably every other Greek diner in the northeast) is the mish-mash of design. I can still see remnants of the old Chili's, as well as a few features of the '50's diner', and the previous 'Mykonos' iteration. Each new owner replaces a few pieces with whatever 'Stavros the contractor' has available at a good price, whether it's the right color/size/style or not. Invariably it clashes with what's already there, and just look plain stupid. Seriously, I'd rather they just ripped everything down to the drywall, and start over with the ubiquitous "Greek flag" color scheme. —Alex-C

---
2012-01-01 17:52:35 2012-01-01 18:00:00 This is so frustrating! They claim to open at 6 am but at 6.40 we were still waiting in the parking lot. This has happened a number of times. We call and ask what time they will open and we are told 6 am yet they seldom are open at 6. —KenJackson
---
2012-02-22 22:31:23 Went to mikes for early dinner. Got seated right away, about a min later waiter comes up. Very nice man. Drink order was taken back in maybe 2 mins. I ran to the ladies room to find a decent sized puddle on the floor (hoping it was mop water) and a stall with no toilet paper. Good thing i looked first..... locks on the stalls barely working? Anyways back to my table i went, I ordered chicken parm. Me friend ordered breakfast. My order came with a salad. My salad came first obviously. It looked appetizing. Ice berg a lil romain, cucs, and a couple grape tomatoes. A couple red onion rings that were a lil soft borderline old. I was starving so i started chowing down. Wheni finally slowed down to start enjoying it i noticed somwthing was a lil off.... I cant put my finger on it. While waiting for our orders we were shooing fruit flies away from us. Killed one and...... Here comes another,then its big brother comes around we couldnt get him....my friend started to complain that it was taking too long for our simple orders after about i'd say 15mins they came out. I was surprised to see 2large chicken breast and a large side of spaghetti. It had a lot of the pasta water floating around the plate, which didnt bother me much. So i cut into the chicken breast. Nicely fried, golden brown, very moist, but unfortunatly bland. I think even a lil more salt would have helped. Now over to the pasta. I'm italian so i think i know pasta. Honestly its texture was like it was partially boiled earlier in the day then finished when it was ordered. The sauce..... Um.... It wasnt for me. Watery, no seasonings. Now my friend ordered breakfast, eggs, toast, hashbrowns and sausage. This guy can eat... He finished the egss and toast and left some sausage and hashbrowns. I asked him how it was and his reply was..... You cant mess up breakfast, but this was border line. Around this time i'm noticing that my stomach isnt feeling like it did before i went in... Meaning starting to turn. My friend the same thing. Now i'm not putting this directly on the foods fault but is was the first thing we both ate that day and within 40 mins were both feeling horrible and 2 bottles of pepto, it lasted till the next day.....so take it how you want. Other then the great waiter and how it looked inside. I have to say i'm dissapointed with it —Deefoodie
---
2012-03-18 21:02:50 I have been here many times and thought it was one of the best diners around but last night may be the last time I go. We had a party of 6 and the hostess wanted to sit us at a table in front of the kitchen doors. When my wife asked if we can have another table, just one table away, the hostess moved us but became very snotty and basically threw the menus on the table at each of us. Our waitress, very nice but not prepared, had to come back twice to make sure she took the orders correctly and the food did not come out at the same time for all of us. In fact, some of the side dishes were about 5 minutes later. For dessert we all had different pieces of cake but they were hard to eat because she forgot to bring us forks after they cleared the table from the main meal. We had to ask twice for the utensils. It appears to be going downhill. —ScottHendler
---
2012-05-08 17:53:00 I've eaten here countless times and i love it!! Being from New York City I can appriecate a REAL diner in Rochester. There is nothing not to like about this place, amazing and friendly service, and the food is outta this world. They give you huge portions and its worth every penny. Breakfast Lunch and Dinner all amazing. I usually go for Sunday dinner, where you are given a free dessert with your entree. i was so impressed with their food and dessert that use them to cater my family partys!! your crazy not to like it! Im used to REAL comfort food and MIKES NY DINER delivers! —SamClifford
---
2012-08-18 06:58:18 They appear to be closed. There's a sign on the door and the website is down. Can anyone confirm? —TomMaszerowski
---
2012-08-18 16:08:21 Drove by here a cpl hours ago. Might just be temporary. No furniture appears to have been removed yet. I'm going to give it a cpl weeks—if it hasn't reopened by Sept 1st I'll formally close it here —peteb
---
2012-08-21 13:59:30 The Diner is actually closed they closed last week. It was to tough for the family as they have seven other restaurants on Staten Island and were missing that area to much. I will really miss this place as I was a regular there with many others. —SEANLEDWITH
---
2012-08-21 16:33:00 This location has had more incarnations than Lazarus. I'm certain that in a couple of weeks, some OTHER Greek family will buy it, change a couple details (which will clash with all the remaining details from the last 3 remodels), and by mid October, we will have yet another mediocre diner available. —alex-c
---
2014-05-08 14:03:46 It has been announced that Mike's will be reopening. The town approved their operating permit last week. Just don't know when yet —peteb
---
2014-05-12 20:21:13 I am please to say that mikes new York diner opened its doors again today a moment we have all been waiting for im happy to be working back there again and I hope to see all of my old friends and costumers come join us again at mikes new York diner —brandonbagley
---
2014-07-04 14:09:56 A restaurant has reopened at this location but it is not called Mike's. It is now the Double J Restaurant. 475-1863. —jgerek