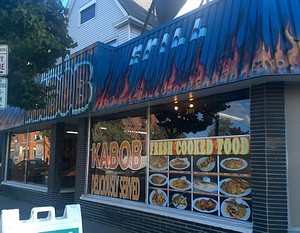 Monroe Kabob is an Afghani restaurant in Wadsworth Square. They offer naan, saag, samosa, pakora, biryani, sheesh kabob, wraps, and chicken dishes. Nothing costs more than $6.99. It is primarily a takeout place, although there is some seating inside. Delivery available for orders over $20.
The owners are the Mohammad family, who moved here from Afghanistan in 2000.
Opened in November 2014.
Comments:
Note: You must be logged in to add comments
2016-01-13 22:04:21 -Worst food ever. Today we tried their food: chicken with rice and chick pea. Their food was not tasty, it was GARBAGE. The cook does not even know how to cook kabob. Where this cook came from? Does this cook actually know what is called kabob? This is one time restaurant, if you want to waste your money, you can eat there. Also, they give less food, quantity is so small for the money they charge for the food. The QUALITY and QUANTITY of food is worst. If you still do not believe me, go there and try their food and come back to me and let me know, am I right or wrong? The cheap owner serve cheap food in a cheap way. I never going back there to eat if God willing and I will tell all my friend in Rochester not to try their food ever. No wonder I do not see much customer in this restaurant whenever I pass by, Whenever I pass by I saw no customer at all most of the time, sometimes one or two customer like me who wanted to try their food for the first time and regret later why they wasted their money to eat there. The owner deprived us by giving small quantity garbage food, God is watching, so he cannot cheat people too long, if God willing. AliKha

---
2016-02-05 16:18:44 Super delicious food, inexpensive and friendly service. I dunno what the guy before me is going on about, but clearly he has a personal vendetta against this place. I loved it! —Cretinx
---
2016-03-13 15:09:37 Couldn't disagree more. LOVE this place. Excellent portions, pretty much ALWAYS fresh, affordable prices. —SabyRK
---
2017-05-12 13:12:59 I also could not disagree more I just has a Chicken Mahakini with Nann lunch (Spicy) and it was so tasty. I am going to go back and can not wait to get the Chicken Sag next time :-) —CCRC
---
2017-10-04 13:42:49 I have loved this place since it opned and it is still very good, however it used to be better. They must've changed owners or something because the Monroe Kabob that first popped up on Monroe a few years back was a quality experience in not only the food, but also its outstanding customer service, atmosphere and hours. They recently rearranged everything inside and stripped the place down to bare bones. I suspect new ownership. Now the only thing it really has going for it is the food, which honestly has declined. I still recommend this place to friends, but wish they could get back to where they started. —sub619