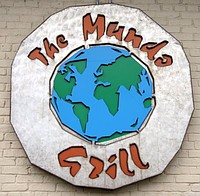 Former Location
2833 Monroe Avenue, Rochester NY 14618
Status
CLOSED in 2007
Mundo Grill was a small, bistro-style restaurant in Brighton, next to the Holiday Inn Express that changed its menu with the seasons. Usual fare included a variety of fresh seafood, including raw oysters, as well as grilled entrees, salads and appetizers. It was a small restaurant with two rows of booths surrounding a central set of tables, with large French windows at one end that were usually opened in nice weather.

The Mundo Grill also had a relatively large bar and a good wine selection. A few outside tables are available in the summer months, though the view was one of the busiest sections of Monroe Avenue.

Pare was also at that location until it closed in January 2010.
Comments:
Note: You must be logged in to add comments
---
2005-11-22 12:24:48 Nice place. Freshly baked bread! —MariahBetz
---
2006-06-10 16:00:29 Definitely like the fact that Mundo changes its menu. They're also the one place in ROC closest to being a 'fusion' place. Food's hit-and-miss, but worthy of stopping in every few months —ChristineLeo
---
2006-07-26 06:42:43 Visited a few months ago with foodies from Rochester and Manhattan, and all were impressed. I remember the seafood was very fresh, the menu was large and diverse, and the presentation was dramatic. —BenMargolis
---
2007-01-25 09:48:02 Ate here back in 2005 and ordered the Paella dish (meal for two). It was decent but the dish didn't blow me away, especially considering it's upscale price. —TravisOwens
---
2007-03-19 12:15:41 Had an excellent dinner here. Started with crab cakes, which were flaky and delicious. My entree consisted of two glazed pork cutlets alongside corn crepes filled with vegetables in brown sauce. The dish was superb. The sweet glaze on the pork chops was perfect next to the savory crepes. My companion was in love with her pan-seared crusted tuna with falafel on the side. She finished off with a piece of homemade (no-bake I think) chocolate cake which she judged to be on-par with the rest of our food. I had a refreshing sorbet in sparkling wine. Our waiter was knowledgeable, polite, and professional. Dinner for two with appetizer, dessert, coffee, and wine was around $100 before tax, and tip, and restaurant.com dining certificate (accepted without hassle), and was certainly worth it. —EastSideStephen
---
2007-03-22 12:26:20 I've had some delicious food here, along with a few mediocre things, but the mediocre ones aren't enough to keep me from going back. The service is always excellent. Make sure you have reservations—I've been turned away several times without reservations (it's a pretty small place). I had an awesome Surf 'n Turf for Two the first time I went here. I don't remember exactly how it was prepared, but I remember that it came with wasabi mashed potatoes (so good), its presentation was really nice, and I enjoyed it very much. —RachelBlumenthal
---
2007-06-20 16:07:40 I believe this restaurant is now closed. Driving by, the signs have been removed, the link is down, and the phone number doesn't work. —BrianHughey
---
2007-08-22 22:05:15 A new restaurant (I assume it's a restaurant, anyway, but couldn't get close enough to see for sure) called Pare is opening or has already opened here. As I was driving by I could see inside a little, and it looked fully furnished. There were a bunch of cars there, but I'm not sure if they were patrons or workers. —RachelBlumenthal