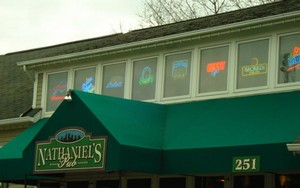 Nathaniel's (4/2008) - Photo by Tricia Seymour
Nathaniel's was a sports bar and grill located on Exchange Boulevard in Corn Hill, directly across from Corn Hill Landing. Nathaniel's provided a shuttle to Blue Cross Arena events. They provided an adequate number of TVs and big screens to feature sporting events. They had a good sized restaurant section and a fully stocked bar.
Closed in 2016, along with the owners' other venture across the street, Harvest Cafe.
Comments:
Note: You must be logged in to add comments
---
2006-07-22 08:45:57 Tuesday Night is Ladies' Night. I assume this means cheap drinks for ladies. As far as I'm concerned, it means that their outdoor area is filled with women acting like teenagers, cackling and screaming loud enough for me to hear everything from my apartment, with all my windows closed. It goes until about 2 in the morning...isn't there an ordinance against this on a weeknight?? In any case, the food is good and the atmosphere is laid back. They have darts, a pool table, some televisions, and a well-stocked bar. The chicken fingers are delicious. —RachelBlumenthal
---
2006-11-05 18:20:25 Yo Rachel! You want quiet, and well behaved? Try an assisted living facility. —MrPhil
---
2006-11-08 21:14:39 I went here with coworkers for lunch, ordered the buffalo tender wrap. It was amazing, in fact it was so good I brought my wife there that very night for dinner. Their hot sauce is tangy & hot, 5 star! —TravisOwens
---
2006-12-20 08:35:36 Great value and excellent food. A fantastic spot for lunch, or a quick bite early in the evening. Gets a bit loud later, but hey, it's a bar. All in all, well worth a visit. —JackPorcello
---
2007-03-22 07:30:25 Great food, decent prices, and a shuttle to BCA events. What more can you ask for? And Rachel, or others with the same complaint, something tells me Nathaniel's was there before you moved in, so if you don't like noise there are a million other apartments in the city where you can live in peace. —WilliamJeffers
---
2007-03-22 11:36:25 Actually, I already have moved (for unrelated reasons). I can't believe people are mocking me for this complaint, though. I think it's entirely reasonable to expect to not be disturbed by a nearby bar well after midnight on a week night. On a weekend, fine. Earlier on a weeknight, ok. Also, it's not like I lived on top of the bar or even right next to it. I was across the street from the house behind it, with more than enough space for me to expect to not be disturbed. A lot of people respond to complaints such as mine with the attitude of "If you don't like it, move" and I think this kind of attitude is detrimental to the relationship between businesses and their neighborhoods. Areas that contain businesses and living spaces should have guidelines in place so that the residents can benefit from the businesses, and vice versa, and everyone can be happy and comfortable. —RachelBlumenthal
---
2007-03-22 13:40:52 First, let me say I've never been to Nathaniel's, I'm just interested in the discussion that developed in the comments section. Second, I completely agree with Rachel that there's no good reason to be disturbing the neighbors at 2 in the morning on a weeknight. It's the responsibility of the bar to either keep customers in line or kick them out. And on the same note of "there are a million other apartments in the city where you can live in peace", there are also a million other buildings you can have a bar and be as loud as you please. However, let me again say that I've never been to Nathaniel's so this is not a comment on the bar itself, and perhaps doesn't belong on this page, but I just had to throw in my two cents. —StevenDibelius
---
2007-10-30 15:46:59 We went here this past Sunday and although the food was pretty good, the service was kind of junky. I don't know if we came in during a rush, but our food took a really long time (not a huge deal) and our waitress failed to come back and ask us if we wanted another pitcher/how food was/clear the table. Near the end of the meal, someone who looked like he was a manager came over and cleared our table and got us more drinks, which was nice, but didn't make up for our server ignoring us the rest of the time. My parents come here frequently, and they said normally they are really pleased with the service, so perhaps we just had a bad experience last night. I would try it again, there were lots of TVs with lots of different games on...good for the sports fan, and close to where we live. —SaraChristine
---
2007-11-12 10:35:46 The last couple times I've been here, I've noticed waitresses at the end of their shifts sitting down at a table in the seating area near customers, counting out their tips. Kind of tacky. I still like the food, though, and the drink selection is great.
A note to those who know more about the inner workings of the wiki than I do—when I type in "Nathaniel's" in the search bar, it doesn't come up anywhere in the list of results. I've noticed this problem with some other names that contain apostrophes, too. Anyone know why this happens? I'll cross-post this to the mailing list. —RachelBlumenthal

---
2008-07-07 10:35:41 Great french fries and good pub grub. Decent beer selection. Not a bad place for a low key evening at a sports bar. —MrRochester
---
2009-05-20 14:31:31 wouldn't go out of my way to go back, but had a decent experience there. most of the time, i was thinking i've had better. drinks and food were ok. didn't really pay much attention to the crowd. —Leisel
---
2009-06-26 00:54:34 I went there to get some Uncle Ralph's. He was not there due to weather. We decided to try their menu since we were already there. I ordered the grilled pork loin. After 20 minutes the server came back and told me that item was not available that particular evening. I was pissed that it took them 20 minutes before they realized that the item I ordered was not available. So I check out their very limited other menu items. I go with the grilled chicken breast sandwich. It comes out with this tiny chicken breast that is only 1/3 at best the size of the roll it was sitting on. I ordered the garlic mashed potatoes as my side. The potatoes look like they gave me a baked potato, threw some garlic on it, dropped it on the floor and then smashed it with a hammer. I have never had a such dry, un-flavorfull pile of crap. I wasted my time and money going to Nathaniel's for some food. If you are looking for some nice drinks in a nice atmosphere then go to Nathaniel's. If you are looking for a nice place to have a nice dinner go to Applebee's —daddyc
---
2009-12-28 13:23:14 I've never had a good experience here. The place to way too small. They seem to have a following though. Just another bar to me. —DamianKumor
---
2010-04-06 18:02:20 I was disappointed with my recent trip to Nathaniels. The waitress was very unfriendly and came across as being annoyed at having to wait on us. I ordered a turkey sandwich but the waitress came back after 10 minutes saying they were out of turkey. She didn't bother bringing another menu with her so I had to guess at what I wanted instead. The Rochester burger I ordered medium was well done and served on a completely soggy roll. Yuck. The french fries were really good, though. —StevePlace
---
2010-07-20 22:04:48 This place is fine for a beer but I have seen their service and food quality decline to the point to where I will never go back. I recently ordered wings hot thinking they would be regular hot buffalo wings. They were pure hot pepper seasoning and so spicy we couldn't eat them. I love spicy food but these should come with a warning. —KatD
---
2010-08-27 13:39:17 Hahahaha! The idea that someone who thinks a "nice dinner" can be gotten Applebee's dislikes the food at Nathaniel's makes me want to rush to Nathaniel's to eat. —ZeldaPinwheel
---
2010-09-09 11:51:27 Went here last night with two friends for some beers and eats. The food was alright, the service was not. It took 45 minutes to get our food. We had to ask for napkins, silverware, the check, boxes, and water. Server never bothered to ask how anything was, never checked back, never asked if we wanted another beer, never cleared dirty plates. Tap and Mallet has more beer and better service. —VinceC
---
2010-09-19 22:43:25 OK — I live in Corn Hill — and I love Corn Hill. Sometimes the pub grub is conveinant - and even though I've gone and had bad experiences at Nathaniels — I think — it's not THAT bad... I was wrong.
To start out... they have a website — and when you order - they charge you more than the website and claim they haven't updated it. Hello?
So my friend and I went in for a quick lunch... and picked there cuz they'd have the football games on.
We went in order waters got them right away. They have an extensive menu.. so we needed a few minutes. About 15 minutes later we finally were able to put our order in (14 wings (50 cent wings) and a chx ceaser wrap)
When ordering I asked for a diet pepsi, and after 15 minutes I ended up walking over and getting one myself!
So i finished my soda - wanted another one — yea out waitress was nowhere. Then everyone around us that had ordered after us started getting there food. Finally — the table next to us which were were sure had ordered 10 minutes after us got their wings. I was finally able to get ahold of the waitress and she said they were having fryer problems all day (tell me before you sell me the 50 cent wings!)
We waited another 10 minutes — and we got up — left dollar for the pepsi, and told the waitress 50 minutes from sit down to food was too long.
We went across the street to a festival and got 2 grilled sausage for $8 in 5 minutes.
I'm not blaming the waitress — although she was terrible and never around — she was the only one on in the entire dining room and I really just think they have no standard of service at Nathaniels! —PunkRokk

---
2010-10-25 20:20:57 I've been here a few times on lunch and for drinks. The place is hit and miss but misses more often than it hits. The Rochester Burger has potential, however, each time I ordered it, the chef must have been become entranced with the mustard oozing out of the bottle and just kept on squeezin'. —BatGuano
---
2011-08-28 18:30:37 This place is ridiculous and knows nothing about customer service. I went there with a friend on a Sunday around 4:45PM which one would think is close enough to dinner time. My friend and I were the only ones in the restaurant ordering food and it took nearly an hour. We ordered wings and a wrap. After waiting over 45 minutes we were informed that the fryers were being cleaned and it was take an additional 15 minutes. All we got in compensation was an extra 2 wings. We will DEFINITELY not be going back. On top of this, the bathrooms were disgusting and fruit flies were flying all around. A fly even landed in a drink making it undrinkable. Please DO NOT support Nathaniel's —amyk11111
---
2012-01-29 09:52:40 Got a Groupon and tried this Restaurant out. Made reservations for 7:15 on a Saturday night. Got there and as I waited for the hostess noticed there were no reservations in the book. When she finally came over, she wrote it in the book and said that she would get a booth ready. We went to the bar and ordered drinks, another problem, somebody took the wine corkscrew, trying to find another one, oh well. Then after 45 minutes waiting to be seated at our open booth, another person seated a group who had just walked in the door. I walked over an asked him if he was the manager and he said, "I am the owners father" I explained that we had been waiting and he said "Oh that's what that table was set up for. I said we were leaving and He said "ok". Don't waste your time going here they need Gordon Ramsey from "Hell's Kitchen" to come in and help them out because they don't have a clue. Can't comment on the food didn't get any. —JC
---
2013-02-15 22:35:07 first off i live in Corn Hill and I have season tickets for Amerks Hockey. I frequently stop at this place for a beverage before and/or after a game. Well, tonight I stopped in and then went to the game, returned, planning to go in for a rum and D.Coke and LO and BEHOLD they had TOWED MY CAR. like I said I live in Corn Hill, so I walked home. I WILL NEVER (and I will encourage everyone I know to follow suit) SET FOOT IN THIS PLACE AGAIN. —fgfljsb
---
2013-02-16 10:28:04 Seriously? You park your car in a bar's parking lot in order to avoid having to pay for the parking garage, then you rag on the owners when they tow your car??? Really?????? —alex-c
Planets must be aligned but I'll agree with Alex on this. Parking in their lot means you are CURRENTLY AT THE BAR-not coming back later. Sorry man-tow is your own fault. —peteb

---
"2013-04-13 08:01:00" Persistently some of the worst service if ever seen in this city. I swear the girl bartender must be sleeping with the owner to keep her job with the attitude and the horrific level of service she gives customers. Never going to waste my time there again. Tap and Table is right across the street along with Tony D's and I've NEVER had a bad experience in either of those two establishments. Save your money and go there. Heck, you'd almost be better picking up a crappy 40 at Corn Hill Market and brown bagging it then wasting your time in this dump. —SausageNips
---
2013-06-20 10:54:02 On Wednesday, June 19th I was eating lunch at Panzari's Italian Bistro between the hours of 1pm and 2:20pm. Due to the lunch time the rush, the parking lot was very full so I parked outside of your pub which is located in the same parking lot as Panzari's. When I had finished lunch, I went back to my car to find it missing. I went into your pub and spoke with a bartender asking her if she saw someone take my car and was told that it was probably towed. She was very aloof and didn't seem to know where any of the signs were in the parking lot giving me the name of the towing company or why it was towed. I eventually found a sign noting the towers name and address, however the red & white sign above this sign stated that the parking lot was for restaurant and shopping patrons; I was a restaurant patron. Because this sign states you must be a restaurant patron to park in the parking lot and my car was towed even though I was visiting a restaurant in this lot, I believe I was a victim of predatory towing.
The City of Rochester law (ordinance 83-317, section 108A-7) regarding towing practices clearly states, "The signs shall state that unauthorized vehicles will be towed at the vehicle owner's expense and shall contain the towing company's name, the telephone number to call to retrieve towed vehicles, and the street address where towed vehicles may be retrieved." I took video and pictures of all the signs in that parking lot and can prove that there is no sign that states the parking places in front of Nathaniel's Pub are specifically reserved for patrons of the pub while also stating that if you park there, your car can be towed at the owner's expense. I can also prove by my restaurant receipt from Panzari's along with having a witness with me who was also having lunch that I was there between this timeframe.
Needless to say, I will never again be going to Corn Hill Landing Plaza, owned by Mark IV Enterprises, trolled by TNT Recovery and Flowercity Towning and will be telling everyone I know about my experience. —Karen

---
2014-07-13 17:00:00 Note: Nathaniel's is not closed. They are applying for a new liquor license after several incidents with underage drinking. —EileenF
---
2014-08-20 12:44:09 one of the worst bars in the city. Rude staff. Lousy food. Beer taps that never taste like their lines are cleaned. They will tow your car within seconds if you even remotely walk 20 feet from the bar. Glad it's temporarily closed, wish it was permanent. STAY AWAY FROM THIS BAR. —FoggyDudes