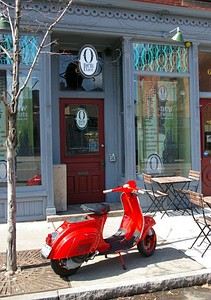 (4-2008)
Open Face Sandwich Eatery was a cafe on South Avenue in the South Wedge. They served bold flavors and healthy alternatives for lunch and evening dining. Open Face was the only place in Rochester to get Moxie, a Manhattan Special Espresso Coffee Soda, and Sioux City Sarsaparilla. They also served and sold a variety of teas, including white tea, as loose leaves in fabric sleeves. Coffee and tea refills were at no extra cost.
Even more eclectic was a variety of vegetarian and carne sandwiches.
Open Face offered discounts to local scooterheads. The Negative Image Scooter Club used to meet here.
They also offered catering.
Opened in 2004. Closed February 25, 2017.
Photos
Comments:
Note: You must be logged in to add comments
See Archive Page for comments prior to 2010.
---
2010-04-27 13:08:46 Expensive, with too much emphasis on design and not enough on flavor or taste. Not a big fan of ginger, and it was in my sandwich, salad, and the after dinner mint. —redpanda

---
2010-07-06 19:09:14 The food was mediocre and made worse by the price. I was very disappointed that they seemed more focused on their external image than the food itself. —LaurenEdwards
---
2010-10-21 13:20:29 Food is generally overpriced, lacking flavor, and I always seem to be the guy that get's the stale bread....it's one of those places that is only worth going to if someone else is paying for it...and even then it's iffy... —ericbarbehenn
---
2010-10-29 12:06:05 Tried this place for the first time with a Groupon and I really enjoyed it. My mom and I split 2 combos so I got to try 4 sandwiches. We had the albacore melt, black bean, garbanzo bean, and goat cheese. The goat cheese was on the small side for the price but it was one of the favorite. I would definitely get the albacore melt again. The place has excellent design elements and I enjoyed just looking around while I ate. —JulianaMack
---
2010-11-27 20:40:55 I haven't been here in a few months because of my own buy life but this place was always one of my favorite spots. The salads were always good (an especial treat at a sandwich counter joint), excellent drinks (try the iced tea of the day) and the cookie splits win awards for a reason. But the reason I love open face is the sandwiches. I never thought it was possible to enjoy items as basic as grilled cheese or turkey with mustard this much. Yum! —RachaelT
---
2011-03-27 07:43:37 Ordered from here for the first time last night, can't believe I hadn't heard of this place before a friend recommended it. I got the albacore tuna and black bean 1/2 sandwiches; both were good. My other half got the open face maple turkey melt and liked it. The mixed greens salad and ginger dressing was great. Would go back to this place; nice fresh food! —KatieSchmitz
---
2011-04-09 10:12:21 Open Face is one of my wife and my favorite lunch spots! We always try to bring in friends and co-workers, and we've yet to try anything on the menu that isn't fantastic - especially the baked goods! —daverea
---
2011-05-09 12:06:11 This is one of my favorite restaurants in Rochester. It is so unique and yummy! There sides are really good and original. I often try to get the soup and sandwich combo so that I can get both the gingered carrots and the baguette chips for sides! —mhare
---
2011-05-28 14:01:33 I have been a regular at Open Face for many years, and am impressed by their consistency. I have never had a sandwich I didn't like. Yes, it is a bit expensive, but the food is crafted with love. I can't believe the comments about about food being "flavorless", or the bread being stale. My experience has been exactly the opposite: Great, bold flavors (try their recently added pickled beets!) and the best bread in town (it's so good I keep hearing people ask where they get it—a top secret!) —carlossg
---
2011-09-09 02:38:48 Awesome place for lunch! The soup and sandwiches are delicious and the flavor combinations are interesting. Everything seemed very fresh. It's a little pricey but not unreasonable for a gourmet sandwich. The interior is very cute (in a chic way). —eklie