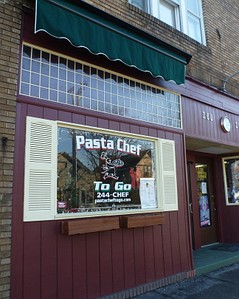 Pasta Chef To Go was an Italian take-out and delivery place in North Winton Village. They specialized in soups, paninis, and pasta dishes.

Pasta Chef To Go opened on November 13, 2013. The location was previously the Ravioli Shop. Not sure when they closed but drove past October 2014 and for rent sign in the window.
Comments:
Note: You must be logged in to add comments
---
2013-12-07 23:42:31 I stopped by here to day to try this place out, as it's very close to my house and looked promising. I got their daily special, which was the fra diavolo, and picked up a couple arancini as appetizers for myself and my GF. For me, the fra diavolo was way too thin, very brothy, not saucey at all. I prefer my pasta saucey, but that's just me. The seafood in it was fresh and delicious though. A good selection of mussels, clams and shrimp, all good sized and fresh. I think, next time I may try their paisano plate, as that looks more hearty. It came with a nice side salad(not a cheapo one) and a couple tiny bite sized loafs of bread that I thought were ok.
The arancini was good, nice balance of ingredients, and taste of parmesan but not as good as i've had at other places, like ROAM and Tony D's. In my opinion, the food is a little too pricey here for what this place is, particularly the arancini. It was $7 for each rice ball, grossly overpriced. The pasta entree was $13, but had enough pasta for two people, if neither of you are really hungry or expect large portions.
I think this place would do a lot better if they reduced their prices and added more family style options, rather than individual entrees. I'm sure there are people in this neighborhood within their target demographic that just want to stop and grab a quick, complete healthier dinner for their family. The menu looks promising, and I will definitely hit them up a few more times before making a judgement. I have high hopes for this place though, and hope they can tighten their game and settle into a good stride. —alexd1234