Street View: June 2009 BradMandell -
Album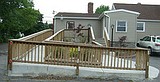 Accessible: June 2009 BradMandell -
Album
Phuket Thai was a restaurant serving Thai cuisine. Located in a remodeled home on Empire Boulevard in Webster.

Parking was in the rear of the restaurant. Access was best while heading east on Empire Boulevard as there is no full, center turn lane in this section of the road - but watch carefully as the restaurant is not visible until you're practically past the driveway from that direction.
Closed in January 2015.
Photos
Comments:
Note: You must be logged in to add comments
---
2008-02-24 06:31:06 I ate here recently and was pleasantly surprised. The food was quite reasonably priced and very good.. The spring rolls were fresh; their wrappers weren't dried out at all. I sampled a green curry and was impressed; I'm not usually fan of any of the dishes which incorporate coconut milk, but this was delicious. I ordered my standby Thai entree: vegetable pad prikpao. The vegetables in the dish were cooked perfectly and I thought the sauciness level was about ideal (enough to enjoy with rice, not so much as to be overpowering).
The service was slow, but not nearly as bad as other comments here had led me to believe. The overall ambiance is much nicer than that at King and I (more restauranty, less warehousey).
My only complaint is that the jasmine tea was brewed using cheap tea bags and the pot was brought to our table without time being allowed for steeping. —MeredithParmer

---
2008-03-06 20:09:30 Service: terrible Food: afwul
We went here recently and were really unhappy. They didn't bring us water. I had to go up to the bar and asked for water and bring it to our table. Then they brought out our appetizers, but no silverwear, plates or anything like that. Finally, they brought out our entrees at 15-20 minute intervals. There were six of us and each time the brought out two dishes. It might have been OK if we were sharing, but half of us were vegetarian.
Finally, the food was deplorable. The worst Thai food I've ever had. King and I is awful, but this place is even worse! The thai people from thailand who came out to eat with us were really quite sad. So were we.
Also, they have a problem with not enough parking. And the tanning salon next-door is annoying in that it calls the towing company when people park in their empty parking lot, after they're closed. —VikramManjunath

---
2008-03-07 16:24:20 I had a nice dinner here. It was fresh and cooked really well. The server was very nice. It wasnt too busy when i went so of course we had a quite dinner. I think they've moved a few doors down from their previous location. Would definitely try them out if you like thai food. —SaRoyal
---
2008-03-18 11:58:35 This location is actually called Phuket not Puket. Had lunch here today. Soup was fantastic and our entrees were outstanding. I had a noodle dish ordered with a little spice and everything was just right. The noodles and sauce were not at all greasy. Very reasonable prices too. —KimBee
---
2008-03-20 21:02:54 Went for dinner tonight at approximately 5:30 almost every table was full and the service was great. Pleasant and attentive. Maybe the issues were corrected.
The food was excellent. I had Par Rarm Long Song Chicken. It was the best I've ever had in this town. No hyperbole. My wife had Pad Thai Chicken and she loved it too. I didn't try that because I hogged my dinner down like an animal and was full. She took some home but I am going to pull a William Carlos Williams and eat it right now, like he did the plums.
The place looks great too. Nice move up the road. —BigPun

---
2008-04-09 20:36:32 One of the best restaurants I've been to in the area (and I'm fairly picky about Thai food). The newly remodeled digs are very nice. It's true that parking could be a problem on a busy night, and that service was also lousy on the Saturday evening I was last there. But it was packed, so that's to be expected. The soups and curry dishes are terrific. I especially liked the mango duck. —OwenThompson
---
2008-04-09 20:37:47 Also, very generous portions. My friend and I ordered two appetizers and two entrees. We stuffed ourselves, and then stuffed ourselves again on the leftovers the next night. Much better value than most similarly-priced restaurants I've been to in Roc. —OwenThompson
---
2008-11-01 22:20:03 Came here on a Saturday night.
Ordered: Summer Rolls, Prik Pao Salad (not on the menu), Phuket Sunset (shrimp, scallops, squid, eggplant, string bean, pineapple)
The restaurant is Thai-owned, but the food is Americanized though not in the same way 'King and I' or 'Thai Taste' restaurants are. The service wasn't anything special, but it was very good in that they were very accommodating to make our dishes to a more authentic style and bring out different chili pastes. Unfortunately though for myself, it was not spicy at all as I am used to home-made Thai food being, but I would highly recommend this restaurant to anyone native to the Western NY area who would like to be eased into trying Thai food.

---
2009-03-15 14:07:49 I went here on a Tuesday night in early March 09. The restaurant was mostly full. I am not sure if it is the hardwood floor and/or the low ceiling but it was very noisy. I couldn't hear what my companion was saying and he was sitting right next to me. We had the chicken curry puff appetizer (decent but it was very greasy), tom yum soup (the stock just needed to be a little bit more sour to be perfect), cashew chicken (chicken was very overcooked and dry but the sauce was good) and the fried rice with a coconut milk sauce (way too much egg and ginger.....I couldn't taste anything else). The servers checked on us regularly. I asked for fish sauce and chillis (this is the Thai equivalent of asking for ketchup at a diner) and they didn't have any! Instead they brought out some ground chilli powder with fish sauce drizzled over it. That was very disappointing. Overall, the meal was average(at best) and the price decent relative to local competition. I will not seek it out again but will stop by if on the way (and too broke to go to Jasmine's Asian Fusion down the street). —OneLove
---
2009-06-01 15:11:36 We went to Phuket Thai for lunch today and were VERY pleased. The food was excellent and the service was courteous, friendly and unobtrusive. A surprisingly nice surroundings with a little light jazz in the background made for a nice 24th anniversary lunch together. My wife had the Met Ma-Maung Himaphan (Cashew)and I opted for the less spicy Pad Kra Pow (Basil). A nice lunch for two with a glass of wine, some delicious chicken soup, and the lunch special with spring roll for around $25 is a good value. Glad I did not pay any attention to some of the reviews before trying this spot. Will be going back for dinner some evening. —BradMandell
---
2009-11-24 13:14:00 This is my favorite Thai restaurant in town. I've been going there for years now and the service has always been wonderful. I love spicy food and this is the only place in town where they'll make things spicy enough for me! The curry dishes are my favorite! Also love the tofu satay! Must go! —Liren
---
2009-12-31 21:10:41 Went there for lunch this week. Very impressed. Great service, lovely setting and delicious, fairly priced food. Very light sauces with subtle flavor. Will go again. —dadioy01
---
2010-04-16 16:24:06 We have been here numerous times for lunch and the price is very reasonable. They have a great combination lunch with soup, spring/egg roll and dish that you choose. —BelPenda41
---
2010-07-04 11:43:00 After reading the reviews I was a little concerned, but not all the reviews mentioned here were as bad as I thought. I have to agree with BradMandells' comment, the food was excellent and the service was great. I LOVE Thai food anyways, and decided to give this place a try. The first time I went in, the atmosphere was very comfortable and welcoming and the waitresses were VERY nice. After my first experience, I kept on going back several times. One time I went back with my family, and the place was PACKED, but I was glad to see a lot more workers there, which is reasonable because of the success they have had since they moved to the new location. I have traveled to Thailand numerous times in the past and this is as close as it gets to real authentic Thai food they have over there. Thai food is now becoming very popular with Rochester and I definitely recommend this restaurant to anyone that likes to try new things and is looking for the next step up. —LeeLing
---
2010-09-01 20:27:25 After seeing the recent glowing reviews, I decided to give this place another try. I regret my decision. We got the curry puff appetizer, Gaeng Dang, Phuket Noodle and Pad Kee Mao initially. The curry puff was good. The Gaeng Dang tasted "off" - the flavours just did not taste right but it was still edible. The Phuket Noodle didn't taste like anything except the crushed peanuts on top. We poured some fish sauce with chilli flakes to it to add some flavour. The Pad Kee Mao must have had a LOT of lime juice on it because that's all I could taste - it was so bad, I had to send it back. Our server was very obliging and polite about my request. I ordered the Cashew Chicken as a replacement. It just tasted like salt. I decided to eat the chicken and avoid the sauce. The servers were friendly but the service was slow (there were only 1-2 other tables...both parties of 2). We used a "Buy One Get One Free Dinner Entree" coupon - however, this coupon is limited to $7 off. This makes little sense as the cheapest dinner entree on the menu is $10.95. Nevertheless, it is nice that they offer coupons online. Perhaps my food experience was due to going on a weekday? It was an expensive gamble for me. For these prices, I think I will stick to Sak's Thai Cuisine. —OneLove
---
2010-12-30 08:21:26 Pretty good food, servers are friendly, prices are ok.
However, the latest trend I've noticed here is that food, namely the entrees, come out very slow! The last time a group of coworkers and I came here for lunch we were here from about noon until 1:20, most of that time spent just waiting for either our entrees or the bill. My girlfriend and I came here for dinner a few days ago and we also had to wait quite a while as well! The appetizers came quick, but the entrees took forever.
Again, food is good, but slow service. They are nice enough though so it's not a huge deal, but when you compare this place to The King and I or Pattaya, where you get your food practically when you sit down, it's a no contest. —BrianHahn

---
2011-01-09 09:58:37 Went here on Friday night, late like 9pm and the service was good. Food was great, though since we were all really hungry the portions weren't hungry man sized which was a disappointment. The menu seems to be mostly stir-fries. —DamianKumor
---
2011-03-30 16:31:20 I LOVE Phuket. My dad and I used to frequent it often because it was located right in between our jobs. Sadly, I've changed jobs and we can no longer meet as often. I can't think of a better place for Thai food in the Rochester area - the service is always excellent, with the owner doing more of the serving at lunch or dinner. My favorites are the pad thai and cashew chicken, but everything I've had is excellent and very fresh. True, the service can be a little slow when the place is busy, but it is always pleasant and comfortable (can get loud due to the busy lunch rush). Soup, a spring roll and your entree under $12 for lunch is a deal! It's only a shame I don't get to Phuket as often as I used to! —LAHopkins
---
2012-07-23 11:36:53 Phuket Thai has excellent food but spotty service. Phuket is my favorite restaurant in Rochester, and I dine there often. The food is excellent. My favorite entrée is gang khew whan (green curry), and the tom yum nam khoon soup is outstanding. The service, however, leaves much to be desired.
Overall, the restaurant has a disorganized and amateurish feel to it. It's almost like the place just opened up and all the bugs haven't been worked out yet — even though the business has been open for years now. The food for your party is never brought out at the same time. Instead, it's brought to the table in fits and starts. Also, the wait staff can never remember who ordered what dish, which always results in confusion when the entrées arrive. And don't bother asking for modifications. One of my dining companions always orders her soup without cilantro. Most the time, the soup still comes with cilantro in it. The water carafes are so jam-packed with ice that there is about a thimble-full of actual liquid water in the carafe. OK, I like some ice in the water, but let's not go overboard, shall we? The last time I was there, my wife ordered a Heineken from the bar while we waited for a table. The waitress had a really hard time ringing-up the purchase and had to go ask for help (and this was not a new waitress — I've seen her before.)
The owner is a nice lady and circulates throughout the restaurant. If she's reading this, she really needs to whip her staff into shape, so that the service becomes as good as the food. —Rochester-Native

---
2012-09-23 14:41:13 I agree 100% with the review directly above. My husband and I went here on a Saturday night at 7:30 p.m. Plusses: Food was yummy and served promptly. And the ambiance/decor was fairly upscale compared to most of the other Thai restaurants in the area. Minuses: The service was odd/rude. The waitress brought our meals in three separate waves: the two items I had ordered for my dinner were served 3-5 minutes before my husband's entrée came out. Then later, as we were finishing up our meals but clearly still eating, the waitress began bussing the table, including trying to take away plates that still had food on them, which we wanted to continue enjoying. And the kicker was that she actually reached across me as I was spooning some soup into my mouth to grab a plate on the other side of me. It's not like the place was about to close – the sign on the door stated that they were open for another hour-and-a-half – so I'm not quite sure what was with the obsessive table-clearing … —ajh
---
2015-03-25 16:51:14 This place has been closed since January —abraxas