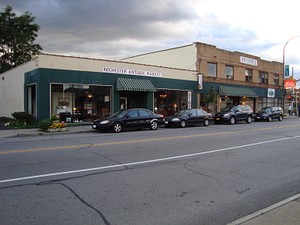 Sept. 2011 (left side is now The Creator's Hands)
Location
155 Monroe Avenue, Rochester, NY 14607
Hours (as of Aug. 2011)
Info Needed
Phone
585 262 4643
Wheelchair Accessible
First floor only
Email
<antiqueexperts AT frontier DOT com>
Websites
Facebook
Rochester Antique Market & Galleries is Rochester's largest antique store. Founded in 1982, their Monroe Avenue showroom (in the Monroe Village section) covers half a block and is full of quality items including furniture, art, and knickknacks.
The owner has presented museum classes on antiques and hosted a radio show series. He is also a well-known lecturer and TV appraiser.
In late 2011 The Creator's Hands moved from its High Falls location and began renting part of Rochester Antique Market's space. An inside door connected the two. Creator's Hands left in November 2014, however.
Comments:
Note: You must be logged in to add comments