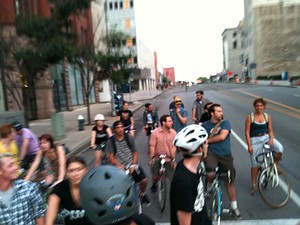 Email
<rocbikekids AT groups DOT facebook DOT com>
Website
Facebook
Rochester Bike Kids is an informal cycling club that meets several times a week to ride around Rochester. The club is year-round, except for truly bad weather. Check out the Facebook page for more information (must be logged in).
Weekly Schedule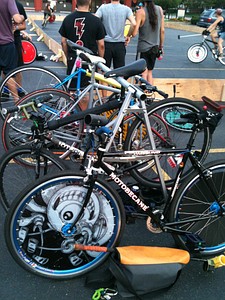 Summer 2011
Taco Tuesdays: Begins at 7:30PM (location varies - see Facebook); ride begins at Nathaniel Square at 8:00 with stops at joints serving cheap tacos or other Mexican food, such as John's Tex-Mex Eatery. Note that this is a very fast ride and you will get left behind if you can't keep up. Street bike with ultra-thin tires recommended.


Wednesday Night Cruise: Meet at Manhattan Square Park at 7:00 P.M. Roll out at 7:30PM for 20+ mile ride. Ten miles per hour is the speed limit, which is leisurely yet moderately fast. Occasionally has a theme. This is a great way to see Rochester, from the fun places to the not-so-great places. If you're into urban exploring, this is your ride. All bikes welcome.


Thursday: Bike Polo from 8:00-11:00PM.


Last Friday of each month is Critical Mass.


Sunday: Bike Polo at 5:30PM behind School #1 on Hillside Avenue.
If you've ever seen a huge group of cyclists going down the street, that's probably the Bike Kids.
The Wednesday ride used to meet at Dogtown; however, the owners finally got fed up with the Kids swarming all over the parking lot and tables. Acanthus Cafe became the new meeting place in June 2012. In September the meeting place shifted yet again to Manhattan Square Park, where it remains.
See Also
Photos by Jason McCaffery and Jessica DeAngelis..
Comments:
Note: You must be logged in to add comments