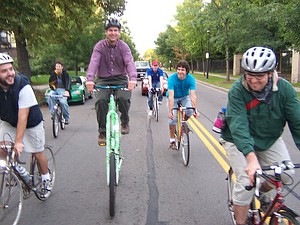 Critical Mass is a group bicycle ride which takes place at regular intervals (usually on a monthly basis) whose purpose is to "celebrate cycling and to assert cyclists' right to the road." Although it is a nationwide movement, there is no centralized organizational structure and no official leaders. The CM group in Rochester has been in existence since 1998.
The former National Critical Mass website (see Footnote 1) described the concept as thus:
Critical Mass is a monthly bicycle ride to celebrate cycling and to assert cyclists' right to the road. The idea started in San Francisco in September 1992 and quickly spread to cities all over the world. Critical Mass has no leaders, and no central organization licenses rides. In every city that has a CM ride, some locals simply picked a date, time, and location for the ride and publicized it, and thus the ride was born. CM is an idea and an event, not an organization.
History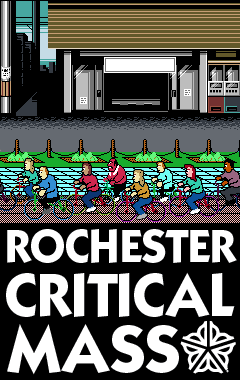 Critical Mass originated in San Francisco in September of 1992. It spread to Rochester in 1998 when University of Rochester graduate student Mark Anderson began organizing rides originating at the River Campus. Rides grew to about 50 cyclists by summer 1999, but many first-time riders expressed dissatisfaction and felt turned off by illegal moves and the hostility toward cars and never returned. By winter 2001 the rides had fallen apart, and occasional riders would send mail asking where everyone was. Mark finished his doctorate in May 2002 and departed to teach in Geneva NY.
Tobin Fricke arrived fall 2004 as a graduate student in physics. With the help of Robert Polyn and others, Fricke co-founded RocWiki and Ant Hill Cooperative, and, along with Andrew Hall of Cooperative EcoHouse, revived Critical Mass in Rochester. He penned
this contemporaneous post.
Rest assured that Critical Mass is still very much alive in Rochester in 2012. For more information on the current status of Critical Mass nationally, see footnote at Former National Critical Mass website (below).
Don't have a bike? UR students may borrow bikes from City Cycles.
Past Rides and Pictures
For information on past rides and events, see Critical Mass/Past Rides or Critical Mass/Pictures.
Nearby Rides
Syracuse - Critical Mass was organized in Syracuse in September 2005, with a hugely successful inaugural ride on Wednesday, October 5th. See the movies and a picture!


Buffalo - There are Critical Mass rides seemingly every week in Buffalo. Flyers and word-of-mouth have turned these events into usually large gatherings, including an off-shoot group that normally rides in various levels of intoxication at midnight. It is appropriately named "Midnight Mass." A few people who post on here think Rochester should totally do this - but it should be noted that there are others who have concerns over biking while intoxicated after witnessing the results of numerous accidents.
See Archives
Note that these archives are no longer updated.

See also
External links
Comments:
Note: You must be logged in to add comments
1The website was closed out in January 2009 but still has some useful content