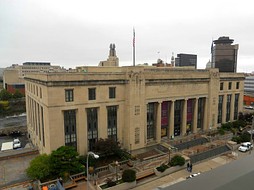 Rundel Library view from South Ave Garage, October 2013 by JoshStone
The Rundel Memorial Library Building is located above the former Johnson and Seymour Millrace and part of the Abandoned Subway, across the street from Dinosaur Bar-B-Que, and across the Genesee River from the Blue Cross Arena. The building sits at a focal point of our city. It currently serves as half of our Central Library. Using an underground walkway you can travel to the library's other half, the modern Bausch and Lomb Public Library Building.
On the first floor of the Rundel Building you will find the
Literature & Media Department, which contains the Literature, Fiction, Religion, Philosophy, Foreign Languages, and DVD/Video collections of the Central Library.
The
Local History section on the second floor of this building is a great resource for anyone wanting to know more about the Rochester area. It is also a nice cozy quiet place to disappear for a few hours, offering a pleasant view of the Genesee River from its rear windows.
The Rundel Memorial Library Building's construction was made possible by money left to the city by art dealer Morton Rundel following his death in 1911. The city failed to begin construction in a timely manner, and the family of Morton Rundel responded in turn by bringing suit against the city. Ironically this further delayed construction through to the 1930s.
This page lists the inscriptions found on the outside of the building. However, it fails to properly attribute one of the most powerful quotes:
Education is more than preparation for life, it is life itself. — John Dewey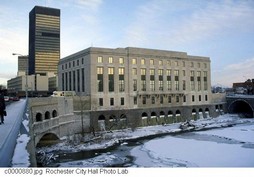 Credit: City Hall Photo Lab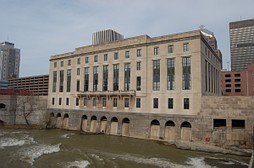 Rundel Library - by Andrew88