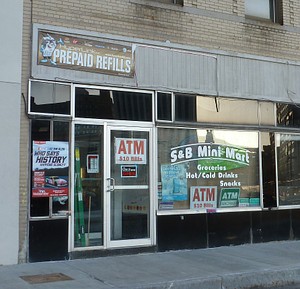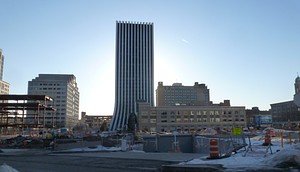 The Midtown construction scene in March 2014, as seen from S&B's front door.
Location
6 Atlas Street, Rochester, NY, 14604
Hours (as of March 2013)
Monday - Friday: 5:00AM to 5:00PM
Saturday - Sunday: 8:00AM to 3:00PM
Phone
585 232 8540
Wheelchair Accessible
Info Needed
Alcohol
Info Needed
Website
RochesterDowntown.com
S & B Mini-Mart is a convenience store in the East End.
Clarence Beaty opened the store in 2006. With the destruction of Midtown Plaza in 2009, he is now the only retailer left on the Midtown site. Though only steps from East Main Street, his store faces a massive construction site and foot traffic has all but ceased. Beaty hopes to survive until at least 2015 but is deeply concerned about the future of his livelihood.
Notes
Comments:
Note: You must be logged in to add comments