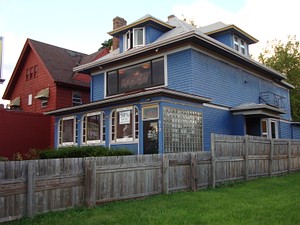 Sept. 2011
Former Location
610 Monroe Avenue, Rochester NY, 14607
Status
CLOSED
Founded in 1994, the final location at 610 Monroe Avenue (Monroe Village) was the third incarnation of Skye High. The smoke shop was in the back, past the skating, snowboarding, biking, and record sections of the store. There was also a selection of both local and out of state glass. Many varieties of implements, including make-your-own and replacement parts.

They also carried juice, t-shirts, incense, and exotic cigarettes - including shisha and hookah pipes.
The owners closed Skye High in 2012 and opened the Art Museum of Rochester in its place.
Comments:
Note: You must be logged in to add comments
---
2008-02-15 20:20:16 Customer review:
Open whenever they feel like it. Regardless of posted hours. I went in there one day at 12:30 and the doors were locked. The guy didn't get there until 1 even though they say they open at 11.
Rude employees. I had a complaint regarding the service and the guy told me it's not his problem & walked away from me.
They wasted my time and didn't even apologize for it.
I'm surprised they've stayed in business as long as they have with the way they treat customers! —MelissaKara

---
2008-03-19 19:47:48 incredibly rude worker. kicked us out of the store after calling us f***ing bums for browsing. —DerekDay